The OnePlus 3 was one of the best budget phones last year, until the company released their OnePlus 3T. Coming in at just $439 while beating out higher priced phones like the Galaxy S7 Edge or Google Pixel XL. Just because it has a low price tag doesn't mean its cheap or doesn't deserve protection. With that in mind here we'll be sharing a collection of the best OnePlus 3 and OnePlus 3T cases.
With a big 5.5-inch display and a beautiful metal finish this phone feels great in the hand, but is a little slippery. We've round up multiple quality OnePlus 3 cases from top brands we trust and have used on other phones or the OnePlus 2. Thankfully the new and improved OnePlus 3T features the same design, so any and all cases will fit both phones.
Read: OnePlus 3 Review: Killer Phone, Low Price
This year OnePlus is offering five of their own beautiful covers or Style Shells that add real wood, carbon fiber or even the popular Sandstone finish to the phone. These are great options but aren't the best for protection. Instead, try one of our recommended cases below.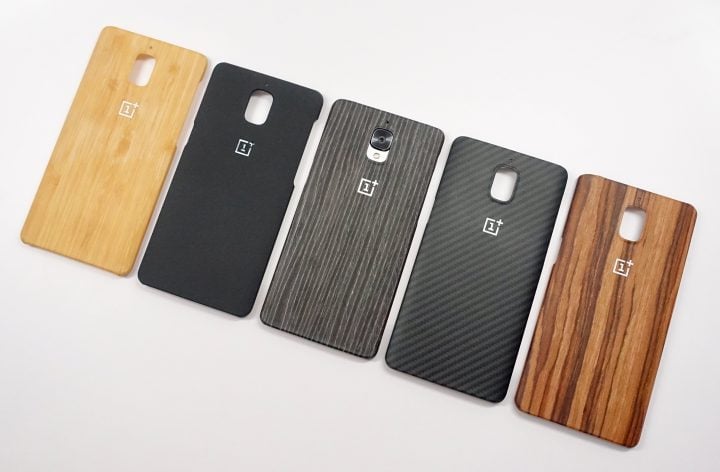 For those unaware, the OnePlus 3T is a new phone that was released in November and replaces the original OnePlus 3. Improvements like a faster Snapdragon 821 processor, the same 6GB of RAM, a bigger 3,400 mAh battery and dual 16 megapixel cameras make it worth the price.
It has a faster processor than the new Google Pixel, more RAM and now the battery is 3,400 mAh instead of 3,000 mAh. Endurance isn't a problem. If it is, Dash charging will recharge it faster than any phone on the market. Thankfully the new OnePlus 3T features the exact same design and dimensions as the original. As a result owners can get cheap TPU cases, covers, kickstand cases to even durable case that offer ultimate protection. Any OnePlus 3 case will fit the 3T.
Read: 7 Hidden OnePlus 3 Features You Need to Know
Of course the OnePlus 3T is available right now from their website, without an invite. It comes with a USB Type-C cable and their blazing fast new Dash charger for a quick recharge. The company has tons of accessories, and we have even more below. The original OP3 is no longer available, but this roundup is still a great choice for all owners.
Whether you have the original OnePlus 3 or the new and improved OnePlus 3T, these are the cases we'd recommend.
OnePlus Sandstone StyleSwap Cover
OnePlus is offering five different "StyleSwap" covers that change the look and feel of the phone, and we'll only mention two in this list for the sake of time. The Sandstone cover is likely going to be the most popular, as it matches the finish of older OP phones. It snaps on in seconds, covers most of the phone and looks beautiful.
Our only complaint with the StyleSwap covers from OnePlus is they don't offer a lot of protection and are more for looks. That said, it still protects the sides and bottom a bit, makes this metal phone easier to hold, and is easy on the eyes too. The Sandstone finish is the cheapest of the bunch, coming in at just $19.95. Perfect for either model.

As an Amazon Associate I earn from qualifying purchases.