Best iPad Accessories for Back to School
In the past year the number of college students owning tablets tripled, jumping from 7% to 25% in 2012. Odds are most of these college students own an iPad, which means there are many accessories that fit the dorm room and college life perfectly.
The 2012 Pearson Foundation study also found the majority of college students prefer digital textbooks, which are a natural fit for the iPad.
I'm often asked, "Can the iPad replace a laptop?" And this time of year I hear "Can I send my kid to school with just an iPad?" While most students will appreciate the benefits of a laptop as well as a tablet, accessories like those below will help turn the iPad into a highly productive college gadget.
All of these iPad accessories work with the iPad 2 and the new iPad 3rd Generation. Some will also work with the original iPad, which some students are taking back to school as parents pass down old tech.
Read: Back to School Gear 2012: Gadgets for My College Student
The following iPad accessories are among the best I've used, and fit perfectly into the small spaces of a dorm room and the fast paced mobile life of a college student.
Logitech Ultrathin Keyboard Cover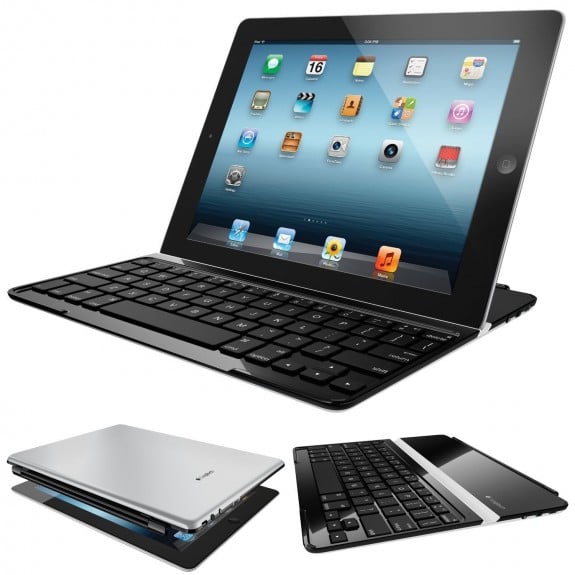 The Logitech Ultrathin Keyboard Cover attaches to the iPad 2 and new iPad with magnets like a Smart Cover to protect the screen while on the move and offers an excellent typing experience.
When open, the iPad slots in at a comfortable viewing angle, and students can take notes on the well laid out keyboard. After a few minutes of use I am able to type just as fast on the Logitech Ultrathin Keyboard Cover as on my desktop keyboard. The keys are comfortable to type longer documents, but I wish they offered a bit more travel. Travel is the distance the key travels when pressed, and this a small trade off to make for a thin cover.
The keyboard connects via Bluetooth and charges with a Micro USB cable. The battery life is pegged at 6 months with two hours of daily use, which is great.
Unlike most other iPad keyboard cases, the Logitech Ultrathin Keyboard Cover is easy to slide on and off so students can easily use the iPad as a tablet, instead of an unwieldy portfolio that adds bulk.

As an Amazon Associate I earn from qualifying purchases.