Best iPad Mini Keyboard Cases
The iPad mini is the perfect size tablet for many users, but for some owners, it's not complete without a physical keyboard to pair it with. Here are the best iPad mini keyboard cases that you can buy.
While iOS comes with its own virtual on-screen keyboard, it's really not the best keyboard to use for extended typing sessions, especially if you use your iPad constantly for note-taking during class or at work during meetings. This is where keyboard cases can come in handy.
Unlike the full-size iPads, there aren't a ton of iPad mini keyboard cases to choose from, and there are only a small handful that truly work well. A good keyboard case needs to be sturdy and durable, as well as feel good while typing. Plus, other features can make or break a good keyboard case, including back-lit keys, battery life, and the ability to control iOS in other ways besides just typing.
Read: Best iPad Air 2 Keyboard Cases
Of course, any good keyboard case for the iPad mini is going to add a bit of weight and bulk to the device, so you'll certainly sacrifice a bit of portability in favor of having a good keyboard to along with your tablet, so weight and size is another factor that you'll have to be aware of when shopping around.
While there's nothing better than a true full-size keyboard (whether it's on a laptop or for a desktop machine), accessory makers have at least gotten fairly good at optimizing the experience to make a small, cramped keyboard as enjoyable as possible on the iPad mini.
Without further ado, here are five iPad mini keyboard cases that we think are really good and are worth a purchase, either for yourself or as an upcoming Valentine's Day gift for that special someone.
Logitech Ultrathin Keyboard Folio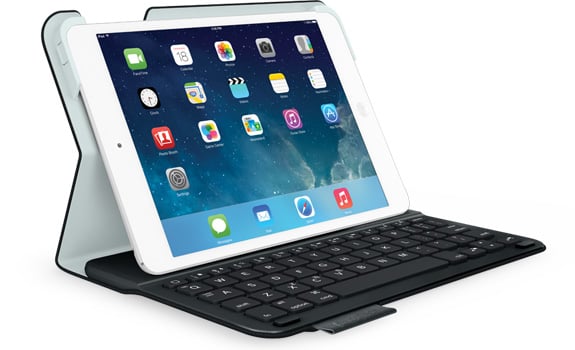 Logitech is arguably one of the best accessory makers on the planet, and that's mostly thanks to their Ultrathin keyboard case series.

The Ultrathin Keyboard Folio is available for the iPad mini, and it features a chiclet-style keyboard that's great for typing on. It's also one of the thinnest keyboard cases out there.

We like the Keyboard Folio because it's more convenient to break down and throw in your bag, whereas the regular Ultrathin, can be a bit finicky with that. However, the regular Ultrathin features a hinge that allows you to angle your iPad mini at any angle within a certain range, meaning you don't have to put up with only two or three pre-determined angles like you see on most keyboard cases.


Read: Logitech Ultrathin iPad Mini Bluetooth Keyboard Review


As for battery life, Logitech says that if you use the Ultrathin for an average of about two hours per day, you should be able to go two years without having to recharge it, which is incredibly impressive for a keyboard case. However, we're guessing that some users will use it more than that, which means your mileage will vary, but even if you use it for 4 hours per day, that's still a full year of battery life.

The Logitech Ultrathin Keyboard Folio for the iPad mini starts at $89.

As an Amazon Associate I earn from qualifying purchases.