FIFA 16 vs FIFA 15: 10 Key Differences
What's new in FIFA 16? Join us for a look at FIFA 16 vs FIFA 15 combining a year of playing FIFA 15 with a week of FIFA 16 on the PS4 and Xbox One.
Is FIFA 16 more than a roster update and a new skin on new teams? After playing nearly two-dozen games on Xbox One and PS4 it is clear that EA is ready to deliver changes.
Use this overview to see how these changes impact FIFA 16 gameplay in this comparison of FIFA 16 vs FIFA 15.
The new FIFA 16 release delivers the biggest changes to users who play the new game on Xbox One, PS4 and PC — while FIFA 16 on older consoles does not get all these new features and options.
The FIFA 16 release date arrived in September, and there is still a free demo that you can use to test the game out for yourself on Xbox One, PS4 and PC.
We will not see FIFA 17 until around September 2016, so if you want a soccer game you will likely be comparing last year's FIFA 15 and the new FIFA 16. With deals dropping the price of FIFA 16 to $39.99 on sale, there are clear benefits to buying the newest version.
There are FIFA 16 vs FIFA 15 graphical upgrades that are very clear in replays, with improved player likeness. During gameplay FIFA 16 graphics do look better than FIFA 15, but the biggest changes are in the real gameplay.
Gamers who want to play a smarter game of soccer will appreciate what FIFA 16 brings to the table. It may not be a perfect soccer game, but there are changes from FIFA 15 that I appreciate and I think you will too.
FIFA 16 Teaches You How to Play Better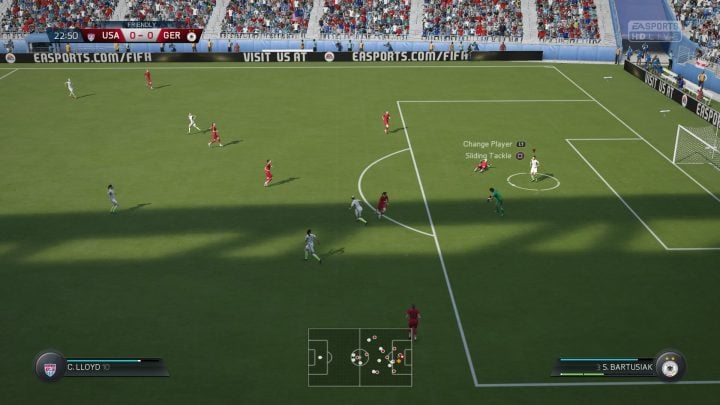 There are a lot of new FIFA 16 controls and features that you need to learn how to use. Additionally if you aren't a master of FIFA 15, you still have a lot to learn about playing FIFA 16 to your full potential.
On both PS4 and Xbox One I played with the new FIFA 16 trainer turned on. Instead of working through drills and trying to remember how to do something later in a real game, the trainer is always there.
While playing FIFA 16 on both systems a small set of commands sat over the top of my player to give me tips for using new FIFA 16 pass controls, becoming a better defender and more.
As you play the FIFA 16 trainer will start to tell you new features so that you now how to use the features. This is an essential upgrade that is making me a better FIFA 16 player. You can turn this off if you find it distracting.