How to Set Up Your Nexus 7
If you got a new 7-inch Nexus 7 tablet for the holidays, you're in for a treat as you now are in possession of an extremely useful tool for things like reading, gaming and video watching. If you don't know what to do after you get the Nexus 7 out of the box, we're here to show you how to set up your new tablet and get it ready to go for the days to come.
Here, we'll walk you through setting up the Nexus 7 and tell you how to turning on security and parental controls, offer some tips on using the Nexus 7 and show you some apps that will help get you started.
The Nexus 7 set up process should only take 15 to 30 minutes, so those that are fortunate enough to have received the Nexus 7 will be able get it set up and ready to go before traveling this holiday season.
In addition to setting up the Nexus 7, we suggest taking a look at some of the great Nexus 7 cases out there to help protect your new device. Some of them will even act as a stand for the tablet which will ensure a fantastic video watching experience with an app like Netflix or content found through the Google Play Store.
Nexus 7 Setup
When you turn your Nexus 7 on for the first time, the device will take you to a Welcome screen where you'll want to change to your language of choice. This is an option that you can change later but unless you're master of several languages, you'll just want to choose a default one right off the bat.
The device will then ask you for Google account information. If you already have a Gmail account, you'll simply want to enter in your information. If you don't have an account, this is a great time to set one up.
The Nexus 7 will ask if you want to backup your device to Google's servers. We highly recommend this as it will make restoring app data, bookmarks, WiFi passwords, and other settings to the Nexus 7 easier if you reset it or switch to a new device down the road.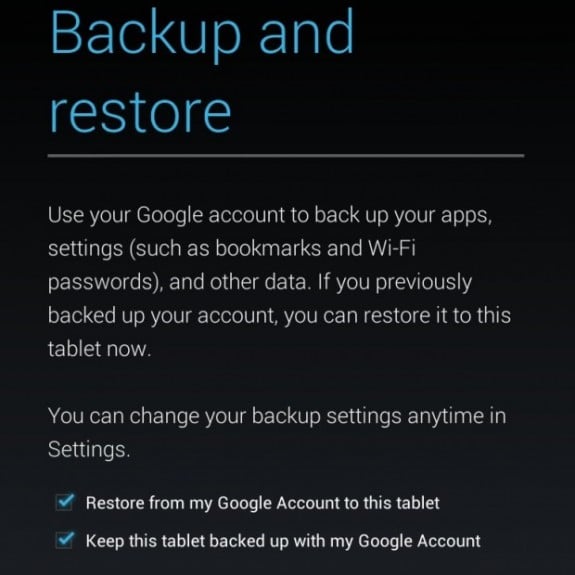 Next, it will ask if you want to enable Location Services. By turning it on, it will enable Google Location Services and Standalone GPS Services to let the Nexus 7 deliver location-based results for Google Now and for Google searches.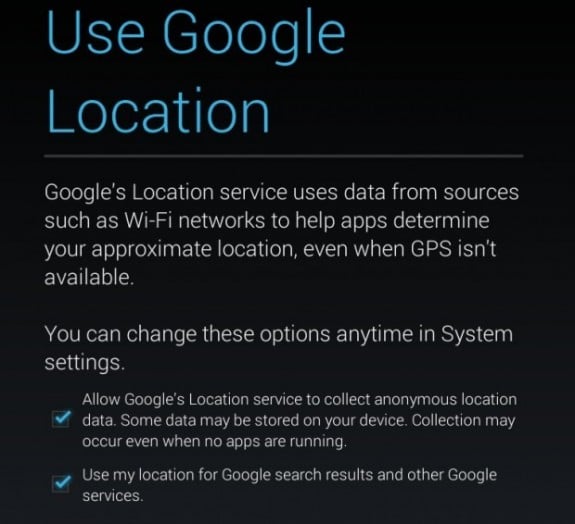 Finally, you'll want to connect to a Wi-Fi network. Connect to a WiFi network when prompted and the device will scan for your home network. At that point, simply enter the password, if you have one, and the device will be Wi-Fi-enabled.
Nexus 7 Security
Now is a fantastic time to take some steps to protect your Nexus 7 tablet. This way, others won't be able to use your personal information or the apps and content that you've downloaded to your tablet device.
With Android, Google gives you several options that will allow you to protect your Nexus 7 and your data from harm. In order to change security settings, you'll want to head into the Nexus 7's Settings, scroll down and tap Security under the Personal section. Here, you'll be presented with five possible security options to protect your device from others.
Slide provides no security and allows users to simply slide to unlock. The second is Face Unlock which allows you to unlock the phone with your face. It's not a fool-proof system though so we don't recommend it. The other three options are the recommended.
The first, pattern, allows you to set up a swiping pattern to protect your device. You will have to connect at least four dots and once that's done, you'll repeat the pattern and the device will be locked and will only be able to be opened by using that pattern.
Read: How to Set a Google Play Store Pin
The second, PIN, allows you to set up a long secure password to keep your Nexus 7 safe.
Lastly, password, allows you to set up a password of your choosing which makes it, in our opinion, the most secure of the five options available. Password will allow you to set up a long, strong password to keep out unwanted users.
Contact Info
One other thing we recommend is that you put your contact information on the lock screen. This way, if you lose your tablet and someone finds it, they can easily get in contact with you in order to return it. If you didn't have the info there, returning it would be much harder, given that the device would likely be locked with a password.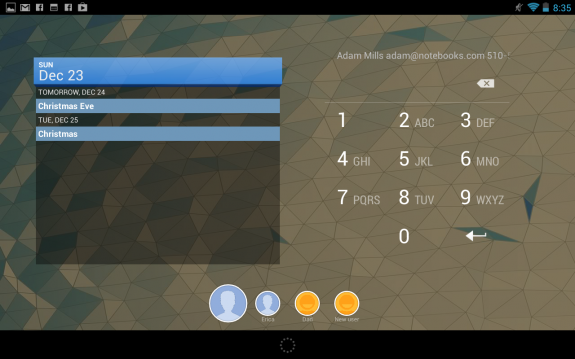 To set up contact info on the lock screen, head into Settings, tap on Security, and then go into Owner Info. Here, you'll want to enter your name, email address and a phone number where the person who finds the lost Nexus 7 can reach you.
Multiple User Accounts
One nifty feature available on the Nexus 7 is the ability to set up multiple user accounts. This is perfect for those who plan on sharing the tablet with a significant other children as it will allow the administrator of the account, you, to set up an individual account for each person in the family and easily monitor their usage.
See our guide on How to Use Multi User Accounts to set it up.
Using the Nexus 7
To install apps on the Nexus 7, visit the Google Play Store. The icon for the Google Play Store is a white bag and it can be found, by default, in the lower right hand corner of the Nexus 7's first home screen. The Nexus 7 will allow you to swipe through your content, whether it's apps or widgets or something else, on several home screens which can all be tailored to your liking.
After finding an application in the Google Play Store, an icon will appear on your home screen. To access the app, simply tap it. If you want to delete the application from the home screen, press and hold on the application and drag it to very top of the screen where it says Remove. This will get rid of it.
How to Set Up Email
If you haven't already, you now will want to sync up your email account with the Nexus 7.
First, you'll want to head into the Gmail app. It can be found in the app drawer, by default, in the bottom left corner. Tap on the Gmail application. Next, tap the three dots in the top right corner, go to Settings, and in the top right corner, there is an Add Account option.
Here, you can add an existing or new Gmail account which will then allow you to check and use email on your Nexus 7.
How to Set Up Google Now
Google Now is a powerful predictive tool that will do everything from show you traffic on a route before you even take it or track a package for you. It's all based on how you use your tablet so it's smart to set it up from the get-go.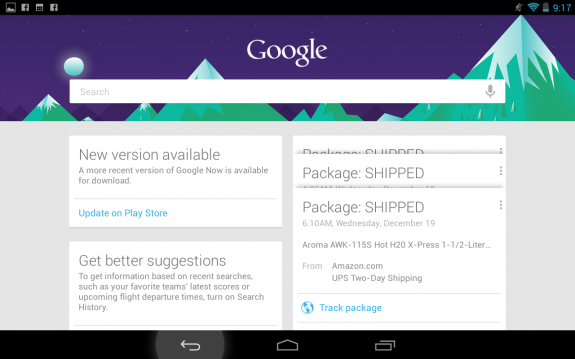 In order to do that, simply hold down the home button in the bottom middle of the navigation bar and slide to the top. Once there, tap the Google logo and you're on your way to using one of the most powerful features in Android.
5 Nexus 7 Apps to Install First
Once you have all of that set up, now is a great time to explore the Google Play Store and download some applications for your Nexus 7. The Google Play Store offers a massive selection of apps, and the first apps you need to download when you get your Nexus 7 will vary from user to user. Still, we want to help get you started and here are some of our top apps to install on the Nexus 7 as soon as you get it set up.
For those Nexus 7 owners who need a little more, be sure to check out our Top Nexus 7 Apps and Widgets.

As an Amazon Associate I earn from qualifying purchases.