iOS 8 Problems: Failed Updates, Cannot Restore
Apple iOS 8 update problems continue to mount as the smoke clears around today's release. In addition to storage issues and server errors, it appears that some users are dealing with failed updates and the inability to restore their iPhone or iPad with iTunes.
Earlier today, Apple released its new iOS 8 for iPhone, iPad and iPod touch users in the United States and around the world. Problem is, many of those trying to update to the new iOS 8 software are encountering iOS 8 problems during the iOS 8 download and installation process. We've already detailed storage issues and server errors and offered potential fixes though some people are encountering a nasty iOS 8 bug that could be devastating to those that are without a proper backup.

Shorty after the arrival of the iOS 8 update, we attempted to install the iOS 8 update on the iPad Air. The Over-the-Air update required 6.9GB of storage space so we immediately plugged the device into iTunes so that we wouldn't have to delete any precious files. Earlier. the iTunes iOS 8 installation process had worked flawlessly for the iPhone 5 though the iPad Air iOS 8 download caused major issues.
Halfway through the download process, iTunes spat out an error telling us that it could not be updated due to an unknown error. Clicking the "More Information" link provided some possible fixes though they did not spell out a guaranteed fix for these issues.
After the download process stopped, the iPad Air remained stuck on the download process screen though the bar had stopped moving. After unplugging the lightning cable, it flashed a screen telling us to plug it in with iTunes. After plugging it back into a MacBook Air, we went back into iTunes hoping to retry the download. Unfortunately, iTunes did not allow that to happen.
Instead, iTunes displayed a screen that prompted us to try and Restore the iPad. When trying to Restore the iPad, the iPad Air could not connect to Apple's iPad software update servers, something that prevented us from automatically starting the iOS 8 download and installation process. Not wanting to wait, we decided to install the iOS 8 update manually.
To install the iOS 8 update manually, iPhone and iPad users must download a large file. Once the file is downloaded, users can simply Option Click on the Restore iPad… button in iTunes. This will prompt the iOS 8 installation process. Here is where things can get dicey.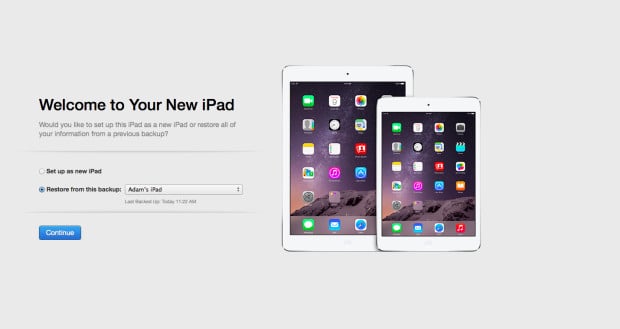 iPhone and iPad users can restore their device from a backup. Those that haven't made a recent backup or haven't made a backup at all are going to be in some trouble because the iPad could revert back to an older save. We had made a backup earlier today in preparation for the iOS 8 release so everything went very smoothly.
This method should work for most iPhone and iPad owners that run into a failed update and an iTunes that doesn't allow for the device to be restored.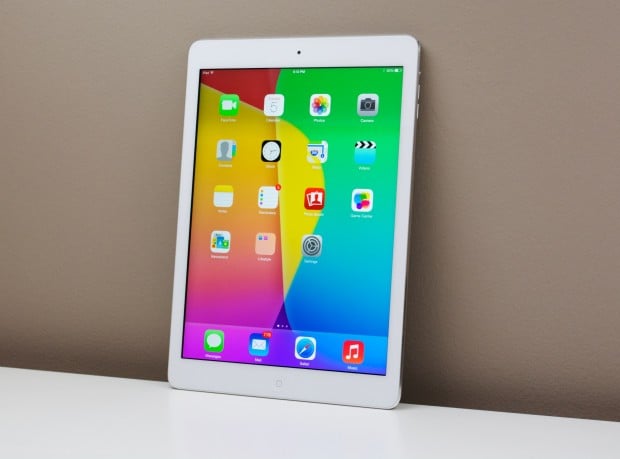 Of course, this is just one of many iOS 8 problems. iPhone and iPad owners are experiencing server errors during both the OTA and iTunes installation process and some users say that iOS 8 download times are skyrocketing.
iPhone and iPad users are also complaining about storage issues affecting the iOS 8 download process. Many iPhone and iPad users are unable to install the iOS 8 update due to the amount of space that the iOS 8 requires with an Over-the-Air update. Those trying to install the iOS 8 update Over-the-Air thru Settings will need 4.6GB or more of free space available in order to get the download process moving in the right direction.
iOS 8 is not as ambitious as last year's iOS 7 update but it's a large update nonetheless. Apple's new software for iPhone and iPad comes with a number of new features including improvements to Photos, iMessaging, FaceTime Audio and more. The update is free and it's available to iPhone 5s, iPhone 5c, iPhone 5, iPhone 4s, iPad Air, iPad mini with Retina Display, iPad 4, iPad 3, iPad 2, iPad mini, and iPod touch fifth-gen users.
The update is not going to be available to users on the iPhone 4 who must remain on the company's iOS 7.1 update from earlier this year.