If you want to see what's new in iOS 8 you can see the changes in our iOS 8 vs iOS 7 walkthrough. This is a comparison of iOS 8 and iOS 7 on the iPhone and iPod touch.
This iOS 8 walkthrough shows the new iOS 8 features, small visual changes to the new iOS 8 update. We'll show you how they compare to the older software you are used to.
The iOS 8 release date arrived on September 17th, and after a rough week of installing iOS 8 the process is simpler now. The iOS 8 update is free and available for the iPhone 4s, iPhone 5, iPhone 5c, iPhone 5, iPad 2, iPad 3, iPad 4, iPad Air, iPad mini, iPad mini Retina and the iPod touch 5th generation. You may not want to update the iPad 2 or iPhone 4s. You will also find iOS 8 on the iPhone 6, but it ships with the phone, not as an update.
You'll notice in this iOS 8 vs iOS 7 walkthrough that the new iPhone update does not look much different than iOS 7. Apple made big changes to the look and design of iOS 7, and with the iOS 8 release we see enhancements and features added that include small visual changes, but the bulk of the update is focused on adding new features.
After looking through what's new in iOS 8 you'll notice that Apple is adding a lot of new iOS 8 features to make messaging better, track your health and manage photos. It's also very clear that Apple is catching up to Android in some areas with a better keyboard and other changes that former Android users will love.
Read: How to Upgrade to iOS 8
You can click on any of the images below to jump to a specific iOS 8 vs iOS 7 walkthrough slide and see how that section of the software compares. The iOS 8 screenshots are on the left, and iOS 7 on the right.
iOS 8 vs iOS 7 Walkthrough - Home Screen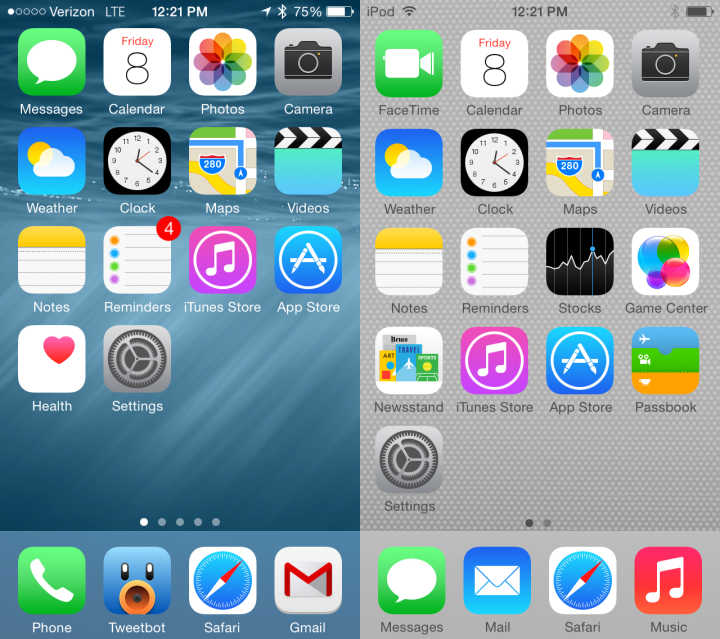 We start our iOS 8 vs iOS 7 walkthrough with the iPhone home screen, which is where you'll start your iOS 8 experience after an update this fall.
These screens are incredibly important as you see them anytime you turn on the iPhone or need to choose an app to launch. There is no way around using them, so Apple needs to make sure they work just right.
As you can see in the iOS 8 vs iOS 7 comparison above, there is no change between the home screen in the new iPhone software. Apple changed the status bar and some other small visual changes in iOS 7, but there are no updates for iOS 8.
We could see Apple change the home screen slightly for iOS 8 for the iPhone 6. The new iPhone will feature a larger 4.7-inch display with a higher resolution. This is something Apple may use to add more icons to the screen. Or they could stick with the current layout, it's tough to tell.

As an Amazon Associate I earn from qualifying purchases.