How to Set Up Your Kindle Fire HD
Did you get a Kindle Fire HD for the holidays? If so congrats on the reading, gaming and video watching tablet you're holding. If you don't know what to do after you get it out of the box, we're here to show you how to set up the Kindle Fire HD and get started.
We'll walk you through setting up the Kindle Fire HD, Turning on security and parental controls, tips on using the Fire HD and some apps to get you started.
The Kindle Fire HD set up should only take 15 to 30 minutes, so it's easy to get the Kindle Fire HD up and running before traveling for the holidays.
In addition to setting up the Kindle Fire HD it's a good idea to pick up a great Kindle Fire HD case to protect your new device and add a stand for watching hours of Amazon Instant Video.
Kindle Fire HD Setup
The Kindle Fire HD walks users through the initial setup, but be prepared to take the following actions.
Pick your main language. This is something you can change later, but unless you're multi lingual pick your main language to avoid confusion.
Connect to a WiFi network when prompted. Scan for your home network and enter the password if needed.
The next step is to sign into your Amazon account. If you purchased the Kindle Fire HD from the account you want to use it should be set up already. If you received it as a gift, you may need to change it to your account. This keeps your data and purchases in sync.
Select your timezone and confirm the Amazon account.
The Kindle Fire HD should then prompt you to set up Twitter and Facebook accounts. This makes it easier to share updates on social networks. Enter the username and passwords for these accounts to sign in. It's possible to do this later. To see updates on Facebook and Twitter users will need to download the specific apps.
Kindle Fire HD Security
It's a good idea to set a password on the Kindle Fire HD so others can't access your Amazon purchases, read your email and gain access to apps. The video below shows how to set a password on the Kindle Fire HD.
Tap on Settings -> Security -> Lock screen password -> On. 
Choose a PIN or a word password.

Parental Controls
It's a good idea to set up parental controls on the Kindle Fire if you'll be giving it to a kid or sharing it with a kid.
Pull down from the top of the screen and tap More on the right.
Tap Parental Controls and tap On
Pick a password, not the same one as the device password.
From here parents can control app purchases, video playback, email web browsing and more with simple to use toggles like those below.
The Kindle Fire HD also supports FreeTime, a means of allowing kids to use certain apps and perform select activities for a limited amount of time.
Open the Apps section and look for the Kindle FreeTime app. Open the app and create a password.
Add a child profile. Pick a name and photo for the account. The Kindle Fire HD supports up to 6 profiles.
From here parents can tap on Manage Content, and add apps, books and movies to a child's account.
Parents can set screen time limits by opening the Kindle FreeTime app by swiping down from the FreeTime app and tapping on More. Enter the FreeTime password and then tap on Set Daily Time Limits.
Parents can set the total screen time for a profile and specific content activity times to allow for unlimited reading, but only an hour of apps as one example.
Using the Kindle Fire HD
To install apps, visit the Amazon app store. The Kindle Fire allows users to swipe through apps, books and videos in a carousel on the home screen.
Setting up Email
To use email on the Kindle Fire HD, pull down from the top of the screen, tap on More.
Tap on Applications.
Tap on Email, Contacts, Calendars.
Add an Account.
Enter the proper username and password for popular accounts or full details for other accounts.
The Kindle Fire HD should now be set up for Email, Contacts and Calendar events.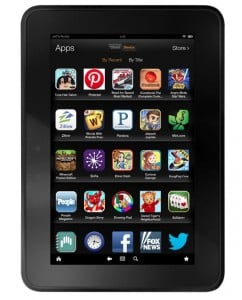 The Amazon App Store offers a large selection of apps, and the first apps you need to download when you get your Kindle Fire HD will vary from user to user, but here are some of our top apps to install on the Kindle Fire as soon as you get it set up.
If you have an Amazon prime subscription you can watch tons of free videos and TV SHows, so you may not need to install the Netflix app. If you use Netflix it's another top pick to install.
From there, check out the Best Selling Kindle Fire HD apps list to see what other popular apps are worth trying.

As an Amazon Associate I earn from qualifying purchases.