Nexus 5 Announcement Tipped to Arrive Today (Update)
With Google's Nexus 5 smartphone and Android 4.4 KitKat still leaking by the hour, we're getting another round of leaks and release details this evening. With the release date still up in the air, and a potential announcement coming soon, another round of images have appeared today. Courtesy of Twitter user @GavinPhelan12 we're getting a few last minute looks at a retail device, not a leaked prototype.
Update 2: We are now hearing that the Nexus 5 embargo lifts at 11 AM Pacific, but that the Nexus 5 announcement will arrive today, and could go on sale within the next 24 hours.
Update: There is no Nexus 5 on Google Play, but Google's recent Google+ event started 30 minutes late, so it remains possible that the Nexus 5 announcement will arrive yet today. Keep in mind that plans may change.
Read: Last Minute Android 4.4 KitKat Details Leak
According to Gavin, not to mention now multiple insider sources, we're hearing the Nexus 5 and Android 4.4 KitKat will finally be announced and detailed tomorrow, October 31st, starting at 8 AM PST. Google has yet to send out invites for a formal event, so just like last year they'll be using the Play Store homefront and some press releases to share all the details, instead of taking a stage to reveal what's new.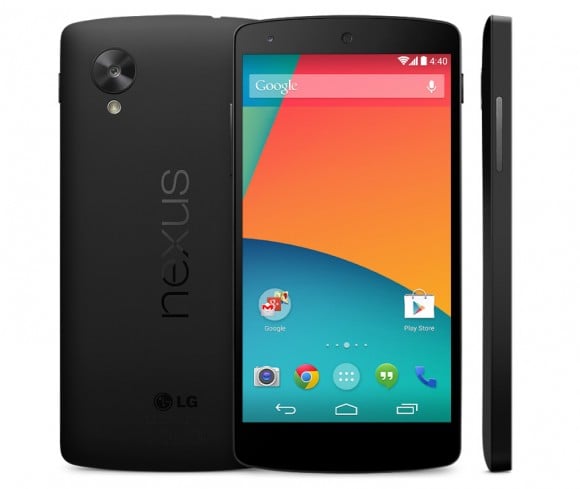 With Google's team up with Nestle and naming the latest update to Android 4.4 KitKat, it only makes sense to release the chocolate-covered "treat" on one of the most sugar-filled days of the year. That being Halloween. After all the initial leaks and rumors all month long the one we've heard time and time again was October 31st. And now everything is finally lining up.
This week we saw leaked LG warehouses full of devices ready to ship, models have arrived in retail form and full retail boxes have been spotted, and today even a few dummy units made the rounds on tech blogs. Add in the fact that Google's just updated the Play Store this afternoon to better handle multiple device configurations while ordering, everything appears ready to go for tomorrow.
The original report we've heard time and time again was October 31st, with the device actually shipping on November 1st. Which means some that chose overnight delivery could have the new smartphone sometime this weekend, otherwise you'll have to wait until Monday. The devices are reaching retail stores as we speak, which is evident from all the leaks, and now it's only a matter of time.
Google updated 14 of its apps yesterday on the Play Store, but didn't actually push them to devices and send update notifications. Which means all of those apps have new versions ready and waiting, and you can find out more on that below. Add all of this up and it appears that Google will finally be dropping its new flagship smartphone and latest smartphone OS tomorrow.
Read: Nexus 5 Photos Tease Ahead of Launch
We're hearing that tomorrow, October 31st at 8AM PST all the excitement will officially kick off. Google will drop the news, Play Store orders could be live, and a few tipsters also claim that Amazon will be joining Google right out of the gate. We're hearing multiple leaks came from inventory inside Amazon warehouses, and they'll be one of many offering the new smartphone.
For those who remember, the Nexus 7 started selling early at Best Buy, Walmart, and many other locations and Google just went ahead and pushed the release date up. We have a feeling things will be much tighter this time around, and Google's going to be controlling the entire launch a bit more to keep things in check. If all goes as planned the Nexus 5 and KitKat will start appearing tomorrow morning, and our Halloween evening and entire weekend will be filled with Nexus joy.

As an Amazon Associate I earn from qualifying purchases.