Nexus 7 Keyboard Roundup (2014 Edition)
The Nexus 7 and Nexus 7 2013 are popular Android tablets, and many users are looking for the best Nexus 7 keyboard to do more on the tablet.
Nexus 7 owners can pick many different software keyboards to type faster, but when it comes to typing long documents or emails, it is worth investing in a good Bluetooth keyboard.
The Nexus 7 2013 and the original Nexus 7 are similar in size, but users that want a Nexus 7 keyboard case will need to pick one designed specifically for that device.
Read: Best Nexus 7 Cases
While some users prefer a Nexus 7 keyboard case because it is a single thing to grab on the go and it offers protection there are many more Nexus 7 keyboards that users can carry separately and connect by Bluetooth. The benefit to these Nexus 7 Bluetooth keyboards is that they are bigger, offering more keys, better key size or placement and are overall easier to type on.
Here are a collection of the best Nexus 7 Keyboards we can find for the original and the Nexus 7 2013 models. These work on WiFi only and on LTE models.
Belkin Bluetooth Keyboard for Nexus 7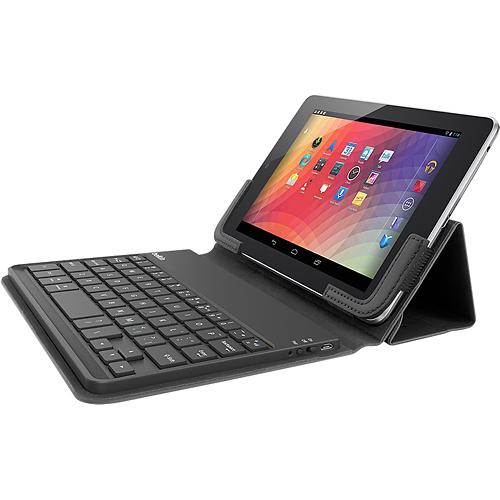 The Belkin Keyboard case for 7-inch tablets is a small universal case that fits the Nexus 7 i the universal slot and can protect the tablet during travel thanks to a wrap around design. The keyboard is built-in to the case which limits angles and placement of the keyboard while you are typing. The keys are small and the number of keys is less than on options that don't double as a case. This keyboard charges by Micro USB, like the Nexus 7 and connects by Bluetooth. It is available online and in some Best Buy locations.
$79.99 at Best Buy

As an Amazon Associate I earn from qualifying purchases.