4 Reasons Not to Install macOS Mojave & 16 Reasons You Should Install 10.14.6 Today
At this stage, you're probably used to the new macOS Mojave features, but there are still new macOS Mojave updates rolling out even as macOS Catalina is almost here.
Apple is still on macOS 10.14.6, but they are on the second supplemental update to this release. This new update that arrives on September 26th is focused on security. The previous supplemental update added better performance when accessing large files, addressed Mac sleep issues and other problems.
Many users will want to install the free update today, but some Mac owners are better off waiting a few days before installing the latest macOS Mojave update. Even though macOS Catalina arrives in October, you shouldn't skip this and wait for that release. With the release of macOS 10.14.6, there are more reasons to install the update, but there are still a few reasons to hold off.
Apple continues to roll out small updates to macOS Mojave months after the initial release. These small updates include important fixes and small new features. In most cases, the small updates are worth installing soon after release, but you may still want to wait a few days, just to make sure everything is working fine with the upgrade. This guide can help you decide if it is worth installing right now.
macOS Mojave is available on Macs as old as 2012, but it's not available to all Macs that could run macOS High Sierra. There are performance improvements, new apps, security upgrades and loads of new features as part of this upgrade. If you are on an older mac, it may be time to upgrade to at least a 2015 MacBook Pro or to a new MacBook Pro.
Here's Why You Shouldn't Install macOS Mojave;
Don't Install if You Aren't Prepared
Don't Install if You Are Worried About macOS Mojave Problems
Don't Install if You Use a Really old Mac
Don't Install if You're Traveling
Here's Why You Should Update to macOS Mojave;
Install for Important Fixes
Install for Apple News+ Fixes
Install for Bug Fixes Fixes
Install for Dark Mode & Upgrades
Install for ZombieLoad Fix
Install for AirPlay 2
Install for Easy Logins in Safari
Install for Group FaceTime
Install for New Emoji
Install for New Mac Apps
Install for Desktop Upgrades
Install for Security Fixes
Install for Continuity Camera & New ScreenShots
Install for Privacy Upgrades
Install for Emoji in Mail and Siri Upgrades
Install if You Have macOS High Sierra Problems
While macOS Catalina is coming this fall, this is still a key update that you should consider installing on your Mac, even if you are planning to upgrade to macOS 10.15 this fall.
You can downgrade to macOS High Sierra from macOS Mojave if you don't like it. There is no time limit like on iOS 12, but it is a process and takes some time so do your research before you upgrade.
There are many good reasons to install macOS Mojave on your Mac today or to install the macOS Mojave 10.14.6 update. Before you start, you need to consider these reasons you shouldn't upgrade yet. If you are already on macOS 10.14.6, it's a good idea to install the supplemental update.
Install for Important Fixes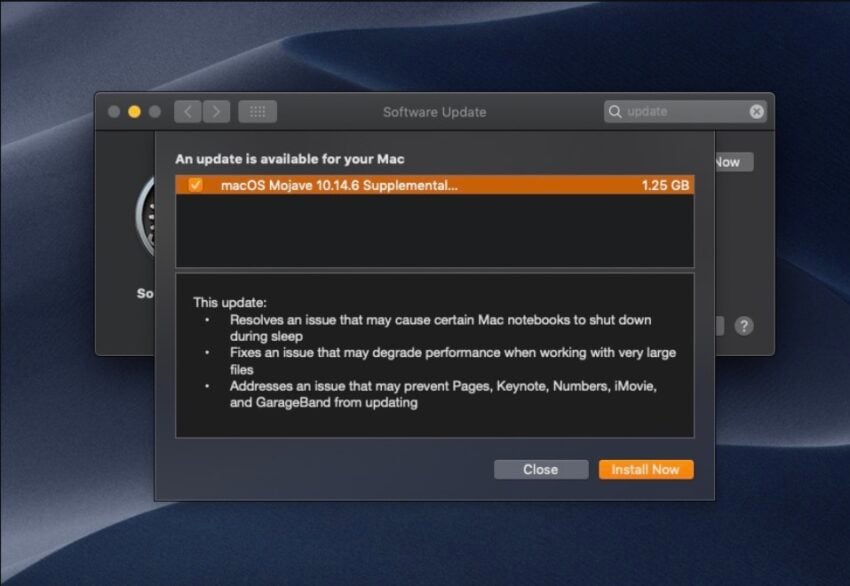 If you are running into issues with your Mac, you need to install this update on your Mac. The two supplemental fixes include security fixes and fixes for problems pestering many users.
The second supplemental update includes a fix for the problem where "A remote attacker may be able to cause unexpected application termination or arbitrary code execution." This is an important fix.
The previous supplemental update included the following updates, which you also get with this update if you hadn't installed the update yet.

Resolves an issue that may cause certain Mac notebooks to shut down during sleep
Fixes an issue that may degrade performance when working with very large files
Addresses an issue that may prevent Pages, Keynote, Numbers, iMovie, and GarageBand from updating
If you are having problems with this, you should install the supplemental update right now.

As an Amazon Associate I earn from qualifying purchases.