Top 5 Waterproof Smartphones to Kickstart Your Summer
Whether you've got mildly butterfingers and are prone to spills or a wild summer of fun planned, these five waterproof phones will complement your wet and active lifestyle. Some on the list are rugged and are mil-spec tested while others are just waterproof designs. These five phones show that waterproof and rugged doesn't always mean boring, and the category is seeing some high-end specs at more affordable prices. We've got phones from the top national carriers, so hopefully everyone is covered.
It's like the Galaxy S4, one of the world's most popular flagship Android smartphones on the market today, but with waterproofing. The phone is available through wireless carrier AT&T Mobility and supports the top 4G HSPA+ and LTE download speeds on AT&T's speedy network. With an 8-megapixel camera that can record 1080p HD videos, this means you can upload and share your memories instantly through AT&T's mobile broadband network, which has some of the top speeds in the country.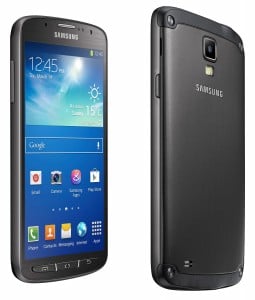 Some differences with the flagship Galaxy S4 of the non-active variety include: 1. 8-megapixel rather than 13-megapixel camera, no dual-camera mode to allow you to capture selfies and the scene at the same time in the same photo, and a 5-inch full HD display of the LCD variety rather than the AMOLED display.
You'll have a front-facing camera for selfies, a capacious battery, memory card slot, a speedy Snapdragon 600 processor that's found on all the current flagships, and a removable battery. Though waterproof and splash-resistant, AT&T says this isn't a rugged phone so you should still be careful with drops and dings.
For underwater photography, an Aqua Mode allows users to configure the volume up button to either snap photos or to record video. This is important as the capacitive screen does not work underwater so you'll have to rely on the configurable hardware button to capture your mermaid memories.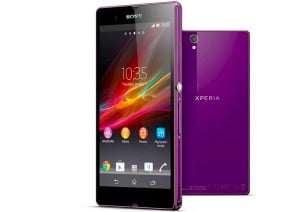 Debuted early this year at the Consumer Electronics Show with a stunning design and flagship specs, Sony had led the waterproof trend by showing that high-end hardware can still be ruggedized and elegant. The Xperia Z is a breathtaking phone that's dustproof and waterproof. Like its newer Galaxy S4 Active competitor, the Xperia design isn't rugged.
You do have a 13-megapixel camera sensor to record more details, an older but still very capable Snapdragon S4 Pro quad-core processor, and removable memory card slot so you can shoot as much videos and photos of your water adventures all in an elegant package. Unfortunately, you'll have to keep this phone near a charger for extended video shooting as it doesn't have a removable battery, so you can't swap for a new battery once the juice gets depleted.
The phone has been rumored for T-Mobile US, though no formal announcement has been made.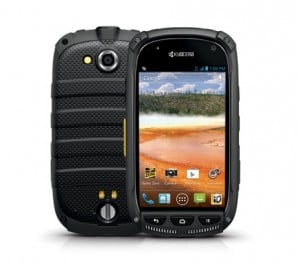 The Kyocera Torque calls Sprint's 4G LTE and 3G CDMA/EVDO network its home. With a rugged design and push-to-talk capabilities, the Torque's mil-spec certification makes it a more rugged beast. Still, a compact form factor makes it equally friendly in a pocket or purse as it is in a construction zone.
The Torque has a waterproof design, though its specs are outclassed by newer consumer-based models like the Xperia Z and Galaxy S4 Active. Where it shines is in use, so if you've got clumsy fingers and are prone to dropping your phone, the Torque should be able to take a beating and survive. The phone has a 5-megapixel camera, which isn't bad but doesn't compare immediately well on paper.
Despite more modest mid-range specs, like a relatively paltry 4-inch WVGA resolution display, the Torque packs some interesting specs, like tissue conduction speakers. Yup, you read that right–there is no earpiece speaker on this rugged beast, which further helps its watersealing. Instead, hold the phone to your face, and it works in a similar manner to bone conduction technology.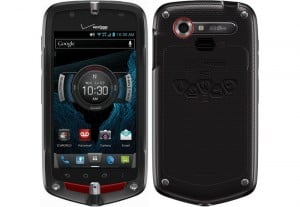 The Casion G'zOne 4G LTE is a mild refresh of the original model for Verizon Wireless. This ruggedized and waterproof design now is capable of Verizon's national 4G LTE coverage, which now spans Verizon's entire U.S. network. Like the Torque, you won't get high-end class-leading specs, but you'll benefit from a rugged design that stands up to drops and torture as well as for spills and water dunks.
The futuristic design may be a bit too masculine for fashion conscious buyers, but it's still a great design and may appeal to the macho men in your lives. The Commando is really targeted at outdoors enthusiasts with ready access to widgets for a digital compass and more. If you have a Casio G-Shock watch, this phone will readily pair with your wrist over Bluetooth as well.
An 8-megapixel camera places this one on par with the Galaxy S4 Active, though the dual-core processor isn't quite up to snuff nor is the device's 4-inch WVGA display when compared with more high-end entries like the Xperia Z. Still, the Commando is nothing to scoff at considering how much it packs and the beating it could take on your next rafting adventure.
5. iPhone 5
Out of the box, Apple's smartphone isn't waterproof nor is it rugged. However, when paired with the excellent Incipio Atlas case or Lifeproof Fre (now an Otterbox company), the iPhone 5 could be submerged under water and users can use the excellent 8-megapixel camera to capture stills and videos.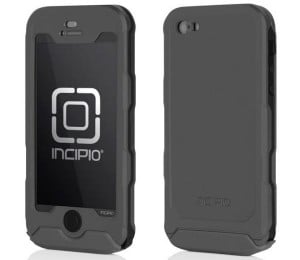 These cases add roughly under $100 to the price of entry to the iPhone. The difference is that the Lifeproof Fre has a thin plastic screen protector and slimmer design. The plastic screen protector has a small air gap between the display and the plastic, so the experience of using the screen is a bit similar to using resistive touchscreens of the past. In use, this means users will have to apply a little bit of pressure to register touches.
On the other hand, Incipio's new Atlas introduction offers users a glass screen protector, so the experience is almost similar to using the iPhone's capacitive touchscreen natively. The design isn't quite as slim as the Lifeproof, though it isn't quite as bulky as more rugged cases either, like those from Seidio or from Otterbox.
You can also find other top waterproof cases for the iPhone in our article here.

As an Amazon Associate I earn from qualifying purchases.