Apple Black Friday 2011 Deals Leaked: MacBook Air, MacBook Pro, iPad and iPod Deals
The Apple Black Friday 2011 in store and online deals have leaked out ahead of November 25th, showing a number of deals to be found on iPods, iPads, Macs and numerous accessories.
Apple Retail stores are opening up early on Black Friday, at 7AM local time, to handle the influx of Black Friday shoppers. You will also be able to purchase many of these Black Friday deals online at Apple.com starting between midnight and 3AM Eastern on Black Friday.
The leaked deals come by way of 9to5Mac, and match up with what we told you to expect from Apple on Black Friday in early November, and when Apple announced the one day shopping event.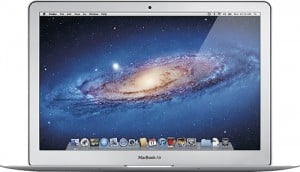 The Apple Black Friday deals include the following discounts on Apple products
$41-$61 off the iPad 2
$11 off the iPod Nano
$21-$41 off the iPod Touch
$101 off the MacBook Air
$101 off the MacBook Pro
$101 off the iMac
These deals are pretty good if you want to buy direct from Apple, but you can save $200 on the MacBook Air 13 at Best Buy right now, and grab other Apple notebook Black friday deals without waiting in line. We have also seen a number of iPod Touch deals, with $5 off and a $50 store gift card, which is a much better deal.
Apple is also offering a number of Black Friday deals on accessories for the iPad, iPhone and Macs. These deals offer good deals for bargain hunters, and mark one of the few times you can actually find Apple deals in the Apple Store.
$11 off the iPad 2 Smart Cover
$11 off the Apple Wireless Keyboard and Wireless Magic Trackpad
$5 off $50 iTunes Gift cards
$21 off the Mophie Juice Pack Air
$21 off the Jawbone Up
Many other discounts – see the scans at 9to5Mac
For more, be sure to check out our Black Friday 2011 Buying guides, where you can find the best deals on everything from Apple to Xbox 360.

As an Amazon Associate I earn from qualifying purchases.