4 Reasons Not to Install iOS 17.0.2 & 11 Reasons You Should
Apple's iOS 17.0.2 update could have a huge impact on your iPhone's performance. While some iPhone users should install the new software right now, others are better off waiting a few hours or perhaps even a few more days before moving up from iOS 17.0 or iOS 16.
The first version of iOS 17 brought upgrades to Siri, AutoCorrect, AutoFill, the Maps app, and a whole lot more. iOS 17.0.2, the newest version of iOS 17, is much smaller and patches up an issue within the operating system.
If you haven't moved to iOS 17 yet, the iOS 17.0.2 update requires a sizable download. That's because the features and fixes from the iOS updates you skipped are baked in. If you're moving up from iOS 17.0 or iOS 17.0.1, the iOS 17.0.2 download is much smaller.
Those of you dealing with issues on iOS 17.0.1, iOS 17.0, or iOS 16 could see a huge turnaround after installing iOS 17.0.2. We're already hearing about positive changes. That being said, we're also hearing about various bugs and performance problems.
If you do run into an issue, you can try downgrading to iOS 17.0.1, iOS 17.0, or iOS 16 though you can only downgrade back to iOS 16.6.1. Apple's closed off the downgrade path back to older versions of iOS.
This means those of you having a great experience on iOS 16.6 and older need to approach the iOS 17 upgrade with caution. Once you make the move, there's no going back.
If you're currently debating a move to iOS 17.0.2/iOS 17, allow us to walk you through the best reasons to install the software today and the best reasons to hang around on iOS 17.0.1, iOS 17.0, or iOS 16 for a little bit longer.
Install iOS 17.0.2 for Better Security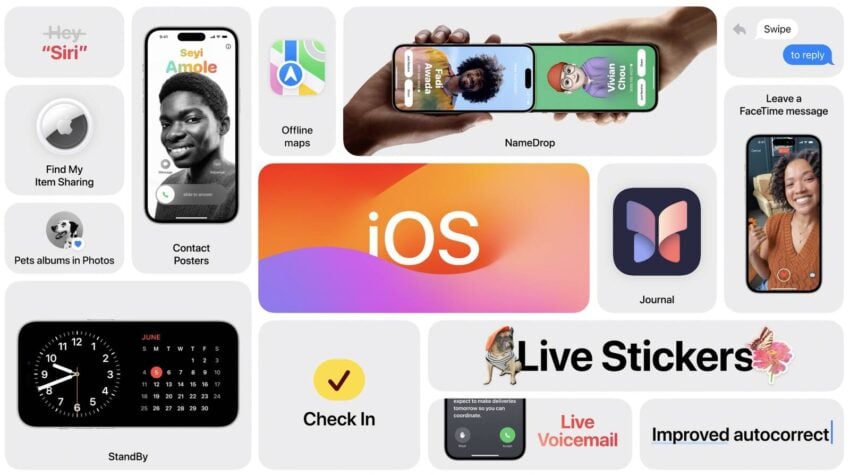 If security is important to you, think about installing Apple's iOS 17.0.2 update right away.
iOS 17.0.2 itself doesn't have any security patches on board. However, if you missed older versions of iOS, it will bring the patches from the updates you missed to your iPhone.
iOS 17.0.1 delivered three important patches to iPhone. If you're interested in the exact nature of these improvements, you can read about them over on Apple's security website.
As for iOS 17 itself, it brought 40+ new security patches with it. A staggering number to say the least. If you want to learn more about them, head over to Apple.
If you skipped older versions of iOS, like iOS 16.6.1, you'll get the security patches from those updates with your iOS 17.0.2 update as well.
In addition to those patches, iOS 17 brings some additional enhancements to privacy and security including improvements to Communication Safety beyond Messages.
It now includes content sent by AirDrop, Contact Posters in the Phone app, FaceTime, and the systemwide photo picker. You now have an option to blur out sensitive photos and videos before you choose to view them.
There's also an expanded Lockdown Mode which will help protect you against cyber attacks.
Apple's also improved sharing permissions and you now have more control over what you share with the apps on your device.
The company also notes that starting in iOS 17, Voice Memos encrypts the titles of recordings stored in iCloud, in addition to the recordings themselves.

As an Amazon Associate I earn from qualifying purchases.