65 Exciting Things You Can Do With the Apple Watch
The Apple Watch connects to your iPhone to deliver notifications, make calls, send texts, run apps, and help keep you healthy. The Apple Watch can do a lot right out of the box and countless things once you install more iPhone and figure out which features are most important to you. Below are some of the most exciting things you can do with the Apple Watch.
With a fresh update for watchOS 7, the Apple Watch 6, and the Apple Watch SE you can easily get the most out of your Apple Watch. Most of these features work on all Apple Watch models, but a few work best, or only, on the newer models that can run watchOS 7. Apple currently sells the Apple Watch 6, Apple Watch SE, and Apple Watch 3.
Whether you are hoping to buy an Apple Watch, hoping to get the Apple Watch as a gift, or looking for more to do with the watch you already own, this is the definitive look at the cool things the Apple Watch can do.
The Apple Watch is more than a miniaturized iPhone on your wrist. When you understand what you can do with the Apple Watch it becomes an amazing tool to help you get through your day, be more productive, lose weight, get in shape, save money, and even make money.
Your Apple Watch can do more than anyone likely needs. But just about everyone should get to know the basic Apple Watch features that are at its core. However, a lot of people don't make use of the Apple Watch's best features.
What Can the Apple Watch Do?
With watchOS 7 you can get cycling directions, track your sleep, share watch faces and if you buy the Apple Watch 6 you can check your Blood Oxygen level. This is on top of new watch faces, a calculator app, an Apple Watch store, hearing health, cycle tracking, and more. The Apple Watch delivers faster access to many of your common activities.
If you want to do more with your Apple Watch, you may need to upgrade. You can check the latest Apple Watch deals at Amazon, B&H Photo, and at Best Buy. For users looking for a cellular model, you can find Apple Watch LTE deals at Verizon, AT&T, Sprint, and T-Mobile.
This is not the only watch that connects to the iPhone, but it is definitely one that interests a lot of users and delivers the best connectivity to the iPhone. There are a ton of exciting and useful things you can do with the Apple Watch, even some you can do without your iPhone.
What the Apple Watch Can Do:
This list of things you can do with the Apple Watch should be more than enough to get your money's worth out of it.
Read: Get the Best Gaming Chair You Can Buy
Answer Calls on the Apple Watch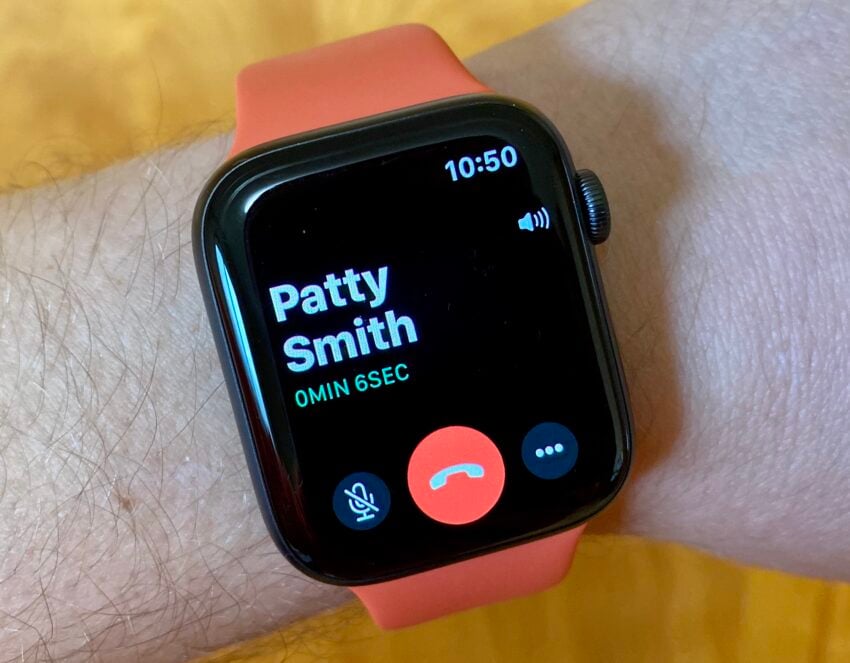 You can answer a call on your Apple Watch using it as a small Bluetooth speakerphone. You only want to use this for shorter calls because the audio quality isn't as good as when you are talking on speakerphone on your iPhone.
The Apple Watch only allows you to answer your calls on Speakerphone, so you won't want to use this all the time. It is very handy when you are working on a project or busy with your hands. Definitely be conscious of where you are taking calls. If you wouldn't talk on speakerphone, you shouldn't talk on your Apple Watch.
If you buy the new Apple Watch with LTE, you can even make calls on the Apple Watch without your iPhone nearby. This requires adding the watch to your plan for $10 a month. You cannot answer a FaceTime video call on the Apple Watch.
Last update on 2022-08-18. This post may contain affiliate links. Click here to read our disclosure policy for more details. Images via Amazon API

As an Amazon Associate I earn from qualifying purchases.