Apple TV 4 Rumors Heat Up Ahead of iPhone 6s Event
Apple's iPhone 6s event is official for September 9 where we'll see the unveiling of the iPhone 6s, iPhone 6s Plus, and possibly the Apple TV 4, but rumors about the new set-top box aren't stopping anytime soon.
The Apple TV 4 is said to receive a major overhaul over the current model, which hasn't received a single refresh since 2012. According to rumors that have been floating around for a while, the new Apple TV 4 box will sport a thinner, but wider design overall and keep the same rounded-square look as before.
Furthermore, it's said that the Apple TV will also get its own app store of sorts, that will allow users to download and install Apple TV apps. Currently, the Apple TV only has a select number of "channels" that are available by default, and Apple only allows broadcast and streaming services to have channels on the Apple TV, but that could soon change. It's possible that third-party developers will be able to create Apple TV apps, further widening the scope of what the Apple TV could do.
On top of that, the Apple TV 4 is said to receive a remote control overhaul, doing away with the classic thin design of the current aluminum remote and bulking it up a bit by adding a touchpad. This would make it way easier to navigate through menus and even typing out stuff when you're searching for a specific movie or TV show.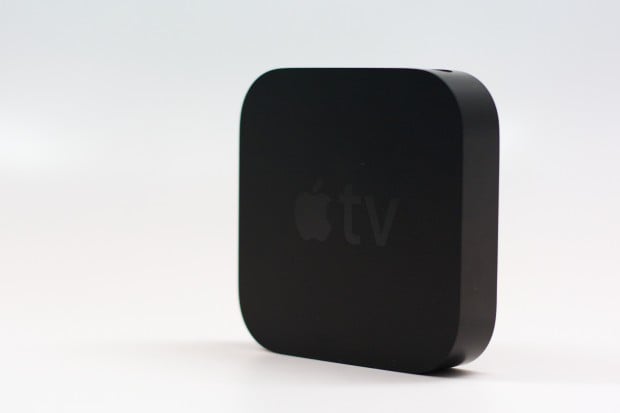 The remote is also said to come with a built-in microphone that would allow you to speak to your Apple TV and perform voice searches, similar to Amazon's Fire TV.
However, that's not the only improvement that the new Apple TV 4 remote could come with. According to a new report from TechCrunch, the Apple TV 4 remote will also include a bevy of sensors to make it motion sensitive, similar to the Nintendo Wii remote.
The remote will include "several axis' worth of sensors" allowing you to point it at the screen and use it to easily select an item just like you would with a Nintendo Wii remote. It would certainly make navigation a lot easier on the Apple TV. However, it's also something that could be implemented into games if Apple decided to go that route with the Apple TV 4, which has been rumored in the past.
While it has certainly been awhile since we've heard rumors of the Apple TV getting gaming support, it seems that a feature like that could still be on the table, although we'll have to wait and see how Apple would implement gaming into the set-top box exactly. It's possible that the included remote control could be doubled as a game controller when users want to play games on the device, but it's also possible that the Apple TV 4 could come with Bluetooth controller support for a small number of approved third-party gamepads.
In any case, so far it appears that the remote for the Apple TV 4 could be the biggest new thing on the list of features for the rumored set-top box. It'll be interesting to see the re-design of the user interface, of course, but the biggest change could be the remote itself. The current Apple TV remote has remained unchanged since 2007, and while its design is quite timeless, it's about ready for an update.
One thing is for sure, though. Hopefully Apple will make it easier to find a lost Apple TV remote, as those little things get stuck between the couch cushions all too often. Luckily, the new Apple TV remote will be a bit chunkier than before, making it more difficult to get lost.

This article may contain affiliate links. Click here for more details.