Confirmed: HP Slate is now the 'Hurricane'
Two separate and reliable sources confirmed today that the HP Slate will not be released this summer as previously expected. Instead, the company is in a rush to get Palm's WebOS onto a slate device that will be named the HP Hurricane. The sources, who are about as close to the project as you can get, say that HP sees the device as a competitor to the iPad.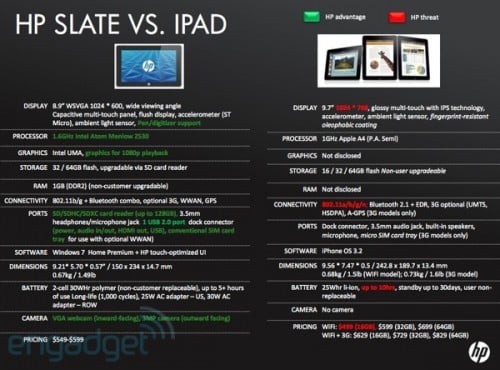 Our sources would not confirm if the Hurricane would have different specifications than those that were previously leaked.
While some HP insiders seem to clearly understand the challenges of competing head-to-head with the iPad and the whole iEcosystem, others seem to scoff at the iPad as a toy.  I'm hoping that all of the folks over at HP  don't underestimate the power of Apple's marketing and iEcosystem. Like it or not, there are over 85 million iPhone OS devices out there that people have been using for the past three years. By the time the HP Hurricane ships we may have the second generation iPad in our hands.
I'm hoping that HP will find a way for slate novices to instantly feel at home with the Hurricane. I also hope HP can find a way to meet or exceed the iPad's battery life.
One thing is clear, the Hurricane is going to be positioned as a companion device rather than a full PC as previously demonstrated. In a video released last month, HP showed a custom UI that ran on Windows 7. Applications such as iTunes were shown on the touch UI. Obviously, you won't be able to synch your iPhone, iPod or iPad with the Hurricane. Instead, you'll most likely want to sync a Hurricane with the cloud and/or your PC.
We're still not clear on what kind of inking support HP will ship the Hurricane with. Based on GBM readers' outcry over the lack of support for inking on the iPad, I'd  settle for some good old fashion Graffiti.

As an Amazon Associate I earn from qualifying purchases.