Final Uncharted 4 Release Date Details Revealed
After long delay, we now have the final Uncharted 4 release date directly from the Sony and video game developer Naughty Dog.
Sony announced the official Uncharted 4 release date this afternoon in a post on its PlayStation Blog. The game will officially hit stores on March 18th, 2016, giving Sony a big advantage earlier in the year when game releases from third-party publishers are a bit weak already. Originally, the Uncharted 4 release date was going to be sometime this calendar year, but Naughty Dog was forced to push the release back so that it could work on completing the game and guaranteeing a great first-day experience for gamers. Uncharted 4: A Thief's End is a huge title for the PS4, which has managed to beat Microsoft's Xbox One console in sales so far. With the Uncharted 4 release date now set for March, some worry that PS4 sales could slow since Microsoft has an extensive list of exclusive games.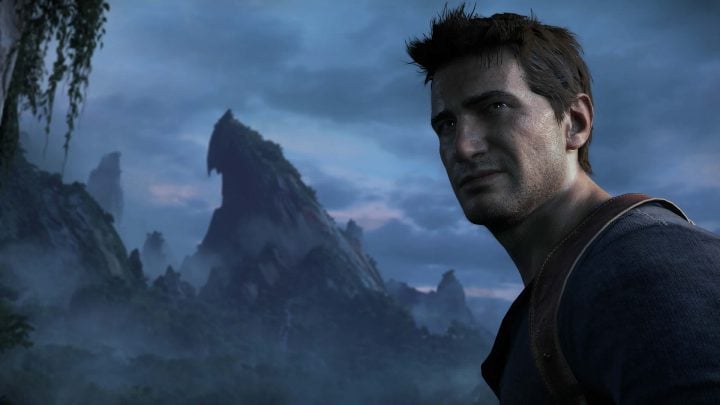 Read: 10 Exciting Uncharted 4 Details
Besides revealing the Uncharted 4 release date, Sony and Naughty Dog also revealed the different versions of the game players can expect. All told, the stuff included is standard fanfare for any major game release.
Uncharted 4: A Thief's End Special Edition will cost $79.99 and include a copy of Uncharted 4 in a SteelBook case, a 48-page art book, a sheet of pirate stickers and a in-game currency to use on purchases for the game's multiplayer. Uncharted 4: A Thief's End Special Edition will cost users $79.99 in the United States.
$119 will get users everything in the Special Edition bundle plus a 12-inch statue of Nathan Drake, three multiplayer outfits, two custom weapon skins, a Sigil baseball cap and a Madagascar sidekick outfit. Sony calls this the Uncarted 4: A Thief's End Libertalia Collector's Edition. Both of these Uncharted 4 release editions include a physical copy of the game, not something that players need to download from the PlayStation Store. That's a very important distinction since there's a digital version too.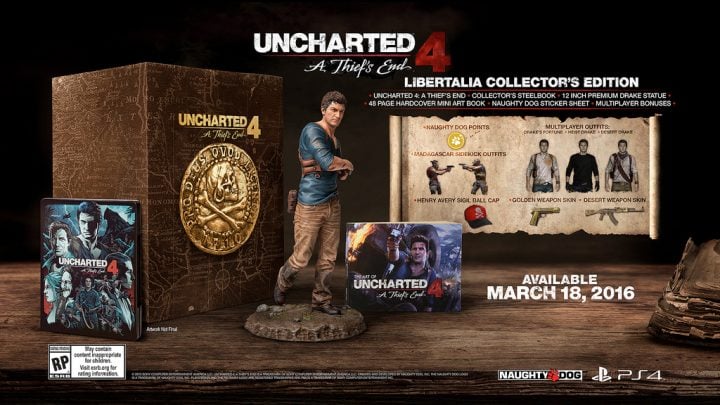 Uncharted 4 Digital Deluxe Edition will cost PlayStation Store shoppers $79.99 and include early access to the a single player story add-on and two multiplayer add-ons for what Sony describes as "rare and legendary" multiplayer items. Buyers will also go two multiplayer customization items. Sony will sell the extras in this version of the game separate for $20 and offer a pre-order back to both digital and disc versions of Uncharted 4 that packs a Drake's Fortune outfit for multiplayer, a golden weapon customization option, and Naughty Dog points for use in the game.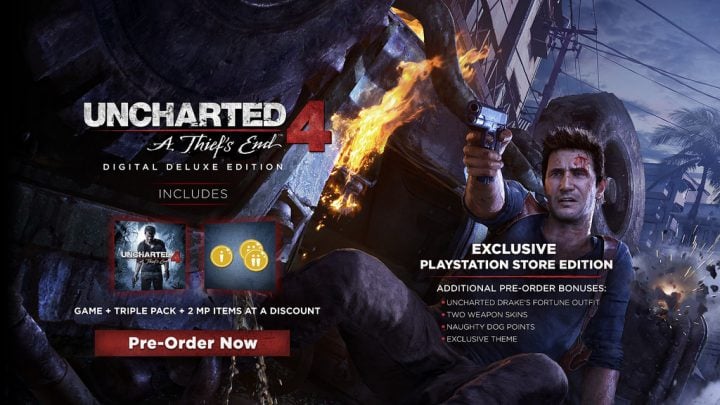 Additionally, we now know what Uncharted 4 release day buyers can expect from GameStop and Amazon when they pre-order. GameStop shoppers will get a Multiplayer Booster Pack that comes with The Purba Dagger Taunt. These boosts can only be used once. Amazon buyers will get a Snow Camo weapon customization and a Drake outfit fresh from the desert. PlayStation Store buyers get an Uncharted 4: A Thief's End Theme for use on their console and a desert weapon customization.
All of the different versions of Uncharted 4: A Thief's End are available right now at GameStop for pre-order. Sony says that the PlayStation Store's Uncharted 4 pre-orders will go line sometime this week, allowing anyone and everyone who is comfortable with buying a digital copy of the game to do so. Only the basic copy of Uncharted 4 is available for pre-order at Amazon right now.
The Uncharted 4: A Thief's End release date isn't happening until next year, but that doesn't mean that users PS4 owners can't experience the game's multiplayer this year. Buying a copy of Uncharted: The Nathan Drake Collection gets users into the Uncharted 4 multiplayer beta. It's already available for pre-order at Amazon.

As an Amazon Associate I earn from qualifying purchases.