How to Back Up Your iPhone with iTunes on Mac
One of the most important tasks that you should do on your iPhone is back it up. Here's how to back up your iPhone with iTunes on Mac.
Backing up your iPhone saves all of your apps, photos, settings, etc. so that if something bad were to happen to your iPhone, you could get your apps and settings back whenever you fixed it. This is important because sometimes your iPhone can just die, especially if you have an older iPhone. If you don't have it backed up, you'll lose all of your apps, photos, and settings.
However, not only do you need to back up your iPhone, you need to do it regularly if the contents on your iPhone change frequently. Many times, users will back up their iPhones maybe once a month or even every couple of months and call it good, but if you're constantly downloading new apps and taking more and more photos, all of that information needs to be safely backed up on a regular schedule.
Read: 10 Things Every iPhone User Should Do
If you find yourself with an iPhone that isn't backed up, here's how to back up your iPhone using iTunes on your Mac.
Backing Up Your iPhone
The process for backing up your iPhone is really easy and anyone can learn how to do it. There are no prerequisite steps to take either — just plug in your iPhone, fire up iTunes, and back it up.
Backing up through iTunes will back up everything, whereas an iCloud backup will only backup a select number of things, like photos and settings.
To back up your iPhone using iTunes, follow the simple steps below.
First off, plug in your iPhone to your Mac and then open up iTunes. From the main screen in iTunes, click on the iPhone icon toward the top-left of the window.
This will take you to the device summary page in iTunes where you'll see info about your iPhone, including your device's serial number, as well as when the last time you backed up your iPhone was. You can also take a closer look at your storage and see what's all taking up space.
From this page, simply click on Back Up Now to begin the backup process. If you want to encrypt the backup (that is, secure with a password) you can select that option to the left. This will also allow you to back up account passwords and health data.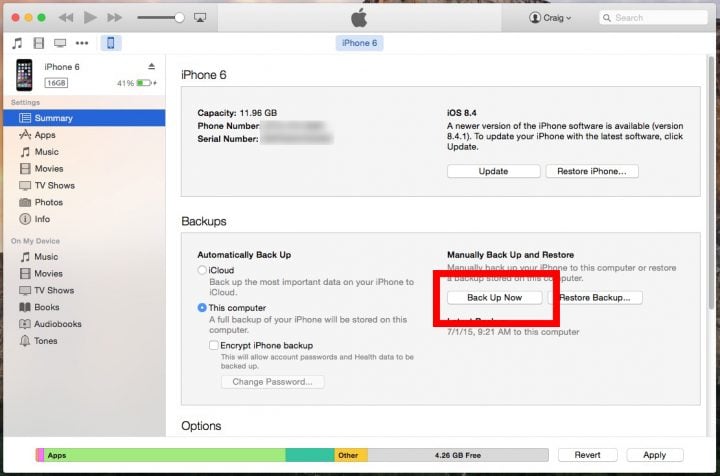 From there, you might receive a pop up saying that there are apps on your iPhone that aren't in your iTunes library, which means they aren't backed up. You can click on Back Up Apps to back up all of the apps on your iPhone, which is recommended.
At this point, the backup process will begin, which could take a while — maybe around 20 minutes or so depending on how much stuff needs backed up. If you have only a few files that need backed up, it'll only a minute or two, whereas if everything needs backed up, it could take a while.

After the process completes, you'll be good to go and you can close out of iTunes and unplug your iPhone.
Again, once you back up your iPhone, you'll want to make it a habit to frequently back up if you're constantly downloading new apps, taking photos, and changing around settings.
However, if you're like me and store most of your important files in the cloud, including photos, then you may only need to back up your iPhone every once in a while. I rarely download new apps and most of my settings stay the same, so I have little reason to back up my device every single week, but other users may want to.

As an Amazon Associate I earn from qualifying purchases.