How to Set Up Your iPad mini
If you got a new iPad mini for Christmas, congratulations. Someone likes you enough to get you one of the hottest tablets available today. Look forward to hours of great fun reading books, magazines, checking email and reading your favorite websites.
Let us guide you through the iPad mini setup process. We'll share tips for securing the iPad mini, setting up parental controls and we'll also share app recommendations to make the iPad more useful. This process will take about 15-30 minutes from unboxing to installing fun apps to use for the holidays.

We also recommend getting an iPad mini case to protect it from dings and scratches that will happen during regular usage. Just avoid iPad mini Smart Cover, which we found overpriced and less useful than the larger iPad Smart Cover.
Initial iPad mini Setup
Watch the iPad mini unboxing we made shortly after the Wi-Fi version shipped.
Even though Apple ships the iPad mini with plenty of battery life to get started, we recommend topping off the battery early in the process.
Here's the list of steps one takes on first boot:
Choose a language
Select a country
Connect to Wi-fi
Turn on location services for things like Maps or apps that find nearby places
Set up as a new device, unless you will replace an old iPad then use a backup from a computer if possible or iCloud
Sign into an existing Apple ID or create a new one
Choose to use iCloud
Back up the iPad to iCloud or a computer
Use Find my iPad if it gets lost or stolen
Set up FaceTime contact email address or phone numbers
Choose to use Siri, a voice recognition function
iPad mini Security
LIke most things on the iPad mini, users find security features in the Settings app. It looks like a black set of gears.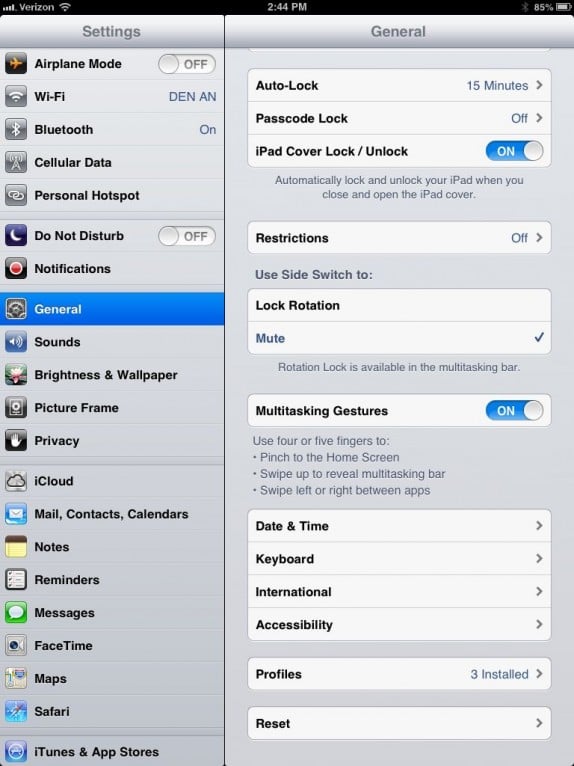 First, set an Auto-Lock time. This turns of the screen to save battery life and secures the iPad from people who a user doesn't want accessing the iPad. We recommend either 2 or 5 minutes.
Go back and choose Passcode Lock. Before turning it on choose between a simple passcode or a longer one.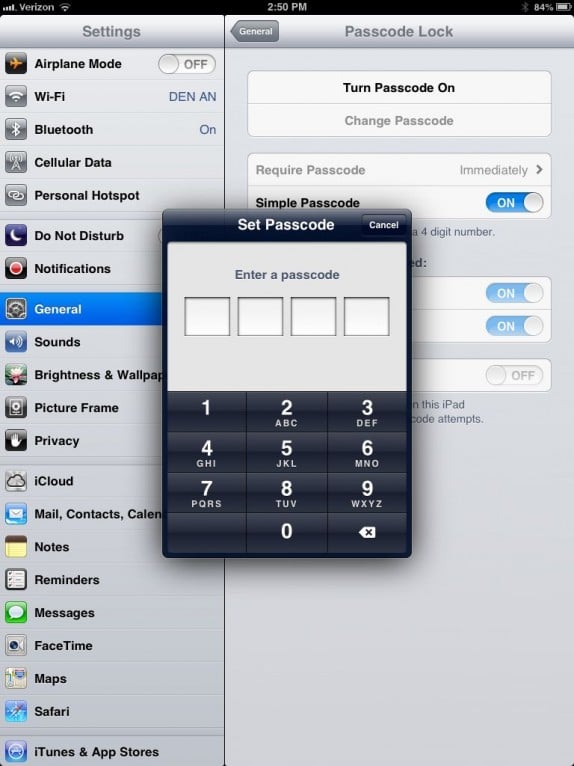 Simple passcodes use four numbers like the screenshot above shows. Longer ones might look like the following: dxlldd994ls. Go into the Settings app and Passcode Lock screen
Once a user protects the iPad mini with a passcode, the user can choose how long the iPad must remain locked before entering the passcode. Set the setting Require Passcode to Immediately for strongest security. Set it to a minute so you don't need to enter the code if the screen was just locked.
The last two options on the Passcode Lock screen let the user decide whether to allow access to the iPad mini by using Siri or when using the Picture Frame function, which shows a slide show of pictures on the iPad. For greatest security set these both to Off.
Finally, choose to Erase Data if an incorrect passcode gets entered ten times. This keeps people from guessing the code.
Parental Controls
Parents can limit what a child purchases, kinds of web sites the child can visit, playable games by rating, and more.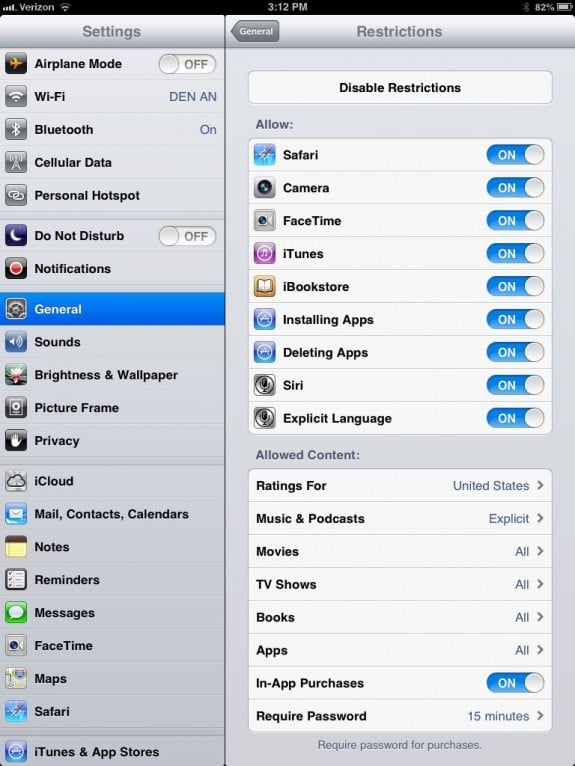 In Settings find the Restrictions options. First hit the Enable Restrictions button. This turns them on for all options. The parent can then turn them off for specific apps. A few examples include turning off access to explicit music and podcasts, limiting what movies, shows or games the iPad will play by ratings or turning off In-App Purchases from this list.
Read: How to Lock the iPad to a Single App for Kid Mode
 https://www.youtube.com/watch?feature=player_embedded&v=m6HcFWGQn48
Set Up Accounts on the iPad mini
A user will now want to set up accounts for email, calendars and contacts.
From Settings, first choose iCloud and turn on which items that need syncing with iCloud. We recommend turning them all on, but some might not use iCloud for Notes, Calendars or other items. Save some space in an iCloud account, which Apple limits to 5GB in a free account, by turning off unused items.
Now tap on Mail. Contacts, Calendars to add these kinds of accounts. Here's where the user will add their Gmail, Yahoo or work email accounts.
Setting Up Important Apps
The above will only set up an iPad for the bare minimum functions like surfing the web, reading email and personal information management. The genius of the iPad comes from the apps a user can add. Open the App Store on the iPad. We recommend getting a few apps as follows:
While looking for apps, understand that Apple designed iOS so that apps made for the iPhone. Apple designed the iPad's operating system to enlarge the app so it fills the screen, but it won't look as good.

As an Amazon Associate I earn from qualifying purchases.