Holidays over and just got a new iPad, but not sure what to do with it?
Here's a guide to help you set it up.
The intial setup of the iPad is relatively simple, as Apple walks users through it with a series of menus when the iPad first boots up. After that, however, you're on your own! And with little, to no, help from Apple.
This guide will help walk new users through setting up their iPad, securing it and installing a few good starting apps.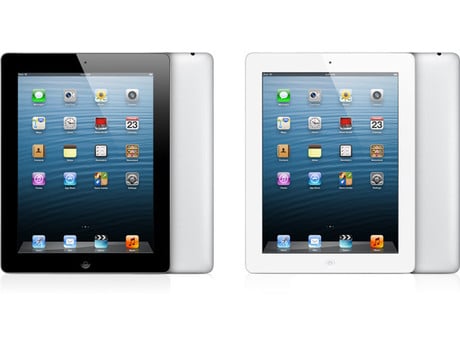 iPad Setup
The first thing Apple asks new iPad users to do is choose their language. Users in the U.S. will have English selected by default. The next step is to connect to a Wi-Fi hotspot, for this you'll need the name of your Wi-Fi network and its password.
After setting up the Wi-Fi the iPad will ask users if they want to use location services and Siri. The easiest option is to say yes to both. Location Services helps track the iPad with Find My iPad if it's ever lost, and Siri brings dictation along with it, which is useful.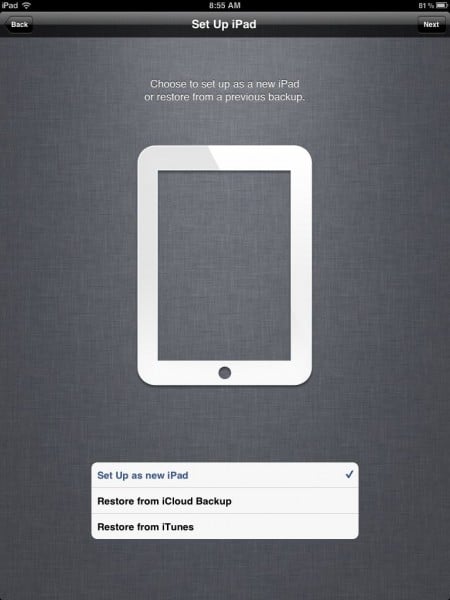 The final important step is to either sign into iCloud or create a new iCloud account. Without an iCloud account users can't use FaceTime or Messages. Messages is only useful for users who use iMessage a lot, but FaceTime is great feature for video chat.
iPad Security
Users who plan on taking their new iPad with them on the road will want to set up a passcode for the device in case it gets lost or stolen. To set up a passcode, open Settings and select "General" from the left panel. Then choose "Passcode Lock" in the right panel and input either a four-number PIN or an alphanumeric password. The PIN is the easier option.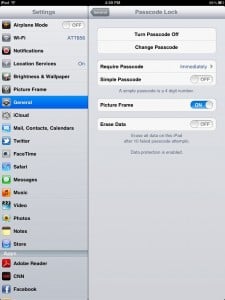 Those who don't plan on bringing the iPad out of the house might still want a passcode, but it's less of a necessity.
Parents or anyone setting up an iPad for a child to use will also want to enable Parental Controls, which are also found in the "General" menu in Settings. To enable Parental Controls tap on "Restrictions" and set up a passcode for it so only those who know the passcode can change them. From there users can choose to restrict a number of apps like iTunes, Safari and FaceTime as well as restrict the type of media allowed.
Parents with children may also want to enable guided access in certain apps like Netflix so their kids can't access parts of the apps they shouldn't.
Using the iPad
Installing new apps on the iPad is easy. Users simply need to open the App Store and choose the apps they want. Apple will require an Apple ID, the same ID as the one used for iTunes, to download or buy new apps, and users will have to input their password before downloading new apps.
To set up email on the iPad, just open Settings and tap on "Mail" in the left panel. In the right panel choose "Add Account…" and choose the service the email address is from. Then just input the email address and password.
Setting up Facebook and Twitter is just as easy as email. Open Settings and choose the social network of choice from the left panel. In the right panel input the login information. Settings will also give the option to install the app for the respective social networks.
5 iPad Apps to Install First
The first app most users will want to download to their new iPad is YouTube. Apple removed YouTube from iOS 6, and Google recently released its own official app for the service. The app lets users watch almost any video on YouTube in HD, though it does have pre-roll ads like the desktop website.
Netflix is also an easy recommendation for new iPad owners, assuming they subscribe to the service. With the Netflix app iPad users can watch any movie or TV show in the Netflix Instant library as long as they have a connection to the Internet.
Flipboard is a great go-to new reader for the iPad. It pulls news from a number of sources, including social networks and Google Reader, and puts them in a magazine-esque layout. It's one of the best way to read content on the iPad.
The next best app to download to the iPad is an eBook reader. Amazon Kindle, iBooks or Barnes & Noble Nook all let iPad users read books on their tablet. It just depends on what service the user prefers.
Finally, Paper is one of the best iPad apps available for drawing. The app is free and great for either writing handwritten notes with a stylus or just for sketching.

As an Amazon Associate I earn from qualifying purchases.