iOS 5.1 Jailbreak for iPhone 4S & New iPad Exploits Discovered
Users may soon be able to jailbreak the iPhone 4S, iPad 2 and new iPad 3rd generation thanks to progress by famed iOS hacker Pod2g and the iPhone hacking community.
Pod2g was an integral member of the iPhone Hacking Dream Team that delivered the iPhone 4S jailbreak on iOS 5.0.1.
This week Pod2g announced that the team had gathered all the exploits needed for the iOS 5.1 Untethered jailbreak on Apple A5 and A5X devices. The group is working on a final security bypass, before publicly releasing the jailbreak.
News: we have all exploits required to do a new jailbreak. I'm working on bypassing ASLR at bootup.

— pod2g (@pod2g) April 18, 2012
Untethered iOS 5.1 Jailbreak Progress
An untethered iOS 5.1 jailbreak for the new iPad has not been released to the public, but hackers have shown off the  New iPad jailbreak progress on several occasions, including the video below.
Users could Jailbreak the iPhone 4S and iPad 2 on iOS 5.0.1, but iOS 5.1 removed the ability to jailbreak. Users who updated to iOS 5.1 or purchased a new iPhone 4S could not downgrade or jailbreak. The New iPad has not seen a public jailbreak, but according to reports this new jailbreak will work on the iPad 3rd Generation.
What's Missing?
iPhone hackers still need a final piece of the puzzle to bring a new iPhone 4S jailbreak to the masses. The ASLR part mentioned by Pod2g is Apple's way of preventing exploits from taking control of the iOS system.
iOS 5.1 Jailbreak for iPhone 4S and New iPad Release Date
iPhone 4S and new iPad jailbreak progress doesn't mean that a release date is right around the corner. The team has a lot of work to do before releasing an updated version of Corona, RedSn0w or Absinthe to jailbreak A5 and A5X devices.
Remember: just because all the exploits are found doesn't mean that a jailbreak exists — it's likely months away from first working at all.

— Grant Paul (chpwn) (@chpwn) April 18, 2012
Hacker chpwn warns that compiling these exploits into a publicly releasable jailbreak for the iPhone 4S, iPad 2 and iPad 3rd generation will take a long time.
Why to Jailbreak

Users jailbreak the iPhone 4S and iPad to run apps that Apple doesn't approve in the app store. There are many tweaks that make jailbreaking appealing to a variety of users.
Some of the most popular jailbreak tweaks allow users to use Siri to open apps, change the screen color for better night reading, add lock screen info, quick access to settings and more.
Check out 18 Reasons to Jailbreak the iPhone 4S for more reasons to jailbreak. For more, read the top iPhone 4S jailbreak apps and the top iPad 2 Jailbreak apps.
Why Not to Jailbreak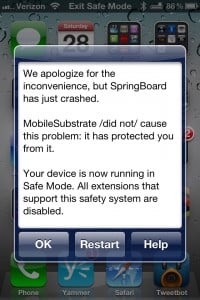 For all the added features, jailbreaking isn't for every one. There are a number of reasons users shouldn't jailbreak the iPhone 4S, iPad 2 or new iPad.
Jailbreaking is legal, but it does void the Apple warranty. Most of the time it is possible to un-jailbreak the device before sending it back to Apple for service, so this is a very minor reason.
Read: Why Not to Jailbreak
The bigger reason that the average user may not want to jailbreak is the possibility of odd iPhone behavior. The iPhone 4S and iPad are very stable devices, but jailbreak tweaks and apps can introduce stability issues that affect usability and battery life.
My iPhone 4S lost stability while jailbroken earlier this year, which was one of the reasons I decided to un-jailbreak my iPhone 4S when iOS 5.1 came out.
—
Users who are willing to troubleshoot issues on their own have little to worry about, and many users with jailbroken iPhone 4S' report great performance.
Are you looking forward to the iPhone 4S, iPad 2 and new iPad jailbreak?

As an Amazon Associate I earn from qualifying purchases.