Killer Halo 5 Limited Collector's Edition Deal Arrives
In what is becoming in interesting trend, Windows hardware maker Dell has a huge Halo 5 Limited Collector's Edition deal ready for anyone planning to pre-order the massive bundle of memorabilia and extra content ahead of release.
Starting today, anyone will a Dell Advantage Loyalty Program membership can purchase Halo 5: Guardians Limited Collector's Edition for Xbox One. When they do, Dell includes a $50 promotional eGift card redeemable on their site. Effectively, Dell shoppers are getting one of the most expensive, hotly anticipated Xbox One games, complete with extras for $50 off the price everyone else will pay. Everywhere else the Halo 5: Guardians Limited Collector's Edition bundle costs $250 to pre-order. This isn't to be confused with the Halo 5: Guardians Limited Edition Xbox One console that Microsoft plans to begin selling this October for $499.
Besides the $50 Dell Promo eGift Card, Dell Advantage Rewards members also get free next-day shipping. Regular games and tiles include 10% rebates for Advantage Rewards members and $25 in Dell Promo eGift Card credit. Dell isn't known for selling video games. The company is a dominating force in Windows PC sales. Anyone can sign up for a Dell Advantage account, but only users who have Dell Preferred Account get rewards for whatever they purchase.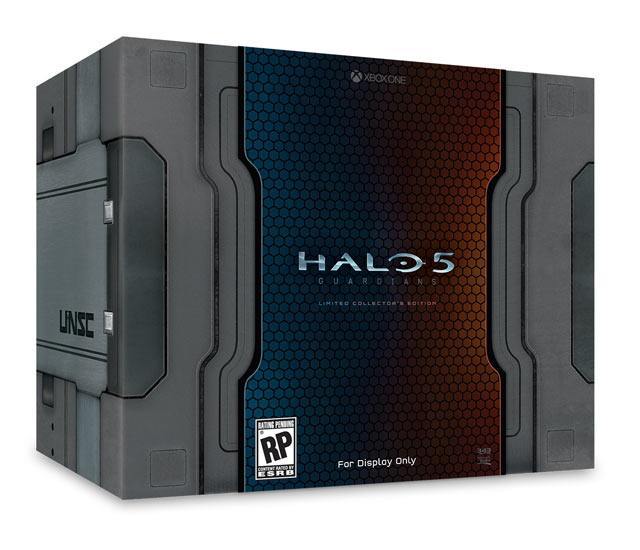 Halo 5: Guardians Limited Collector's Edition will begin arriving on store shelves and shipping out from online retailers on October 20th. Halo 5: Guardians doesn't officially launch until October 27th, but Microsoft is releasing the bundle a bit early so that users can download their digital copy of the game ahead of schedule. Microsoft has been criticized for not including physical copy of the game with this bundle. Since announcing it, the 343 Industries, Halo 5: Guardians' developer has said publicly that it'll allow users to trade in their digital copy of the game for a physical one.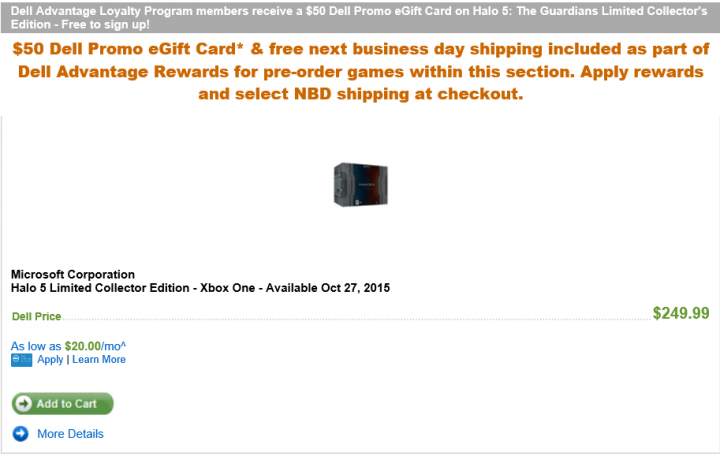 Read: Which Halo 5 Guardians Edition Should You Buy?
Included in the giant box is a statue with Master Chief John 117 and Spartan Jameson Locke, the characters the game's story focuses on. In addition to that, a model of a Guardian made by Metal Earth is included too. Microsoft isn't including a physical copy of Halo 5: Guardians, but will include a code in a SteelBook case. A breakdown book containing biographies of John 117 and Locke's teams is inside too.
Digital add-ons are aplenty, with 14 requisition packs, and access to the Fall of Reach animated series also in the Halo 5: Guardians Limited Collector's Edition. Anyone who pre-orders at Amazon gets an exclusive SMG weapon for their Spartan. To get players started online, Microsoft is dumping in a 14-day free trial to its Xbox Live online gaming service too, a rarity these days. Mostly, Microsoft now includes 2-day free trial cards for the service.
Halo 5: Guardians has two protagonists because players aren't sure which one is the actual bad guy. John 117 has reassembled his old Blue Team colleagues from the original Spartan program. Locke has assembled a new team of soldiers, determined to hunt the Master Chief down. Which one is the bad guy is a major plot point of the game. Microsoft hinted at a shaky future for John 117 at the beginning of Halo 4 when the Spartan program's creator is hauled in for questioning.
Co-operative multiplayer is built into Halo 5: Guardians, with players being able to give orders to their team as they progress through the story. Besides new weapons and abilities, Halo 5: Guardians includes Warzone, a high-octane battle arena mode for online players.
Read: New Halo 5: Guardians Video Flush with Insider Info
Halo 5: Guardians is one of two games that'll anchor the Xbox One's fall and holiday season. The other is Rise of the Tomb Raider, which will also come to the Xbox 360.

As an Amazon Associate I earn from qualifying purchases.