Lenovo Launches New 2015 IdeaPads and Miix 700 Surface Rival
To kick off the fall and holiday shopping season Windows device maker Lenovo is back with a new line-up of IdeaPad notebooks and a Miix Tablet that's absolutely going to catch the eye of shoppers. The IdeaPad 100S, IdeaPad 300S, IdeaPad 300 and IdeaPad 500 each have advantages different kinds of buyers will love. The new Lenovo Miix 700 is a straight Surface Pro 3 killer.
Lenovo revealed the new winter Windows 10 ready IdeaPad lineup and the Miix 700 this morning. With the Surface Pro 3 being a highly successful form factor for Microsoft, it's the Miix 700 that's garnering the most attention. Both devices are made for users ready to embrace the 2-in-1 lifestyle.
The Lenovo Miix 700 is a gold 12-inch tablet with the internals of a notebook PC. Inside there is a new 6th generation Intel Core M7 processor, Intel HD graphics, a 5 megapixel camera, 5 megapixel rear-facing camera and up to 9 hours of battery life. Miix 700 users can get a better view of their display by flipping out the embedded kickstand built into the rear of the device. Display options are limited to a 12-inch FHD+ display with a resolution of 2160 x 1440 pixels. Users can add up to 256GB of storage.
Lenovo goes farther than Microsoft is willing to with its professional tablet that can double as notebook PC. Standard, a 5 megapixel rear-facing camera with flash sits in for the optional Intel RealSense camera. Connectivity options include Bluetooth 4.0, and wireless 802.11 AC, the latest in internet standards. RealSense cameras allow Windows 10 devices to unlock for users on site. The Lenovo Miix 700 also includes a MicroSIM card slot and support for LTE mobile broadband. There's a USB 3.0 and a USB 2.0 port for connecting extra accessories. By comparison, the Surface Pro 3 only has a single port. The Miix 700 swaps the mini DisplayPort in the Surface Pro 3 for a micro HDMI Port. Lenovo says that it'll have versions with less powerful processors too.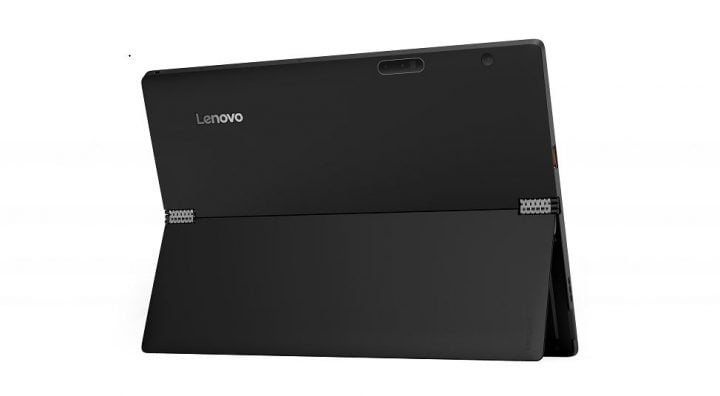 The Lenovo Miix 700 kickstand is on a rotating hinge so that users can get the best viewing angle possible. For $699 Lenovo plans to include a case with the built-in mechanical keyboard. Color options will also include black.
Windows 2-in-1s are great for people looking to slim down the amount of devices they carry everyday. That market is growing, but many just want a great PC at a great price. That's where the new Lenovo IdeaPad 500, IdeaPad 300, IdeaPad 500S, IdeaPad 300S, IdeaPad 100S.
The IdeaPad 100S has two configurations. The first features an 11.6-inch 1366×768 display with an Intel Atom processor and 2 USB 2.0 ports for $189. There's also a 14-inch IdeaPad 100S for $259 with a 1366 x 768 14-inch display, Intel Celeron Processor, 1 USB 3.0 port, 1 USB 2.0 port and Bluetooth 4.0. Both can be configured with at least 32GB of RAM. They each get 8 hours of battery life running Microsoft's Windows 10 operating system.
Lenovo has the IdeaPad 300S for people who need more power and more storage. Windows 10 comes installed in machine already. Options include up to an Intel Core i7 processor, up to 8GB of memory, as much as 256GB of SSD storage, discrete Nvidia GeForce 940M graphics card. The machine has a single USB 3.0 port, a USB 2.0 port, a single HDMI port, a media card reader and 801.11AC wireless network technology. Options include a 14-inch 1920 x 1080p display. Lenovo says the IdeaPad 300s will go on sale for $479. Lenovo has a plain IdeaPad 300 machine coming for those who need integrated Radeon graphics, more display sizes, and more options where storage and RAM for running programs is concerned for $399.
Finally, there are two configurations of the IdeaPad 500 for holiday shoppers: one with an AMD processor and another with an Intel processor. Both have 14-inch display and 15-inch display options. Both come with Windows 10, up to 6th generation Intel Core i7 processor, up to an 8GB RAM and up to a speedy 1TB SSD.
The IdeaPad 500 is one of the few PCs that have optional backlit keys and optical disc drive. A single USB 2.0, USB 3.0 port, HDMI port and VGA cable complete the experience. Lenovo says users can opt to add an Intel RealSense 3D camera to the 15-inch 1080p model that costs $849. The 14-inch 1080p model starts at $499.
All told, it's a pretty strong line-up from Lenovo, with machines built for every kind of user running Windows. Adding options for Intel RealSense camera is smart bit of future proofing too, since Windows 10 uses the camera to power its Windows Hello security feature.
All of these machines will launch this holiday season to entice shoppers ahead of Christmas.

As an Amazon Associate I earn from qualifying purchases.