Panasonic ToughPad FZ-M1 Rugged Windows 8.1 Tablet Announced
Panasonic added to their line of rugged tablets with the new Panasonic Touchpad FZ-M1 rugged Windows 8.1 tablet, announced at CES 2014. They built the ToughPad FZ-M1 for business and government uses where workers need something more sturdy than an ordinary Windows 8 tablet. It withstands impact, water and even chemicals while giving the user a thin and light Windows 8.1 Pro computer that they can install normal Windows applications on.
Panasonic's rugged tablet boasts some serious performance with a fan-less fourth generation Intel Core i5 processor. That should run with enough horsepower to get serous work done without the noise or battery drain of a processor cooling fan while running enterprise level applications. Panasonic focused the tablet on business with security and performance.
The Panasonic ToughPad FZ-M1 can also come configured with an Intel Celeron processor, which should lower the power needs of the tablet, giving it longer battery life. This will fit situations where performance means less to the user than battery length.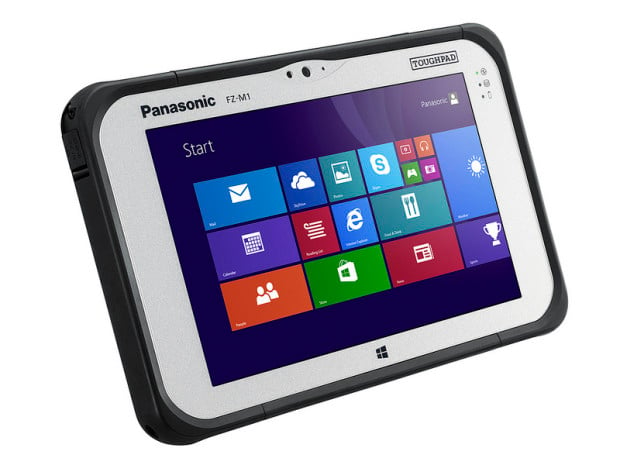 The tablet will withstand a drop from up to five feet without breaking. It works in healthcare environments and resists the cleaning products necessary in such a use case. It adheres to MIL-STD-810G specs for drops, vibration, humidity and extreme heat and cold. Because it doesn't need a fan it meets rain and dust standards too.
The 7-inch touch display comes with an anti-reflective surface for outdoor use. The outdoor readable display resolution measures 1280×800, which is about average for a 7-inch display.
There's an optional stylus that businesses can add for situations where they need customer signatures or more accurate input than what's provided by a finger or traditional capacitive stylus on a touchscreen.
Some of the other details include 128GB SSD upgradable to 256GB and 8GB of RAM on the Intel Core i5 model. The Panasonic ToughPad FZ-M1 comes with 4G LTE, Bluetooth 4.0 and 802.11 a/b/g/n/ac Wi-Fi. There's also a USB 3.0 port, micro SDXC card slot, docking connector and optional GPS, barcode scanner, ethernet, serial port, and NFC, RFID or stripe reader. Buyers can choose to downgrade from Windows 8.1 Pro 64-bit OS to Windows 7 if they need it to fit their enterprise IT environment.
The tablet weights 1.2lbs and measures .7-inches thick. The battery lasts up to 8 hours with a user replaceable battery. Workers can get extra power if needed by swapping in a spare battery.
Panasonic backs the tablet with a 3-year warranty, something we don't see very often. With the Intel Core i5 processor and 128GB SSD, the Panasonic ToughPad FZ-M1 will cost $2,099. It's available in the Spring directly from Panasonic.