Quick Giveaway: Win a Powermat Portable Mat for Christmas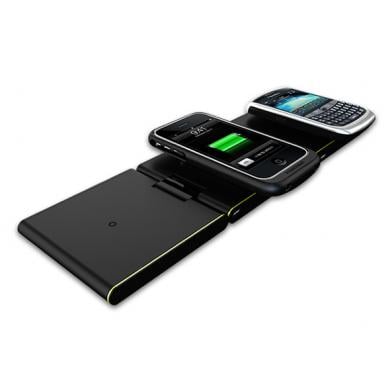 We're giving away a Powermat Portable Mat to one lucky GBM reader today.
You've probably seen Power Mat displays at your favorite retailers this holiday season as the company seems to be marketing its wireless charging stations pretty heavily these days.
Powermat makes custom battery doors and cases for several Blackerry models so, the Nintendo DS, iPod Touch and iPhone. These custom backs an cases allow the devices to be charged by simply placing the device on the mat. The idea is to reduce clutter when charging multiple devices.
The Portable Power Mat comes with a Powercube and eight tips that will charge a wide range of devices, including Bluetooth headsets, Kindles and iPods. The mat retails for $99.99 and the custom backs range from $29.99 to $39.99. We have a couple of backs that we may throw in if the winner happens to have a compatible device.
All you need to do to enter to win is tell us which gadgets you'd use with the Power Mat if you won it. We'll pick a random entry entry from the comments section below at 3PM PST today. We'll send it out today and it might jut arrive on your doorstep in time for Christmas. This contest is only open to US residents (sorry to all our readers from other countries).
Thanks to the folks at Powermat for donating the prize for our readers. If you want a second chance at winning, head over to Notebooks.com and enter to win another Powermat Portable Mat.
Update: Thanks to everyone that commented. Congrats to Perry for winning!