Samsung Gear VR Delivers Virtual Reality Anywhere You Are
The Samsung Gear VR is powered by Oculus, delivering access to 360 degree videos, virtual reality games and an IMAX like movie theater experience wherever you go.
Virtual Reality is one of the hottest experiences of 2016 and one of the most requested gifts of the holidays. You don't need to spend hundreds of dollars on a VR headset that connects to a gaming PC that sits at home.
The Samsung Gear VR is a $99 headset that connects to your Samsung smartphone to bring the fun and thrill of VR with you virtually anywhere.
For a limited time (11/24 through 11/28), buy a Galaxy S7 or Galaxy S7 Edge and get a free Galaxy VR Gift Pack, which includes a free Gear VR headset and free VR software!  Visit Samsung.com for more details.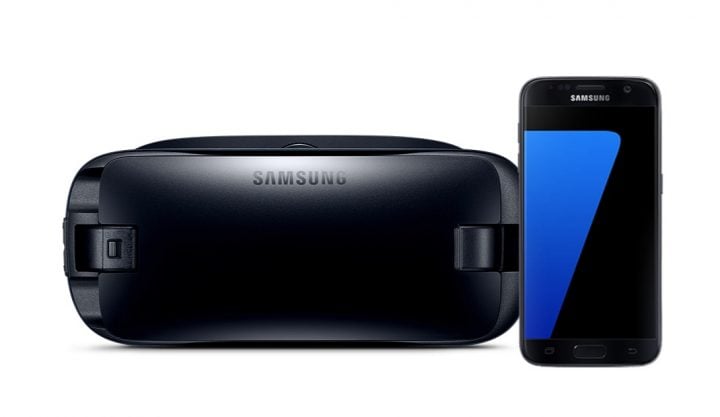 Instead of plugging in to a computer or game console and playing in your basement, you can snap your Samsung Galaxy S7 or Galaxy S7 Edge into the Gear VR and experience 360-degree virtual reality wherever you are. This also make sharing the virtual reality experience with friends and family incredibly easy.
The Samsung Gear VR works with the Galaxy S7, Galaxy S7 edge, Galaxy Note 5, Galaxy S6 edge+, Galaxy S6 and Galaxy S6 edge.
You can watch a 360 degree video like this hot air balloon experience shot on the Samsung Gear 360 Camera.
You can also play a huge variety of virtual reality games on using the Gear VR and your smartphone. There are a wide-range of virtual reality apps and games on the Gear VR. Some of the biggest names include;
Minecraft Gear VR Edition
Eve Gunjack
Jaunt
Invasion
Head Games
Escape Room VR
Bombsquad
Dear Hunter VR
Keep Talking and Nobody Explodes
Bait
and many more.
Some of these are full virtual reality games, while others you play inside of a virtual room, like you see in the Minecraft VR video below.
When you want to just relax, the Gear VR handles that as well with hours of 360 degree videos that you can watch in the Samsung VR app. You can also use Netflix and Hulu Plus on your Samsung Gear VR headset.
In these apps you can watch your favorite movies or TV shows and they look like they are playing on a massive screen since the Gear VR is on your head.
Learn more about the Samsung Gear VR and pick up your key to virtual reality, virtually anywhere today.

As an Amazon Associate I earn from qualifying purchases.