1 Reason You'll Want Windows 10 on Your Lenovo PC
Windows 10, Microsoft's new operating system for almost anything with a display, is coming to tons of new PCs beginning this summer and beyond. It'll be available on notebooks, desktops, tablets an all-in-ones available from many of the company's traditional hardware partners. That being said, it looks like buyers of Lenovo devices will have a key advantage over those that purchase other devices running Windows 10, including Microsoft's own Surface Pro 3.
Shoppers who purchase a Lenovo machine running Microsoft's Windows 10 operating system will be able to use Microsoft's Cortana personal assistant to search different online storage services, including Google Drive, Drop Box, Box and OneDrive exclusively. The two companies announced a fresh partnership involving Cortana this week at Tech World 2015, a dedicated Lenovo trade show taking place this week in Beijing, China.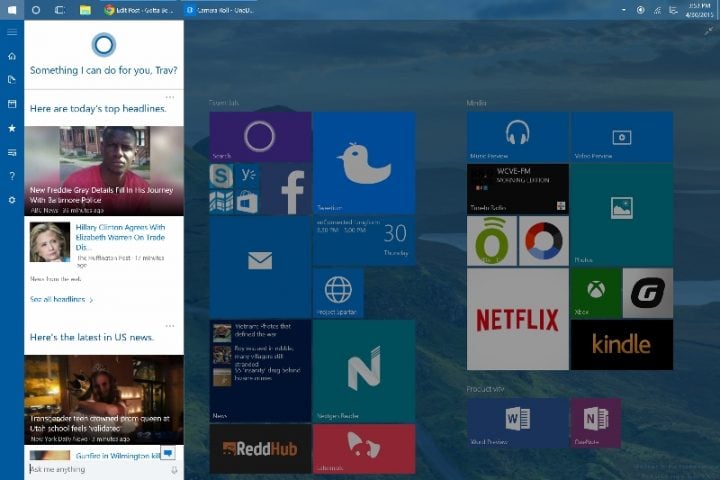 Cortana is the personal digital assistant that's built directly into Windows 10. Everyone will be able to use Cortana to set personal reminders based on time and location, search the internet, play music from their personal library and control settings on their PC, but only Lenovo users will get this added bit of functionality since it's powered by the company's on REACHit service. A post on Blogging Windows indicates Windows 10 users will need to create a REACHit account, but no other setup is required.
That Cortana has different integration points for apps and services isn't exactly new. Microsoft has talked up this sort of interoperability for months, the company clearly considers Cortana a platform in its own right. It only recently revealed that Uber and other apps will be able to integrate directly with Cortana.
It's that exclusivity that's attracting strange looks. Theoretically, Microsoft's own Surface family of notebook and tablet replacements won't get the features that require REACHit. Microsoft is putting users in a very strange position. Extending the platform is one thing, but directly partnering for features that require specific hardware is another. Windows was built on the idea that every PC, save for hardware, has the same features. That being said, REACHit is available on Lenovo's Windows 8.1 PCs as an included app already. In a broader view, this Cortana and REACHit integration is just another way of looking at that exclusive app, which no one has a problem with today.
It's also worth noting that Cortana isn't exactly exclusive to Microsoft's own platforms anymore. Early this week the company revealed dedicated Cortana apps for iPhone and Android users. Because they don't have deep access they won't be as fully featured as what's available on Windows.
At TechWorld Lenovo became the first Windows device maker to reveal a new dedicated Windows 10 device. Called the ThinkPad 10, it'll compete head to head with the Surface 3 and Surface Pro 3, but focus a bit more on the needs of businesses with a few extra features.
Read: Lenovo ThinkPad Tablet 10: Surface 3's Arch Rival Arrives  
Lenovo also announced two new notebooks. One of those, the Lenovo Z51 will have an optional Intel RealSense camera that support's Windows 10's new Windows Hello sign in and features.
Read: New Lenovo Z41 and Ideapad 100 Strike High and Low
Besides adding Cortana, Windows 10 also includes a Start Menu for those with a mouse and keyboard and a refreshed Windows Store that offers Desktop apps alongside new universal Windows apps that work on smartphones, tablets and the Xbox One. Free basic version of Microsoft Office and refreshed media apps are also part of the upgrade.
Read: Windows 10 Upgrades: What You Need to Know & What You Don't
Windows 10 will be a completely free upgrade for anyone who's running home and small business versions of Windows 7, Windows 8 and Windows 8.1 for a single year. After that, Microsoft plans to charge for upgrades, but hasn't said how much that will be.

This article may contain affiliate links. Click here for more details.