10 Beautiful Moto 360 Concepts Show Off Android Wear
While Google prepares to reveal its new Android-based wearable operating system to the world next week, Android Wear, Motorola is busy preparing to launch its first Android Wear device called the Moto 360.  Consumers are waiting to see what Motorola has in store, while thousands of designers and developers have been busy creating the perfect watch face for Android Wear, and the Moto 360.
Google first announced Android Wear back in March, promising a simple and intuitive operating system for wearable devices like a smartwatch or Google Glass. Since then we've been teased by the upcoming LG G Watch which is expected to make its debut next week at Google I/O, the Moto 360, and rumors have been floating around that a Samsung Galaxy Wear and HTC One Wear are all coming soon.
Read: 10 Moto 360 Smartwatch App Concepts You Need to See
After the initial announcement many photoshop enthusiasts and developers created concepts of what we could expect from Android Wear and the Moto 360 shown in the link above, but what we have for you today could very well be final products offered later this summer. Motorola's been hosting a contest letting developers create the best watch face for the Moto 360, and below are the 10 beautifully designed finalists.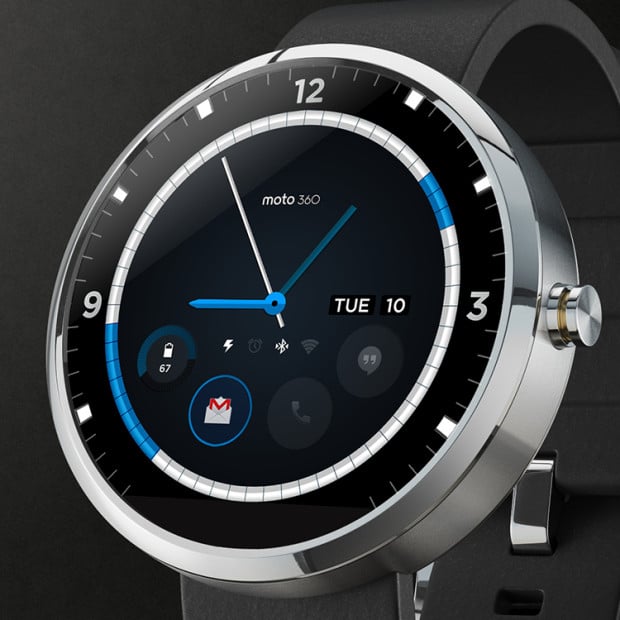 Motorola will be giving one lucky Android developer or designer their very own Moto 360 smartwatch, and will likely use the design they created to be a part of the final shipping software on the new smartwatch.
What you'll see below are 10 beautifully crafted and designed watch faces for what many envision as the modern day watch. The Moto 360 will be a piece of jewelry and a watch first, then a gadget and wearable device second. That being said, these developers have blend both together to create stunning watch faces with rather impressive user interfaces. Something as simple as telling time can be done in a variety of ways, as we see below, so pick out your favorite and go vote yourself.
Read: Moto 360 Prototype Makes its First Appearance
The panel of Motorola judges have accepted over 1,300 submissions for the watch face designer competition, and have come up with a list of their 10 favorite. They now need users and fans help to select the winner, and have posted all 10 of the best Moto 360 smartwatch face concepts this week.
What you see below are some rather unique approaches to telling time, only available on a device running Android Wear, as well as a few somewhat traditional but spruced up looks and clocks. We like what we see thus far, and it's a sign that the options are limitless when it comes to Android Wear.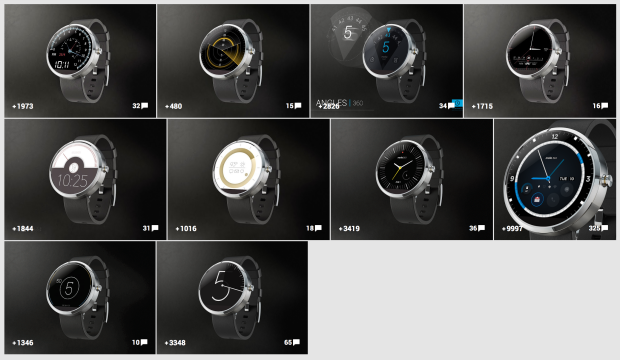 Without going over each and every watch face, as you can see them all above or by heading to this Google+ page, we did want to highlight a few of our favorites. Some of these are simply an image of what designers think would look best, while others managed to enter a GIF detailing how their watch face will move and be animated.
Of course battery life will be a concern, but one that was rather impressive yet extremely simple is shown below. It's not bright and full of moving parts to keep battery life to a minimum, and shows us a unique way of reading the time on our wrist.
Then of course there are more traditional ways that we will be able to tell time on the Moto 360. Obviously Motorola won't want to alienate the average watch wearing buyer, but the more options the better. Here's a similar approach everyone can enjoy.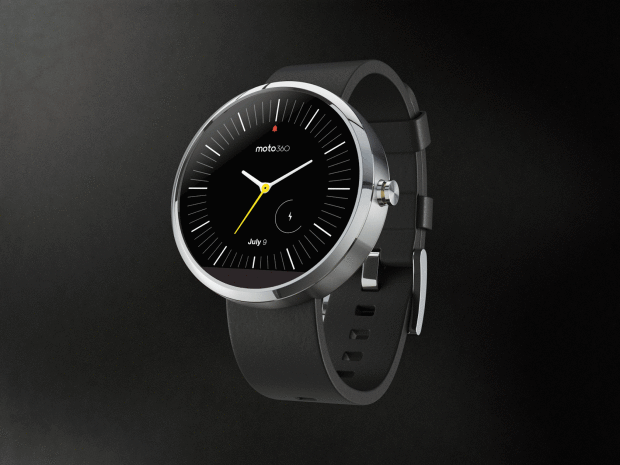 What appears to be the fan-favorite at the moment with the most +1's on Google+ is the watch face shown at the top of the page, and below. Designed by David Pascual this face is pretty standard when it comes to a watch, yet shows calender events, widgets for Gmail or Google Hangouts and other user-customizable quick actions, as well as status info for alarms, WiFi and Bluetooth. It's well designed, but could be a bit crowded for some.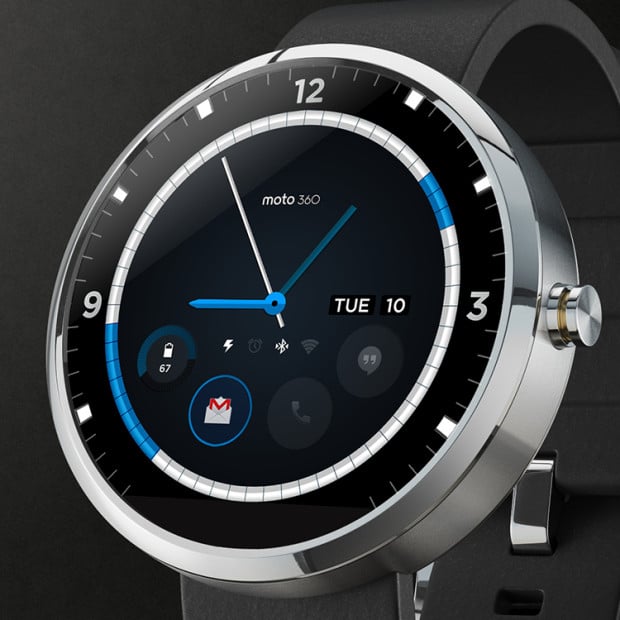 One of my personal favorites (below) is a face called Angles. This option uses an approach to only make the important part of the clock light up, which could preserve battery life on a wearable such as the Moto 360. It still tells time in a beautiful fashion while also having quick access to Alarms, Compass, or a Timer. It's rather neat.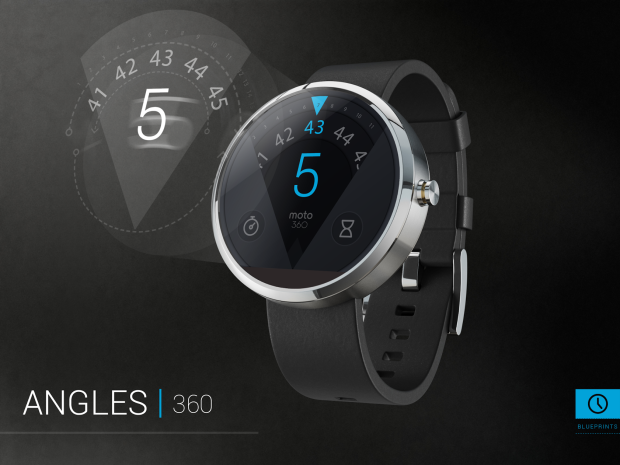 And finally one more we wanted to highlight of the 10 finalists is called Vanishing Hour. This could be a bit difficult to use as the hour nears the end, as the minutes slowly curve around to cover up the hour displayed in the middle. It looks neat, will probably have a beautiful animation in real life, but may not be as practical as a few others shown here today.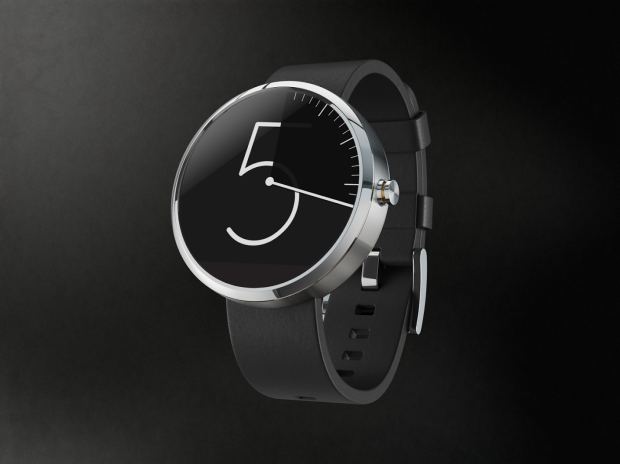 Android Wear is expected to be fully announced and revealed live at Google's annual I/O developer event next week, which will probably launch first on the LG G Watch. Motorola has confirmed time and time again a "summer release date" for the Moto 360 is in store, but we can also expect to see the 360 on display at Google's event next week.
The Moto 360, LG G Watch, and a variety of other Android Wear-powered smartwatches and wearable devices should start appearing all summer long. If you liked any of the faces shown above make sure to hit the +1 button and cast your vote right here.

As an Amazon Associate I earn from qualifying purchases.