10 Best Galaxy Note 4 Accessories
The best Galaxy Note 4 accessories deliver more value and productivity for users without adding a lot of bulk to carry or a huge expense. These are the best Galaxy Note 4 accessories that we could find after using the Note 4 for several months at home, on the road and at work.
Thanks to a large screen the Galaxy Note 4 delivers easy access to productivity and you can boost that even more with a selection of important Galaxy Note 4 accessories that make work more productive or make entertainment activities even more relaxing.
After testing and going hands-on with many Note 4 accessories it is clear that these are the best options out there to add features to your Galaxy Note 4.
You can also use our Galaxy Note 4 tips and tricks to do more without buying many accessories, though you will need one or two to complete your access to all the Note 4's hidden features and hard to find options.
Unlike some phones, you don't need to buy special gloves to use with the Galaxy Note 4, as you can turn the screen on to a high-sensitivity mode that works while you wear ordinary gloves. There is also no need for a stylus thanks to the included S Pen that delivers many great features thanks to hardware and software.
After spending a lot of money on the Galaxy Note 4 you may not want to spend even more on accessories, but you can use this list of the best Note 4 accessories to make sure that the money you do spend is worth it. You can find many of these Galaxy Note 4 accessories on Amazon, at Best Buy and at carriers. If you get an employee discount at your carrier you should ask if you can also save 25% or more when you buy accessories through them.
Samsung Galaxy Note 4 S View Cover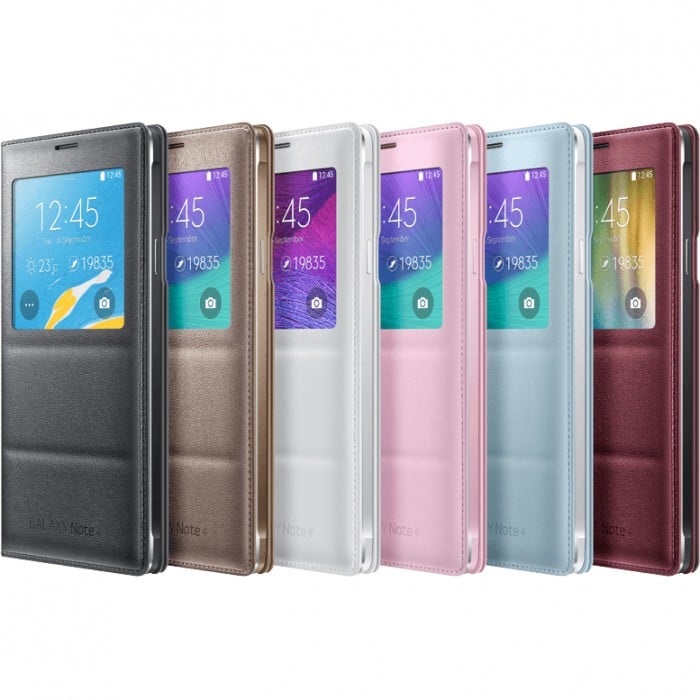 The Samsung Galaxy Note 4 S View Cover is an excellent Galaxy Note 4 case that doesn't cover up all the metal frame and still delivers a great feel on the back of the phone. The cover protects the front of the Galaxy Note 4 from scratches and you can still see alerts and even take calls with the cover closed.
Samsung also offers the S View Cover with padding in more color options, an S View Wallet Cover and a Wallet Flip Cover. You can check out our longer list of the best Galaxy Note 4 cases you can buy for more options.

As an Amazon Associate I earn from qualifying purchases.