10 Essential Back to School iPad Air Accessories
With students going to back to school soon, the iPad makes a great companion for taking notes in class, reading books and enjoying a little down time. Students can play some games, stream videos or read a good book. They can also get cheaper textbooks by buying digitally from Amazon or other eBook stores. Students should also take a few iPad accessories with them to become more productive with their iPad. Here are 10 essential accessories to take back to school with the iPad Air.
The items on this list will protect your iPad Air, add functionality and charge it up. Get them for your education or send your student with them back to school this year.
Logitech Ultrathin Keyboard Cover
With a good keyboard, the iPad can almost replace a laptop for a lot of what a student might need to do, especially now that Microsoft released a mobile version of Office. The best keyboard available now comes from Logitech. The Logitech Ultrathin Keyboard Cover connects to the iPad Air via Bluetooth and protects the screen while looking like a netbook sized MacBook Air with the keyboard's aluminum back.
The hinge connector sports magnets that hold onto the iPad so long as the user doesn't dangle their iPad in the air. Slide the iPad's magnetized left side while in portrait orientation along the back of the keyboard. The keyboard's magnetic connector senses the iPad's magnets and lifts automatically to connect the tablet. It's simple science but looks like magic. See the video above for a demo.
The keyboard battery lasts a months, according to the manufacturer, and feels comfortable for typing papers, notes or just handling some online things.
For some reason the white version costs only $69.99 on Amazon while the black cover costs $93.99, or pay $99.99 when buying direct from Logitech.
Just Mobile Alupen Digital
Many students enjoy writing notes instead of typing. These students can write their note using the Just Mobile Alupen Digital, the best iPad stylus available today.
Instead of a clumsy soft rubber tip that feels like writing with jumbo crayon or a bulky sharpie marker, the Alupen uses a 1.8mm fine tip. So, how does it register the tap? Capacitive screens, like the iPad's, register an electrical charge from the low voltage that comes from human fingers. This pen mimics this voltage thanks to an amplification system powered by a single AA battery. This means precise inking with what feels like a medium-sized ball point pen. It doesn't require a special app or Bluetooth to connect.
The Just Mobile Alupen Digital replaces the Jot Script Stylus as the best iPad stylus available. Get one for $49.95 directly from Just Mobile. It also works with an iPhone or Android tablets.
Don't confuse it with the other Just Mobile styli. They're the old-fashioned nub kind that won't work as well.
Evernote Notebooks and Post-It Notes
Some people don't want to take notes on a tablet or laptop. Paper's the only thing for them. They can still get the benefits of a digital solution with Evernote Notebooks and Post-It Notes. The notebooks look like high-quality Moleskin notebooks, but they come with stickers that Evernote recognizes when the user takes a photo of the page using the Evernote app. The app imports it into a predetermined notebook or adds a predetermined tag. See how the system works with Evernote in the video below.
The notebooks range in price from $11.95 for a pocket-sized journal to $32.95 for a business quality leather-bound notebook.  They also come with one to three months of Evernote Premium, which affords users the ability to back up more digital content to their notebook and offline notebook storage on their iPad.
Evernote sells 3M branded Post-It notes that use Evernote to automatically import notes based on paper color. For example pink notes could go into an assignments Notebook or blue could add the tag "history".
The cost is a bit steep, so find 3×3-inch 3M Post-It notes for less at a local store, but make sure to get the right colors – electric yellow, neon pink, electric blue or limeade.
Braven BRV-X Ultra Rugged Bluetooth Speaker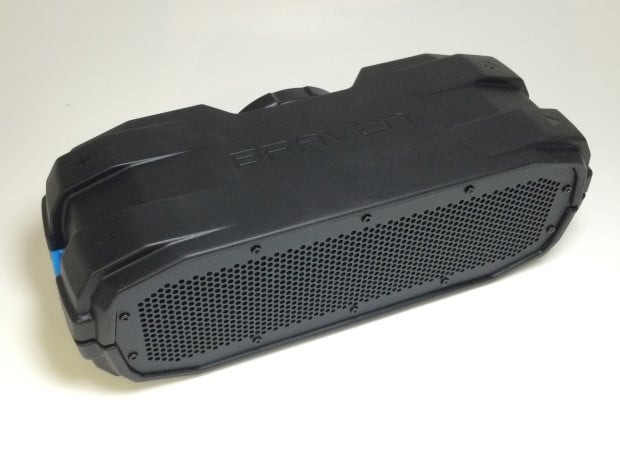 A small rich sounding quality speaker can fill a dorm room or bedroom. Add Bluetooth for a wireless connections to the iPad and we get a nice combination. Now make it rugged, waterproof and dustproof so the student can enjoy some music outside while playing ultimate frisbee, at the swimming pool, or beach or just studying in the park and you get the Braven BRV-X Ultra Rugged Bluetooth Speaker.
Braven Speakers sound good and come with a battery that lasts all day. They also include an auxiliary input for extra devices so the owner can connect to a tablet via Bluetooth or a computer via stereo cable.
The $199.99 Braven BRV-X speaker comes in black (pictured) or gray/black. It has an industrial look and sturdy plastic and rubber construction. Braven includes a strap for easy carrying and it's rated for IPX7 waterproof, shockproof and dust proof rugged construction. The included USB port will also charge the iPad or a phone and other accessories.
 V-Moda XS On-ear Headphones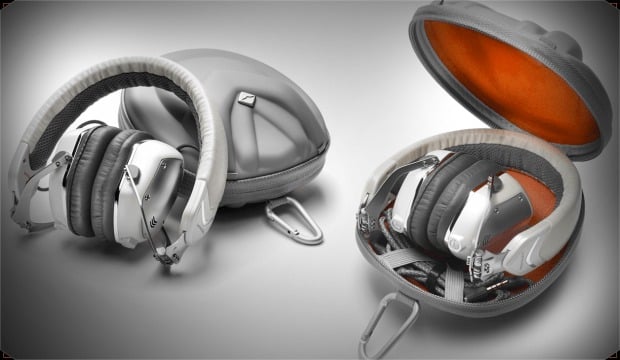 Lots of students love to zone out to some great music as they study, but this could annoy a roommate. The V-Moda XS On-ear wired stereo headphones ($199.99 on Amazon) pump some awesome sound and volume with clarity and no distortion. The comfortable cushioned design lets listeners wear them all afternoon. The strong compact travel case protects the steel frame headphones. The high-quality stereo cable includes a mic and button for Skyping or using FaceTime on the iPad. The cups collapse inside the steel padded headband to fit in the case. Buyers can choose between white or black.
BlueAnt PUMP HD Sportsbuds
Don't like wired headphones? Get these BlueAnt PUMP HD Sportsbuds ($105 on Amazon) to use during workouts, exercise or while walking around campus. People with an active lifestyle will enjoy these Bluetooth earbuds thanks to their comfortable fit and water resistance.
Most earbuds come with a couple of different sized earbud replacements, but the BlueAnt PUMP HD Sportsbuds come with five regular buds, one pair of foam tips and two stabilizers that fit over the ear keeping them in place. We also included them in our list of the best Bluetooth accessories.
A Great iPad Air Case
The iPad Air is a work of art, but it's also not rugged enough to go without a case. Here are three beautiful and useful cases.
twelvesouth SurfacePad for iPad Air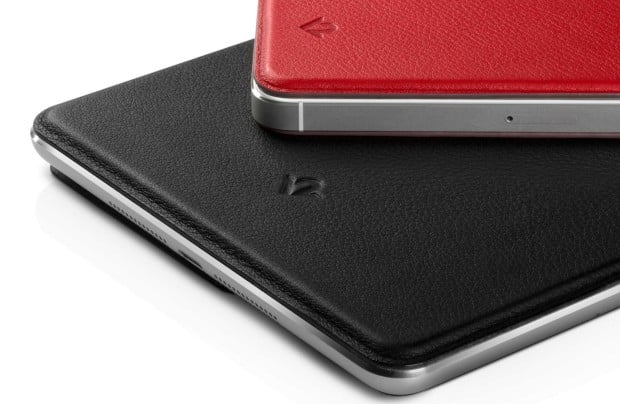 The twelvesouth SurfacePad for iPad Air covers the tablet with a case so thin that the case, as the twelvsouth website says, "covers the iPad without concealing it." It comes in three colors, red, black and white for $79.99. It's a great case that's thin enough that it almost feels like it isn't there.
The case props the iPad in a stand mode for easy typing and viewing in a few different angles.
The case installs on the back of the iPad using adhesive. It comes off without a lot of elbow grease, but the user won't want to take it off over and over.
Lifeproof nuud
People who need a waterproof case that will also protect the back and edges in rugged situations should look no further than the Lifeproof nuud case for the iPad Air. The case lets the user enjoy waterproof protection without covering the screen with an annoying overlay that's hard to press.
The system uses a gasket pressed around the edges of the screen along the bezel. Thanks to the design of the case, no water will get under the gasket into the delicate parts of the case that don't like water. The glass screen naturally resists water, so it doesn't need protection against liquid.
This case does a great job of protecting the iPad Air from water, dust, snow and drops. It comes in black and two-tone black/white for $129.99 direct from Lifeproof. Get the white/black case on sale at Amazon for only $89.99.
felix FlipBook Air

The felix FlipBook Air case transforms the iPad Air into an elegant portfolio device with an attractive soft black or tan leather cover. Behind the iPad there's a plastic stand system that holds the iPad Air at multiple different angles from flat on the table to nearly 90 degrees. It costs $59.99.
The soft leather cover folds back over the iPad and gives the user something to hang onto while using the iPad in portrait mode. The twelvesouth case adds almost nothing to the iPad, but the felix FlipBook Air is nearly as sleek for $20 less.
Gift Cards
Students on a budget will always enjoy some gift cards so they can download movies, music and apps to their iPad. Grab a gift card for iTunes from Sams Club. They always offer a discount, selling a $100 card for $94.27. Also keep an eye on Techbargains.com. They often advertise $100 gift cards from Best Buy for $85.
Amazon gift cards will let students save some money by picking up low price textbooks in Kindle format, which they can read on an iPad. Throw in enough for other accessories for the dorm room.
POWERQUBE Smart Charging Station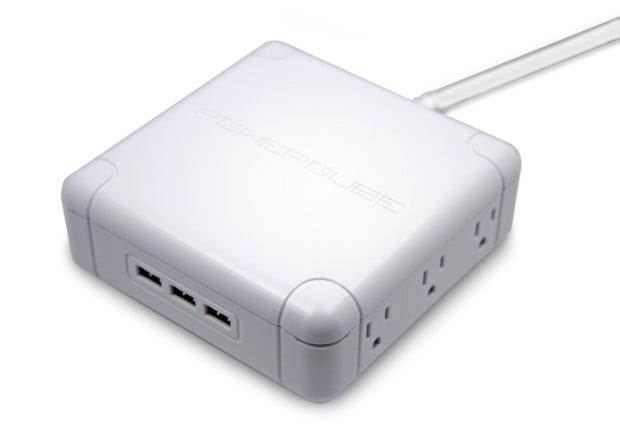 Students will need to charge their iPad and plug in a slew of other gadgets. Traditional power strips and USB adapters can get unsightly, so the POWERQUBE Smart Charging Station  fixes the problem. It comes with nine charging ports, six regular AC adapters and three full-power USB ports that have no problem charging up an iPad Air and other tablets, smartphones or USB powered accessories. It's not small, light or cheap. Amazon sells them for $50, but it replaces a traditional power strip and three USB charging plugs. Get one in black or white.