10 Exciting Official HTC 10 Accessories
The impressive new HTC 10 with its sleek metal curves and powerful front facing speakers is coming soon, with the release date set for early May. Once it arrives from carriers in the United States buyers will need cases, chargers, headphones and other accessories for the new flagship phone. Here are some exciting accessories for the HTC 10 made exclusively by HTC or their partners.
On April 12th HTC took the stage for an online event to announce a successor to the mildly popular HTC One M9 from 2015. That of course is the beautiful new HTC 10 with a fresh new look, cleaner and simpler version of Android, a great camera, fingerprint scanner and more. It's HTC's best smartphone in years and has a lot to offer.
Read: HTC 10 Hands-On: 5 Things I Learned in 24 Hours (Video)
During the announcement of this bold new smartphone HTC made sure they talked about a few accessories for the phone. Two being the new Dot View case, which has been popular in the past, and some unique new JBL headphones that connect via USB Type-C rather than a 3.5mm headphone jack. HTC has multiple exciting accessories, and below is everything buyers need to know.
The HTC 10 is stacking up to be their best phone in years, and one of the best Android devices of 2016. With a beautiful 5.2-inch display, powerful speakers with one front-facing, a fingerprint scanner, all aluminum design, with tons of power and an impressive new camera. It's rounded out with the latest version of Android 6.0.1 Marshmallow and a large extremely fast charging 3,000 mAh battery.
This is what HTC needed to get back into the smartphone game and compete with Samsung or Apple, and they've done exactly that.
When it comes to buying accessories, cases, chargers, and more for smartphones we have a lot of options. However, being an HTC device the options won't be as endless as Samsung or Apple users, which is why HTC made a few great choices themselves.
Almost everything detailed below is brand new, designed for the HTC 10, or relatively new from HTC and will compliment the smartphone wonderfully. Without further ado, here's some official accessories for the HTC 10, made by or in partnership with HTC. Click the arrow below to enjoy a slideshow of all the official accessories, and links to buy anything of interest. We'll add more as other options become available.
HTC Ice View Case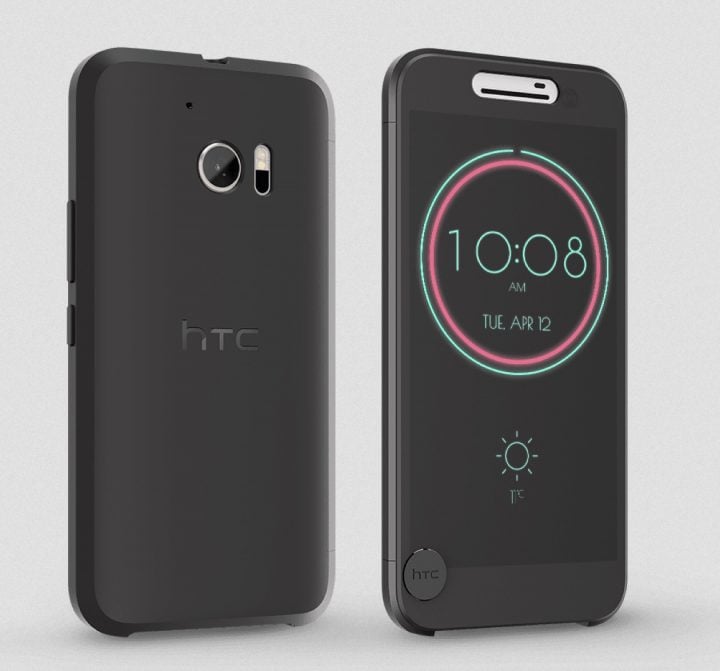 Following the success and tradition of the popular HTC Dot View case from previous years, HTC has an all-new case for 2016 called the "Ice View Case". Rather than being a flip case with tiny dots all over that lets light shine through for quick notifications, the entire case is "iced" and glazed over, yet still see-through so owners can get information without opening the case.
The HTC Ice View combines protection for your phone with instant accessibility. With this case owners can take photos in a snap, read texts, adjust the volume, switch between songs, turn on the flashlight and much more without ever opening the case and exposing the device. HTC Ice View also supports 3rd party notifications like Instagram, Facebook, Google+ and more.
Double tapping the screen while the phone is off will instantly show users the time, date, battery life (the big circle) and even weather information and incoming notifications. All while still being protected by the front cover. This at-a-glance information can all be heavily themed and customized as users see fit as well.
A quick swipe will show users a text message, give access to volume and music playback controls, or even quickly launch the camera and snap photos. It's a breeze, easy to use, and a case all prior HTC owners have enjoyed. It's still a nice case, has a HTC branded magnet to turn off the display when closed and much more. Buy one now so it's ready and waiting when the phone is released.

As an Amazon Associate I earn from qualifying purchases.