10 Great Apps for the Moto X 2014 
The first Moto X came so close to perfection, that it'd have been a real shame if the Moto X 2014 turned out to be an  underpowered, small handset. Luckily, that's not what happened at all.
The software tricks that made the original a must-try smartphone are back, and they're all housed in a single app that's easily found. It's these software additions that make the Moto X 2014 the best Android smartphone you can buy today. That being said, there are some must-have apps from the Google Play Store that make the Moto X 2014 experience even better.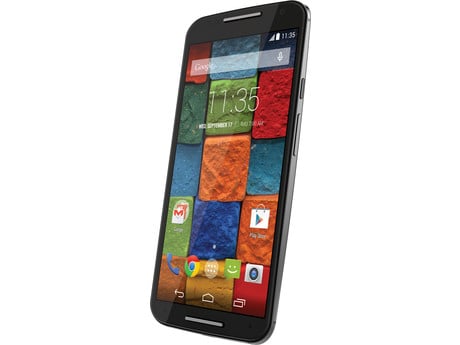 Read: Moto X 2014 Review
Cliffhanger
Organizing the different shows you watch on cable or stream from services like Netflix is dead easy on Android phones these days. Both Samsung and HTC offer built-in TV apps with episode guides and more. The Moto X 2014 doesn't have that, and that's why its owners should download Cliffhanger.
Cliffhanger makes TV watching effortless. It automatically syncs content to the Trakt web service so that your episodes are always synced between devices. Shows are sorted by what's coming and what you've recently watched. Diving into each show's details gives you a synopsis of the plot, casting information and air time. Cliffhanger will remind you when its time to watch a show you've been waiting for too.  Cliff Hanger is free in the Google Play Store. Some features do require an in-app purchase. Update: Unfortunately, it looks like Cliffhanger was pulled from the Google Play Store by its developer recently. 
Office Mobile
Since Google Docs first arrived on the web, a growing number of people have all declared over and over that paying for Microsoft's Office 365 service is silly when you can get a half decent app to open Word, Power Point and Excel documents absolutely free.
Their position made sense when Microsoft charged users $6.99 a month to edit Office documents on mobile devices. Unfortunately for Google, that's not the case anymore, and you get create and edit documents on the Moto X 2014 that are compatible with desktop versions of Office at no charge today
[ Download Microsoft Office Mobile from the Google Play Store for Free ]
OneNote
Sometimes you just need to write stuff down. It doesn't really matter where you do so, as long as it's easy to track down at some point in the future. Microsoft's OneNote is just one of the apps that you can download to write quick notes on the go.
You can use OneNote as a digital post-it note system, or you can go a bit further and keep detailed notebooks for just about anything. Smart students use it in college to take class notes that are organized and searchable. OneNote for Android phones boasts support for multiple notebooks, syncing to other apps, images and handwriting. Also, there's a free app on just about everything with a screen.
[ Download OneNote from the Google Play Store for Free ]
Pocket
Just like with notes, sometimes you come across an article that you want to read but just don't have the time to. iOS, Android and Windows Phone all offer their own way of syncing saved links between the different devices that run their software. Pocket is one of the only services that does the same thing for just about any device, including the Moto X 2014.
The basic version of Pocket is free. Download the app, then share an article from Chrome or Feedly to it. Pocket takes that link, syncs it to its servers and makes it available online and through apps for Mac and Windows for reading later. With the right settings on, articles sent to Pocket can be stored for offline reading later. A subscription to Pocket adds an archive for previously read articles.
[ Download Pocket from the Google Play Store for Free ]
Feedly
Google killed off its Reader service a while back, leaving a giant hole in online news. There's so much of it being published every day, users need a way to easily sift through the sites they enjoy on a daily basis without bookmarks. HTC tried to solve this issue with BlinkFeed, an app that comes installed on all of its Android and Windows Phone devices.
Feedly is an RSS reader with a web companion and more. You can add feeds from your favorite sites or browse through Feedly's huge offerings. Built-in bookmarking makes it easier to find articles you didn't get a chance to finish. Sharing with the Twitter, Facebook or Pocket is pretty easy too. Feedly is free and works has a great layout for the Moto X 2014's screen.
[ Download Feedly from the Google Play Store for Free ]
Pocket Casts
The iPhone has offered a dedicated Podcasting app for years. In fact, it was included on the iPod before that. Pocket Casts is to Android what the Podcast app is to iPhone. Pocket Casts is the best $3.99 you will ever spend in the Google Play Store.
There's a built-in catalog of video and audio podcasts for you to choose from. Individualized settings allow you to download some podcasts and leave out others and sync one episode of a podcast, but not subscribe. There's also background syncing going on too because Pocket Casts has apps on iPhone and the web. Pocket Casts takes the pain out of listening to audio and video podcasts. I can't recommend it enough.
[ Buy Pocket Casts from the Google Play Store for $3.99 ]
Bright Weather
Sometimes all you need from a weather app is the current temperature. Other times, you need a break down of today's weather by the hour, the forecast for the next three days and radar. That's where Bright Weather comes in.
Bright Weather is free for Moto X 2014 users to download, provided they're comfortable with a few ads. It includes a full weather breakdown overtop of beautiful pictures from Microsoft's Bing search engine. Notifications can be configured for sever weather or everyday forecasts. It's $2.69 to remove the ads.
[ Download Bright Weather from the Google Play Store for Free ]
Nova Launcher
Motorola prides itself on selling devices with a pure Android experience, mostly because this allows it to update its devices pretty quickly. It also doesn't hurt that there are no big design changes for users to pick up on when they switch.
Unfortunately, one of the drawbacks of a pure Android experience is Google's decision to hold valuable screen real estate hostage with a giant Google Search at the top of every home page. There's no way to get rid of it, but you can hide it with Nova Launcher. Nova Launcher replaces Google's app drawer and homepages with ones that you can customize to your own liking.
The free version lets you customize a lot. $4 adds features like gesture control.
[ Download Nova Launcher from the Google Play Store for Free ]
Messenger
Another downside of that pure Android experience is that you're at the mercy of Google's app decisions. In Android Lollipop, Google practically ditched the standalone messenger app in favor of integrating text messaging with the Hangouts IM app. Messenger is a separate app available from the Google Play Store that's been updated by Google with a new design and sits on its own. If you're not comfortable with integrating your text messages with Hangouts, Messenger can solve your problem and get you the update Material Design that other apps have.
[ Download Messenger from the Google Play Store for Free ]
AirDroid
Finally, there's AirDroid. Every Moto X 2014 comes with support for Moto Connect. Connect lets users send and receive text messages from their computer. Additionally, it alerts you for phone calls. The problem is that to use it you have to have Google's Chrome Web Browser installed. AirDroid is a better made alternative.
Available for free, you can use it to send or receive text messages just like Moto Connect. It's also good and transferring data, monitoring notifications from all apps, alerting you of calls and letting you see what's on your screen without picking up your device. AirDroid is free, but you can upgrade it for more data transfers and features.
[ Download AirDroid from the Google Play Store ]
The Moto X 2014 is arguably the best Android smartphone you can buy, and great apps make the Moto X 2014 even better.

This article may contain affiliate links. Click here for more details.