10 Great iPad Apps with Awesome Mac Versions
A lot of Apple iPad owners also use a Mac and they often want to run a version of  their Mac apps on the iPad and vice versa. We've collected the best apps that run on both the iPad and the Mac. These apps provide users with a cross-platform tool they can use on the go with the touch interface and on a Mac while taking advantage of the better keyboards, greater power and larger screens often available.
In this round-up, you'll find mostly productivity apps. We've left out games because the gaming experience on the iPad and the Mac seem too different to include. If you disagree, please leave a comment below to recommend some games that run on both platforms.
Scrivener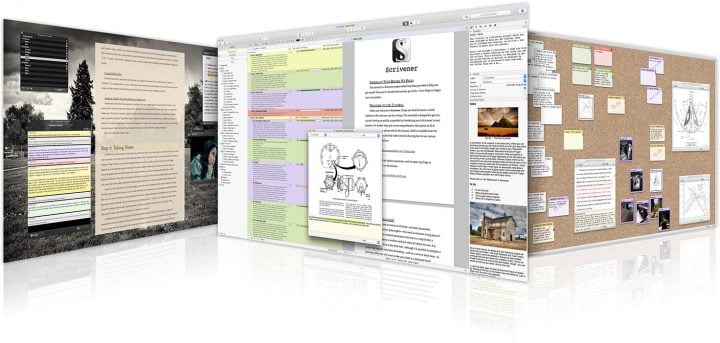 Scrivener isn't just a word processor. It's a long-form writing and research tool made for novelists, play and screen writers, students working on a long doctoral dissertations or research papers and non-fiction book writers.
Literature and Latte, the makers of Scrivener, recently released their long-awaited iOS version. This got my attention as an iPad user and we published our review of the Mac and iPad versions. In our review, the conclusion said, that despite the $45 price tag on Mac and $20 price tag on iPad, Scrivener is still cheaper than an annual Office 365 subscription for a year. Plus, the long-form research tools make it a better option for books, dissertations, screenplays and even a recipe collection. The healthy user community offers a ton of Scrivener templates ready for use.
Scrivener is organized around a notebook or binder analogy. Scrivener works like a three-ring binder that someone might use to compile their writing and research. Users write shorter sections of the project in chapters split into sections. A research folder holds things like web pages, videos, audio files, images, and character sheets for that novel they're writing.
When the writer finishes the project, they can use the powerful compile tool to export the book or work into multiple formats including, ebook formats like PDF, EPUB, MOBI or just Word and Text files. Users would format everything they way they want it to look and then export it. Mac users will likely love the iBooks format as well, making it ready for immediate sale on Apple's book store.
Syncing isn't perfect. The company relies on Dropbox instead of making use of their own syncing tool or even iCloud, like many of the apps below.
Notability
If you take notes, then consider Notability. It's the best handwritten note tool on iOS and works on Mac. Unlike Scrivener above, it uses iCloud for seamless syncing. However, they built automatic syncing with other services like Dropbox and Google Drive into Notability.
Notability users can create a note on the iPad or iPhone and start taking recording info with a stylus, finger or the Apple Pencil. It also handles text entered via keyboard. Users can import photos or websites and draw diagrams or sketches. Notability will sync them all to the desktop or laptop running OS X or the new macOS.
The app costs $5.99 on the Mac App Store and $7.99 on iOS. The company offers extensive help for teachers using Notability with their students.
Adobe Mobile Apps
Adobe is the king in creativity software with Photoshop, Acrobat, InDesign and Premiere dominating their markets. These tools work on both Mac and iOS. Please see our guide for using the Adobe mobile apps with their great desktop apps.
Olive Tree Bible Study
I spend a lot of time in Bible software. Whether you want to study the Bible as a believer or you're curious what the fuss is about, Olive Tree Bible Study gives users useful features and simplicity in one package. You can find simpler Bible apps with both iOS and Mac versions, but you won't find a simpler app that also can grow with the user as they become more proficient in studying the Bible.
The company offers free resources for their book reader. You can download them so you don't have to connect to the Internet while on an iPad or Mac. You can also buy new ones to use inside the program if you want.
The program makes it easy to find all the information that the user library includes about a Bible passage. Open the passage in the left hand box and the right hand box shows a list of all the books that talk about that passage and it's subject.
Microsoft Office 365
I used to prefer Apple's own iWork apps on iOS and used their Mac apps just because it let me work with the same app on both platforms. Then Microsoft released their iOS apps. Now, Word, Excel and PowerPoint handle office documents, spreadsheets and presentations on both platforms better than Apple's own offerings.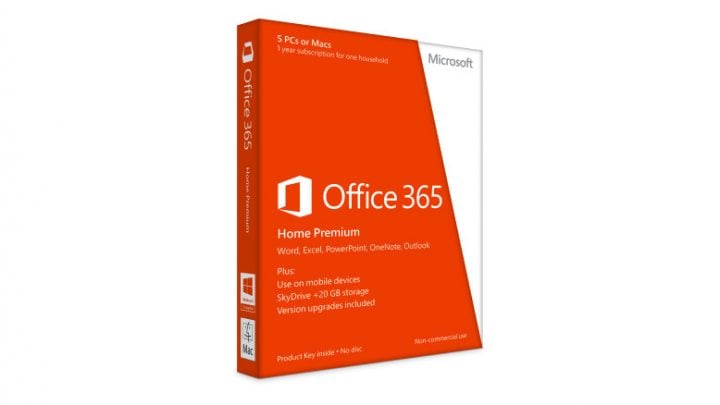 We won't try to explain every feature of the Office 365 apps. One of the cool things it does on the iPad Pro is include annotations with the Apple Pencil. That lets me mark up documents to help in group collaboration. While presenting, a speaker or teacher can draw on the screen like they used to with a whiteboard or blackboard in the old days.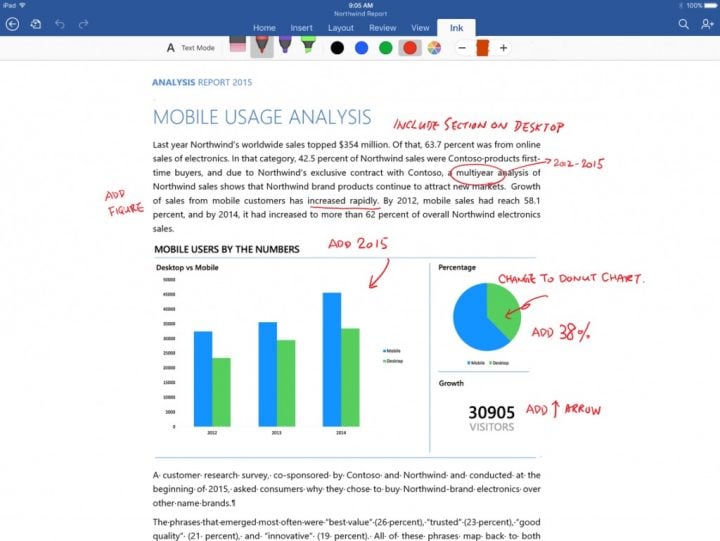 You can use the built-in OneDrive syncing feature supplied by Microsoft or take advantage of Dropbox, iCloud or SharePoint support.
To get the full use of Office 365, you'll pay at least $6.99/month or $69.99/year. A family can take advantage of the more expensive version for $9.99/month or $99.99/year. This lets you add a total of five users.
PDF Expert from Readdle
If you don't want the cost of a monthly Create Cloud subscription from Adobe, but still need great PDF document tools, then consider PDF Expert from Readdle. They make some great productivity software for both Mac and iOS.
PDF Expert 5 for iOS works great on iPad Pro with Pencil support. You can draw, write and highlight your PDF files and then see them sync to the newly released Mac version of PDF Expert 2. See it below.
If you buy one iOS app, it runs on both iPad and iPhone. The Mac version includes a nice file organizer to keep track of all your PDF files. The Review Mode in the iOS version lets you edit PDFs on your iPad or iPhone the way you would an MS Word file.
You can get the iOS app for $9.99 on the App Store or grab the Mac version from Readdle directly for $59.99 or in the Mac App Store for $59.99.
Sketchbook
Artists will love Sketchbook on the iPad Pro with Apple Pencil. It's also great with another great stylus on the iPad Air or iPad mini. This free iOS app lets artists create some beautiful masterpieces.
Here's what Sketchbook can do. The image below, created in Sketchbook for Mac, shows what's possible with this app.
An iPad and Mac user could buy the Adobe Creative Cloud subscription that includes both for $50/month or they can buy apps like Pixelmater and Sketchbook for a fraction of that. The desktop version costs $4.99/month or $29.99/year. The iPad app, which also work on iPhone, is free. The full Pro Tools cost $4.99 via in app purchase.
Fantastical 2
Fantastical offers the best iPad app that's available on macOS for calendars. On both platforms, the app lets me add natural language appointments. That means I can type into the box "Meet with John at 2:00 p.m. Tuesday at Office for one hour" and it enters all the pertinent information and creates the appointment. It then syncs the appointment to the other platform using my chosen calendar.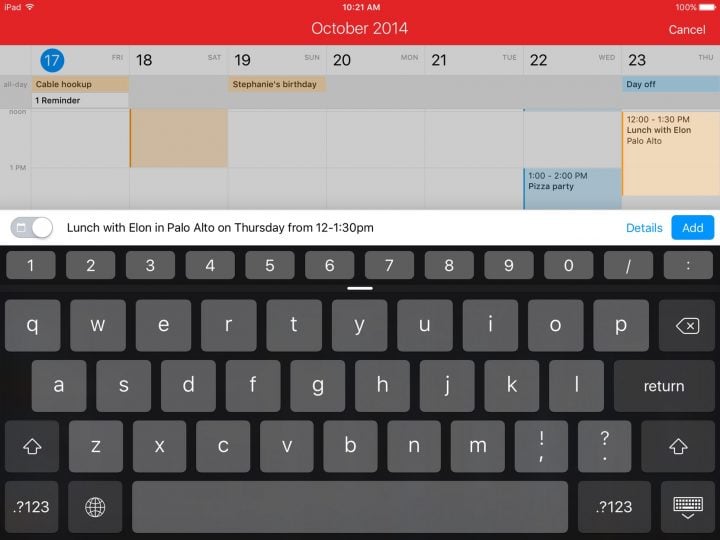 The App supports the iCloud Google calendars. In addition, users can add Exchange, Yahoo, fruux and CalDav calendars.
The apps can use your built-in iOS and macOS Reminders to keep track of your To Do lists as well. Both your calendar events and reminders will show up on your calendar.
In macOS the app runs with an icon on the menu bar. Click it to see your list of appointments and reminders for the day. It also shows your month view. You can type in a new appointment, search for future appointments and reminders, and look at upcoming months using the arrow icons just above the month view.
The latest version now lets you open a full calendar window. This gives you more control over your calendar as you work with more than one program window at a time.
The Mac version costs $39.99 while the iPhone version will cost $2.99. Unfortunately, you also have to pay separately for the iPad version, which costs $4.99.
Pixelmater
Above we suggested people use Adobe's Creative Cloud apps, but that comes with an expense that many photographers and graphics creatives won't want to pay. Pixelmater offers a great alternative with excellent photo editing tools plus some layout and design tools. It's like Photoshop only cheaper.
The iPad version installs filters into the iOS Photos app for simple edits. Or the user can open the app itself and do some amazing and incredible things.
Pixelmater costs $29.99 on Mac and $4.99 on iPad. That means buyers can get a lot of the power and tools in Photoshop for less than four months of the Adobe photography subscription, which costs $9.99/month for life.
Slack
Slack gives groups a chat system plus services to share. A team creates a Slack team and then adds other services. The free version lets the team add a few functions, like integration with Google Docs, Evernote or Twitter. Add up to 10 integrations or tools.
A team can add channels inside their Slack space. Most will use the General channel, but add others as well. It also offers private person-to-person chat.
Slack on the iPad offers three panes in landscape mode. The center pane shows conversations from the current channel or private conversation. The left channel shows a list of the rooms or channels. The right side offers settings and the ability to switch between teams for those who use Slack with multiple teams. In portrait mode it mainly shows just the current chat.
The Mac version looks and behaves almost identically to the iPad version in landscape mode.
Get Slack free and use apps on Mac, Windows, iPad, iPhone, and Android.

As an Amazon Associate I earn from qualifying purchases.