10 iOS 7 Features That You'll Hate
iOS 7 is right around the corner, and it's set for a public launch later this week. If you've been keeping up with the latest news on the mobile OS, then you probably know a lot about the new feature without actually playing around with it. Because of that, you're most likely really excited to get the update notification on your iPhone come Wednesday.
However, we've had the chance to play around with the Gold Master version of iOS 7 for the past few days (a.k.a. the final release version), and we've adventured into the deep and dark crevices of iOS 7 that Apple didn't really show you in order to find out what we liked and what we didn't like about the new OS. We've already talked plenty about what we like, but we thought it'd be fun to name off the features that we don't like about iOS 7. Here are 10 of them.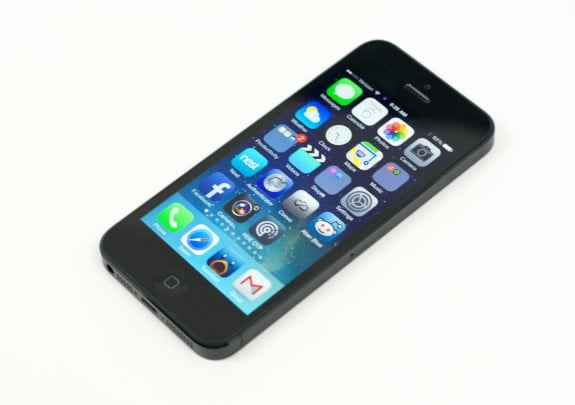 Parallax Effect
The Parallax Effect in iOS 7 gives the home screen a neat 3D look, so when you move your phone around, it looks like you're looking "around" the app icons onto the wallpaper. I liked it at first, but I've since gotten over the wow factor and just find it annoying. Plus, it's even more annoying knowing that it's probably hogging up processing resources, thus decreasing battery life. However, you can turn it off by going into Settings > General > Accessibility > Reduce Motion.
Non-Customizable Control Center
The new Control Center is awesome, and it essentially replaces one of the best jailbreak tweaks that I've relied on for a long time, SBSettings. However, it still lacks the ability to customize what shows up in Control Center. It's not too big of a deal, but the fact that a 3G/4G toggle is missing makes me wish that you could swap out toggles and make it feel more like "your own," especially since I never use Bluetooth, so that toggle is meaningless to me.
Vague Weather Info in Notification Center
I really liked the weather information section in the Notification Center on iOS 6 and below. It gave you the current temperature in the city you're in, the high and the low, and a neat graphic that you could just simply glance at to get a quick idea of the conditions outside. However, in iOS 7, the weather is much more vague. For example, there's no graphic and sometimes it doesn't even tell you the current temperature.
Home Button Still Doesn't Really Take You Home
One thing I hate about iOS in general is that the Home button actually doesn't take you to the home screen sometimes. Specifically, if you're opening an app from a folder and then want to go to the home screen, you should be able to press the Home button and go straight back to the home screen, but it really just takes you back to that folder you were in. You have to press the Home button once again to actually go back to the home screen. What's up with that?
The White/Yellow Theme in the Notes App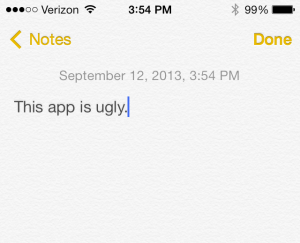 As you may be well aware of, iOS 7 received a huge makeover; it's a lot more colorful and the user interface is more flat this time around, throwing out the bubble look that the mobile OS has had since day one. While it was a bit weird to get used to, I really like the new look, except for the Notes app, which uses an awful combination of white and yellow — two colors that should never be combined if you only have to select two colors. I'm no designer with expertise on color palettes, but I've never see anything in a white/yellow combo that looked good.
Spotlight Search is Hidden
Spotlight search is easy to get to in earlier versions of iOS; all you have to do is swipe the home screen to the right and then Spotlight Search pops up. However, Apple changed it in iOS 7 and they aren't making it easy to find right away. It took me a few minutes before I figured out that you have to swipe down in the middle of the home screen to get Spotlight Search to show up — a gesture that Apple has never implemented before in iOS. Of course, if you watched Apple's presentation, Cook and company showed you how to do it, but for everyday folks updating to iOS 7, good luck figuring it out.
"Tap to Post" Social Widget in Notification Center is Gone
I didn't use it all the time, but it was helpful when I did. Apple removed the convenient "Tap to Post" widget for Twitter and Facebook in the Notification Center. To update your status, all you had to do was open up Notification Center, tap on the text box for Twitter or Facebook, type a status, and hit send; no need to open up the apps themselves. However, Apple removed them in iOS 7.
Confusing Shift Key Highlight
In earlier versions of iOS, you could clearly tell whether or not the shift key was activated on the keyboard, as it lit up in bright blue. However, the iOS 7 keyboard is different, and it's actually hard to tell if the shift key is activated. It simply just goes from an outlined gray arrow to a filled in gray arrow when it's enabled. Frankly, the filled-in version blends in with the rest of the keyboard's theme, so it's really easy to think that the filled-in version is the lowercase setting.
Still No Way to Leave a Group iMessage
So you received an iMessage from a friend, but wait…your friend sent it to a bunch of people, so now you're conversing with a whole circle of friends. It's not terrible, but once you've fulfilled your contribution to the conversation, it would be nice if you could leave but still let others keep talking. However, iMessage still doesn't let you leave a group iMessage "chatroom," if you will, and that can lead to a bunch of unnecessary messages that you keep receiving.
Do Not Disturb Still Doesn't Play Nice with Third-Party Alarm Clock Apps
Do Not Disturb is great if you don't want to receive any calls or notifications, but still want to keep your cell radio, WiFi or data on. While Do Not Disturb doesn't interfere with iOS's default Alarm Clock in the Clock app, it sees other third-party alarm clock apps as a notification of sorts, so it automatically silences them, which means that if you have Do Not Disturb on and have an alarm set for the morning using a third-party app, prepare not to be woken up.

As an Amazon Associate I earn from qualifying purchases.