10 OS X Yosemite Hidden Features
OS X Yosemite was released earlier this month, and while you probably know about all the major new features, there might be some OS X Yosemite hidden features inside of the new operating system that you're not familiar with.
OS X 10.10 Yosemite was announced and unveiled back in early June during Apple's annual WWDC developers conference where the company showed off a slew of features for the new operating system.
This new version of OS X comes with some pretty sweet features, including an all-new look and feel that finally puts OS X on par with iOS 7, thanks to the translucent windows and menus, as well as a flatter design overall, with redesigned icons that mimic iOS 7 icons, but still include some depth so that there's still a bit of that classic OS X feel.
One of the first things that Apple touted with the new OS X 10.10 Yosemite was the look of the new icons. They've obviously been iOS-ified and include a flatter design that we've seen on the iPhone and iPad, but they still have a bit of depth in order to keep the design from going completely iOS.
There's also what Apple calls Continuity, which is the company's initiative to seamlessly pair your iOS devices to OS X to make them work better together. There's Handoff, which lets you start one task on your Mac and finish it on your iPhone, and there's also the ability to send and receive SMS text messages right from your Mac, as well as make and receive phone calls.
All of these features are really awesome, but here are even more features that you probably didn't know about in OS X Yosemite.
Batch Rename Files
New in OS X Yosemite is the ability to rename a group of files all at once.
Simply just highlight all of the files that you want to rename and then right-click and select Rename X Items. From there, you can select different options for renaming that group of files.
But no longer are you stuck with renaming only one file at a time!
Record Your iOS Device's Screen
This is a huge feature, but Apple doesn't advertise it all that much. You can record the screen on your iOS device right from your Mac using QuickTime.
Simply just plug your iPhone or iPad into your Mac and then open up QuickTime. From there, you can set your connected iOS device as the input and just click Record to start recording a movie of the iOS device's screen.
This feature isn't exactly useful for all users, but it can come in handy to show a distant friend how to use their new iPhone or iPad.
Better Stoplight Buttons
Not to be confused with "Spotlight," the stoplight buttons on the upper-left corner of every window have undergone a slight makeover, with the green button now acting as a maximize button by default.
Of course, if you still want the old resize button, you can hold down the Option/Alt key and it turns into the Resize button from older versions of OS X.
Screen Sharing in iMessage
If you ever need to provide tech support to a distant relative, screen sharing is about the best way to do it these days, and iMessage in OS X Yosemite comes with this feature.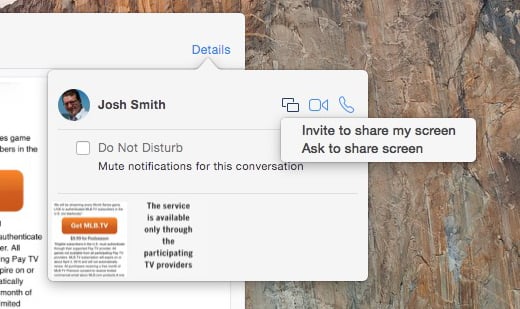 Simply click on Details in a conversation window and then select the screen sharing icon just the left of the video camera icon. If it's grayed out, this means that the user doesn't have iMessage open or doesn't have iMessage set up on their Mac to begin with.
Do Not Disturb in iMessage
Furthermore in iMessage, you can mute a specific conversation if you don't want to be temporarily bothered by that person.
Simply just click on Details in a conversation window and mark the checkbox next to Do Not Disturb. You'll no longer receive notifications from that user until you uncheck it.
Sign Documents Using the Mac Trackpad
The trackpad on MacBooks are really awesome, and now you can use it as a signature pad of sorts.
Fire up any document in Preview and then select the Trackpad option in the Signature button dropdown. From there, just scribble in your John Hancock and off you go.
3D Flyover in Maps
The Maps app in OS X Yosemite now includes 3D Flyover, which was first introduced in iOS.
In the Maps app, you can now access 3D Flyover Mode in famous cities. Simply just look for the 3D Flyover Tour button that will appear when you browse any city that supports the feature.
Dark Mode
Many people use their Macs at night, so it's quite a relief that OS X Yosemite now has a Dark Mode to tone down the bright colors.
To enable the feature, simply navigate to System Preferences > General and click Use dark menu bar and Dock. Both items will be darker and your eyes will thank you.
Spotlight Search
Okay, so Spotlight Search itself isn't anything new to OS X Yosemite. However, it has a ton of added features.
Spotlight Search can convert units of measure and even show you showtimes and trailers for movies that you type in. It really is Spotlight Search on steroids.
Disable Transparent Dock
The dock in OS X Yosemite has a frosted transparent look to it, as does the menubar up top, but if you're not a fan of this, you can make it a solid gray background.
To do this, head to System Preferences > Accessibility and then place a checkmark in the box next to Reduce transparency. This should also increase performance on older Macs.

This article may contain affiliate links. Click here for more details.