10 Reasons Not To Shop on Black Friday
It's just a few days until Black Friday. Businesses are going to be offering amazing deals. People are going to line up in the earliest morning hours. You're thinking about all the money you can save on your Christmas shopping. But the truth is, there are a lot of reasons to skip Black Friday and spend time relaxing with your family. In fact, here are 10 reasons you should skip Black Friday.
1) Many Deals Are Available Online:
Before you wake up early at the awful crack of pre-dawn, exhaustedly gas up the car, pull on the warm overcoat and get ready to do Black Friday battle, spend some time online. Many retailers (particularly online-only ones) are trying to siphon off business from real space stores. With just a few clicks online, you could get all your Black Friday shopping done without even having to walk outside your front door.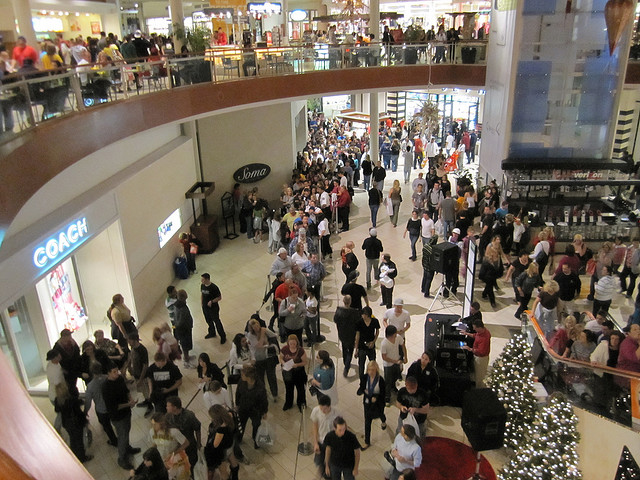 2) Crowds are Horrible:
Every year there are stories about someone who gets trampled to death by a frothing mad crowd of people trying to save $10 on the newest battery-operated toy that their kids will play with for a month and then forget about. Do you really want to literally risk life and limb to save $10? Is it worth it? Even the non-deadly stampedes mean having to deal with a higher person-to-square-foot density than the sidewalks of New York. And everyone's throwing elbows and trying to get to the deals before you do. Nothing is guaranteed to lower your opinion of the human species than having some soccer mom knee you in the back of the legs to disable you while she's reaching for the very last Tickle-Me-Elmo.
3) Tired and Rude Staff
If you value customer service, then this is probably the worst day of the year to go out. Staff that is even usually polite and helpful on Black Friday have to become wary out of sheer self defense. They're become defenders of a castle staring at the barbarian hordes thundering down upon them, and while they're not legally permitted to repel invaders with hot oil, they're probably going to just be focused on making it through the day alive. They could care less if you save 50% that netbook. They just want you to come in, get what you wanted, and get out. They're human beings as well, and if you're stressed out and crowded and frantic, they're going to have been encountering tens of thousands of other stressed and frantic people that day. Unless these guys are the Dalai Lama, they are not going to be at their best.
4) Limited Stock on the Best Deals
Paying attention to the fine print? You'll notice that a lot of those super-fantastic-awesome deals being offered have extremely limited stock. For example, most of the amazing fridges you'll see at the big stores with appliance departments? There's only two or three of them for sale per store. Then the price goes up to normal. They're hoping that Mr. Number Four shows up, hoping to get that 50% off deal. When people 'decide' they want something, that's often half the battle. So then they'll buckle and buy it for the normal price. Alternatively, once you're in the store, you might buy something else out of a desire not to go home empty handed. We'd all like to think we're stronger than that, but studies show that isn't the case. Or the retailers wouldn't be doing this, would they?
5) Loss Leaders Mean You're Likely To Exceed Your Budget
Sure, you saved 50% on that TV. But then you purchased a DVD player, a gaming system, and some very expensively-marked up connection cables. Instead of spending $400 you're now going home with $700 worth of stuff. How did that happen? You rationalized that you were saving money, so you purchased more. And in the end, your budget gets blown.
6) Prices Tend to Drop After Black Friday Anyway
If you pay attention, you'll notice that the trend on prices if for them to drop over time. Wait until a couple weeks afterwards. Stores are getting desperate to get rid of more, and it's not quite the last-minute Christmas rush. You'll often find some excellent deals. If you can hang on longer, after Christmas is when you can clean up.
7) Many Prices Aren't Actually That Great
Have you been paying attention to the price of that gizmo all year around? Are you totally sure it's the best deal? One big trick by retailers is to mark up the price of an item, then slash it. So 50% off might look incredible, but if the item in question was marked up that much to begin with, you don't actually save anything. Often, big deals are given on crap merchandise. Remember all those super cheap 'tablets' last year that were unusable? This season there are a number of non-brand name knockoff electronics that are being promoted as great big deals that really aren't. Doesn't matter if you save 90% on an electronic device that you will never use because it's junk.
8) There Are Always Deals Year-Round
Retailers are trying to make you panic and go shopping by having all these deals by everyone happen at the same time. Chill. There are always deals to be found year-round. There's no reason to lose your cool on this particular day and join the herd. There will be other deals. Other sales. And ways to save money. It constantly happens all year-round.
9) Deals Often Have Restocking Fees
So you purchased that gizmo, you thought you'd love it, but within days you realize you've made a mistake. Normally throughout the year you have time to return it easily. But lots of stores bring in high restocking fees for Black Friday sales, hitting your pocketbook despite the 'deals' and 'savings.' Again, if you didn't need the item, or it's junk, then all you're doing is costing yourself money and not really saving.
10) Isn't Thanksgiving About Giving Thanks For What You Have?
It's easy to forget, but just the day before Black Friday you're supposed to be giving thanks for what you have. Family, and everything else. It seems awfully quick to turn right around and start freaking out about what you need to get within ten hours of finishing up your Thanksgiving dinner by getting up super-early to go out and purchase everything you can throw an elbow and get your hands on.
Give thanks that with online purchases and the fact that deals will always be out there, that it actually makes sense not to shop on Black Friday.

As an Amazon Associate I earn from qualifying purchases.