10 Reasons to Upgrade to iOS 6
Earlier this month, Apple rolled out its new iOS 6 operating system for the iPhone, iPad and iPod touch. However, there are likely owners out there who are reluctant to make the upgrade. We're here to help you over the fence.
iOS 6 is Apple's new operating system and it brings more than 200 features to owners of the iPhone 3GS and up, iPad 2 and up and the fourth generation iPod touch.
And while iOS 6 brings a lot of new features to the table, many owners might be opting to stay on their current operating system. Maybe it's because they've heard bad things about the Apple Maps application that replaced Google Maps, maybe it's because they aren't sure whether it runs well on the iPhone 3GS. My girlfriend just didn't want to deal with the "hassle" of installing it and learning about the new features.
Whatever the case may be, we're here to help with 10 reasons why you should seriously consider upgrading your iPhone, iPad, or iPod touch from iOS 5 or below to Apple's new iOS 6.
More Siri Features
Many iPhone 4S owners though of Siri as more of a gimmick rather than a useful tool in daily life. However, with iOS 6, Apple has made some remarkable steps towards making Siri a credible feature in iOS' arsenal.
Two features that might convince iPhone and iPad owners to make the upgrade include Siri's ability to give out information about sporting events and the ability to check movie times and locations.
For example, I asked Siri for the score of the 49ers game and she gave me this weekend's results. Had the game been live, she would have given me that info as well.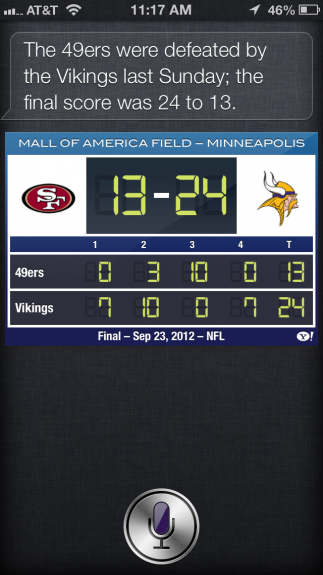 In addition, you can now ask Siri about movie times in your area, which is a quick and painless way to set up a date with your significant other.
I should also mention that iOS 6 also brings Siri to the iPad.
Do Not Disturb
One of my favorite features that is found only in iOS 6 is something called Do Not Disturb which allows you to turn off Notifications and calls in order to get a better night's sleep or get work done.
iOS 6 allows you to schedule my Do Not Disturb time as well so you don't have to constantly set it. There is also a feature that you to customize who you can receive calls from when the feature is turned on which is perfect in case of an emergency.
Thus far, I've used this every single day I've had iOS 6 installed on my iPhone and I'll be using it for the years to come I'm sure.
Works Great on iPhone 3GS
Many of those who are on the fence out there are likely owners of the iPhone 3GS, a device that is over three years old. iOS 5 was by no means amazing on the iPhone 3GS and thus, owners may be feeling a reluctance to upgrade.
Read: iOS 6 on iPhone 3GS: Final Impressions and Performance.
I'm here to tell you that iOS 6 runs beautifully on the iPhone 3GS. I've spent a week with the software on my iPhone 3GS and it's a much better overall experience than iOS 5.
The performance is faster and smoother, there is way less lag, and of course, you get access to most of the features of iOS 6 including Do Not Disturb, Passbook and more.
Google Maps Are Coming to iOS 6
One of the biggest gripes that current iOS 6 users have had is with the buggy Apple Maps that replaced Google Maps as the native maps application on the iPhone and iPad in iOS 6. They are missing several familiar feature as well including street view, bike routes and native public transit directions.
Read: How to Get Google Maps in iOS 6.
The bugs and missing features might be keeping some of you on iOS 5 or below. Don't let them stop you from upgrading to iOS 6.
First of all, the Apple Maps aren't terrible and they will certainly get better. Second, there are plenty of viable alternatives in case you can't stand Apple Maps. Third, Google Maps is still available through the browser.
And four, a Google Maps app for iPhone and iPad will likely be coming to the App Store in the future. So don't the lack of Google Maps hold you back from iOS 6.
YouTube App is Replaceable
Another app that was taken away with iOS 6 is the native YouTube application. However, don't let that stop you from snagging iOS 6 either.
Read: How to Get YouTube Back on the iPad in iOS 6.
Google has already released a standalone YouTube app for the iPhone that can be downloaded from Apple's App Store right now and while iPad owners don't have the same type of app, Jasmine for iPad is a perfect alternative. In fact, I might even like Jasmine more than the official YouTube application.
New Sharing Options Are Fantastic
Another fantastic feature found in iOS 6 is the new sharing option that allows you to easily share your content through email, social networks, and more.
For instance, if you take a photo or video, users can now tap the share button and the software presents a neat interface that allows you to quickly and easily share that video or photo in a number of ways.
Another feature that I'll toss under the sharing blanket is the ability to share webpages between your iPhone and iPad. Owners who have both devices can use a feature called iCloud Tabs which allows you to look at a webpage you've been looking at on the iPhone on the iPad.
Panorama Mode
With iOS 6, Apple has included a feature called Panorama mode with the camera which allows users to shoot beautiful panoramic images.
It's only available for the iPhone 4S and iPhone 5 but it's only found in iOS 6 and it's certainly a reason to make the upgrade to iOS 6 especially for those who love to shoot photos of concerts or when traveling.
Below is an example of a photo shot in Panorama.
Smarter Phone App
While texting, apps and browsing the web are prevalent uses on the iPhone these days, people actually do still use the device like a phone. And one of the things that iOS 6 offers is a much improved Phone application that comes with several tools that will come in handy for those who still receive phone calls.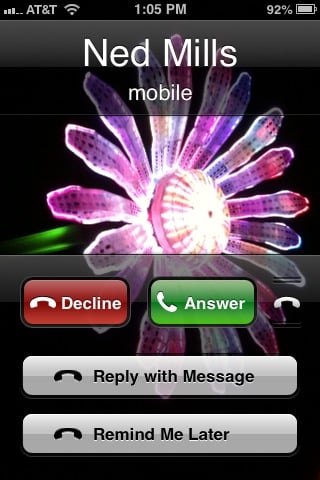 When a friend calls, iOS 6 users are given a host of options to deal with that phone call. Users can answer or, if they're busy, the app allows users to set a reminder to call back or even send a quick message so the person knows that they're not being ignored.
It has come in handy a couple of times for me already and I'm sure will time and time again.
Love Using Facebook
Facebook lovers are absolutely going to want to upgrade to iOS 6. That's because Apple has finally baked deep Facebook integration into iOS with iOS 6.
By syncing up your Facebook account with your iPhone, you'll be able to have Siri post content on Facebook for you. Facebook events are now integrated into the calendar. And contacts from Facebook friends is automatically put into contacts. You can also swiftly share your photos with your friends you love.
Needless to say, those who spend a lot of time on Facebook are definitely going to love what iOS 6 brings to the table.
Better Mail App
Last but certainly not least, with iOS 6, Apple has launched a much improved Mail application. It's a huge upgrade over the previous versions of the app.
It lets you set up a VIP Inbox which allows you to easily get to mail from the most important people in your life. Adding photos is easier than it ever has been and the ability to swipe down to refresh is a godsend.

As an Amazon Associate I earn from qualifying purchases.