10 Reasons You Shouldn't Buy The iPhone 3GS
The iPhone 3GS is an attractive option for many smartphone buyers, but this free smartphone isn't worth the price for many users.
Reports suggest that demand for the iPhone 3GS is high enough that Apple will move 2 million iPhone 3GS devices before the end of the year.
It's hard to say no to a free phone, specifically a free iPhone, but there are many reasons you shouldn't bother with the free iPhone 3GS.
(Read: iPhone 4S Review)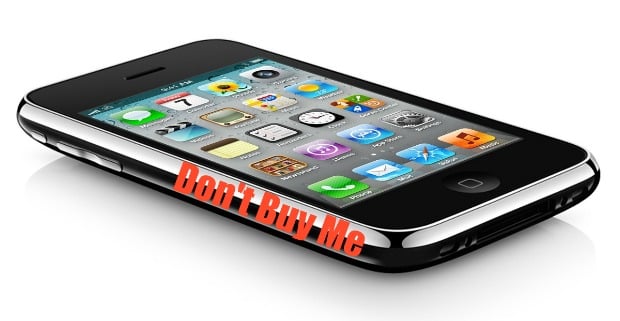 Why You Shouldn't Buy the iPhone 3GS
Rather than pick the iPhone 3GS, you should save up and purchase the iPhone 4, iPhone 4S or look at the free and cheap Android competition, which has a few affordable phones worth considering.
1. Rear Camera Quality
If you plan to take any photos with your new iPhone, you really should save up for something better than the iPhone 3GS. It's not just that the iPhone 3GS' 3MP camera is lacking in resolution, but also in quality. The iPhone 4 and iPhone 4S both offer a much improved camera and deliver better looking photos.
For more, take a look at this photo comparison between the iPhone 3GS, iPhone 4 and iPhone 4S, and tell me which photo you would rather have on your computer 4 years from now.
The iPhone 3GS also has a very poor video camera. Check out the video below, to see the differnce in quality. Choose 1080P for the best results.
If you plan to share fun clips of your family, pets or random strangers on Facebook and YouTube, you will want the higher resolution of the iPhone 4, or full HD recording of the iPhone 4S.
2. No Front Facing Camera
Another reason to pass on the iPhone 3GS is the lack of a front facing camera. While you may not see yourself using this a lot right now, the inclusion of FaceTime and other video chat apps point to more use of video chat in the next few years.
The front facing camera is also the easiest way to take a quick self portrait or make sure you and your pet or kid are in frame when you take a snapshot.
3. Lack of Speed
The iPhone 3GS is more than two years old, which means it doesn't have the speed of the iPhone 4 or iPhone 4S. This may seem trivial, but it has real implications.
First off, the day to day use of the phone will feel much slower than on newer phones, which means waiting and frustration. The slower speed also limits what you can do with the phone. One example is lower quality video playback on external monitors and your HDTV.
4. App Compatibility
When it comes to playing the latest and greatest apps and games, you won't be doing it on the iPhone 3GS. We are already starting to see apps that require the iPhone 4 and iPhone 4S to play, like Grand Theft Auto IV.
This is just the beginning. I expect to see some of the greatest looking games for the iPhone to rely on the faster processor of the iPhone 4S in the next 12 months.
5. No Retina display
The iPhone 4 and 4S both have Apple's high resolution Retina Display, which makes reading, gaming, web surfing and video gaming look that much better. You can see how the iPhone 3GS display compares to the iPhone 4 in this video below.
If you haven't seen this in person, I recommend a quick stop at your local AT&T store to see the displays next to each other. When you look at it in person, you'll notice the difference.
6. Capacity
The iPhone 3GS currently comes in an 8GB size, which isn't much in terms of storage. If you plan to use your phone to download  a lot of apps, store a lot of music or carry movies with you on the go, you'll fill up fast.
Apps like Infinity Blade, Rage and others can use up close to 1 GB of storage easily. If you shoot video, the 8GB iPhone 4S would top out long before you could shoot 50, 5-minute videos. This won't be a big deal for everyone, but it's another reason you would be well served by a newer iPhone.
7. Not Cheaper In the Long Run
If you look at the total cost of owning an iPhone over two years, you'll find that the total cost of owning an iPhone 4S or iPhone 4 over the same time isn't much more — in fact it is only $100 to $200 more depending which model you choose.
If you are going to spend thousands of dollars on your cell phone over a two year period, there's not much of an argument for saving such a small amount of money up front for an older phone.
8. Poor Resale Value
Another issue is the poor resale value of your iPhone 3GS when you want to upgrade to a different phone two year's down the line. Right now, you can get $98 for a good condition iPhone 3GS. In two years expect to get around $10, if anything.
If you spend $100 on the iPhone 4, or $200 on the iPhone 4S, you can expect to sell it to Gazelle or on eBay for more than enough to cover your initial purchase price.
9. Fewer Cool Accessories
At one time iPhone 3GS accessories were the hottest item on store shelves, but two years and two iPhones later they are harder to find.
Sure, you can find a back catalog of accessories online, but the selection is small in comparison to the battery cases, wallet cases, beautifully designed cases and other stands and add-ons.
10. No More Major iOS Updates
The iPhone 3GS performs well with iOS 5, but given the age and lack of speed, don't expect to get any more major iOS upgrades.
This is a big deal, because Apple packs in many exciting new features to these major upgrades. iOS 5 brought the notification center, iMessage, iCloud and many others which can be seen in the video below.
https://youtu.be/LLJIef-e-7g
When Apple brings out iOS 6, it is very likely that iPhone 3GS owners will not get this annual software refresh, which often delivers a brand new experience.

As an Amazon Associate I earn from qualifying purchases.