10 Top Windows 8 Apps You Should Download for 2014
There's no denying it. The iPhone and iPad have changed the way users think about devices. In today's world, having a well-stocked app store is important no matter what the device. That's something Microsoft understood when creating Windows 8 and the Windows Store. The hope is that a centralized place for users to download apps that work together will keep the Windows operating system thriving and gaining new features.
Here are 10 top Windows apps available in the Windows Store. All of them are available today and all add new features to tablets, desktops, notebooks and 2-in-1's running the operating system.
Torrex Pro
It used to be that BitTorrent apps on Windows required users to keep the app snapped to the side of the display if they wanted their downloads to continue. It was a really pain, something that clearly showed just how immature Windows 8.1 and that apps it enabled were. Thankfully, Windows 8.1 added a few new options for developers and we now have Torrex Pro. As it's a Windows Store app it lives in the Start Screen and simply downloads or uploads the torrents that the user tells it too. No frills, no gimmicks, but it does support Snap view multitasking and more.
There's a free version, however it doesn't include background downloading.
[ Buy Torrex Pro in the Windows Store for $7.99 ]
VLC for Windows 8
There isn't much to the newly launched VLC for Windows 8 app. It automatically finds and plays music and video. It also includes a decent user interface and support for more video types, and that makes VLC the app to have. Literally, if VLC can't play it then it isn't a widely used file. VLC for Windows 8 is completely free, too.
[ Download VLC for Windows 8 in the Windows Store for Free ]
Qwilo
Craigslist is a national treasure. There are people out there who've found their first job, car and tons of other things through the online service. Qwilo delivers Craigslist in a classy fashion. The search engine is easy to use, users can favorite ads they'd like to keep an eye on and users can sign in and post their own ads.
[ Download Qwilo from the Windows Store for Free ]
Project Spark
Currently in beta, Project Spark is a strange animal. Technically it's a game that includes Xbox Live integration and achievements. On the other hand, it's really a creation engine that allows users to create their own worlds and own play types free of charge. Created worlds can be played on the Xbox One and Xbox 360 too.
[ Download Project Spark from the Windows Store for Free ]
Package Tracker
Tracking packages online has never been very difficult. You simply input the tracking number and check it periodically for updates. Package Tracker on Windows streamlines this process. Packages tracked by the app have their status automatically updated. Users can then pin really important packages and have the app sync their packages to Package Tracker on Windows Phone seamlessly. It's not free, the Windows Store app costs $2.49, however it does work pretty flawlessly, definitely making it worth the purchase price.
[ Buy Package Tracker for $2.49 from the Windows Store ]
OneNote
Using a tablet as a notebook has never been easier than it is on Windows thanks to OneNote. Users who own devices with pin input can quickly and easily take handwritten notes in the app with special tips for content that needs to be on bold. For traditional keyboard and mouse users, OneNote still makes a handy notebook tool. All of these notes are synced to companion apps on Windows Phone, the iPhone and more.
[ Download OneNote for Free from the Windows Store ]
Flipboard
There's really not much to say about Flipboard for Windows. It exists and it allows users to browse the day's web content. It's a bit slow with page turns, but it does include an always updating Live Tile and Share Charm integration so that users can share their Flipboard favorites with everyone immediately.
[ Download Flipboard from Free from the Windows Store ]
Weave
There's no official Feedly app on Windows. However, there are a couple of replacements that integrate with the service. Weave isn't such an app. Rather than integrating with Feedly, Weave completely replaces the back-end service and syncs users RSS feeds across apps on Windows Phone and Windows 8. The app is also very attractive and looks aren't something that all Windows Store apps nail.
[ Download Weave for Free From the Windows Store ]
MetroTube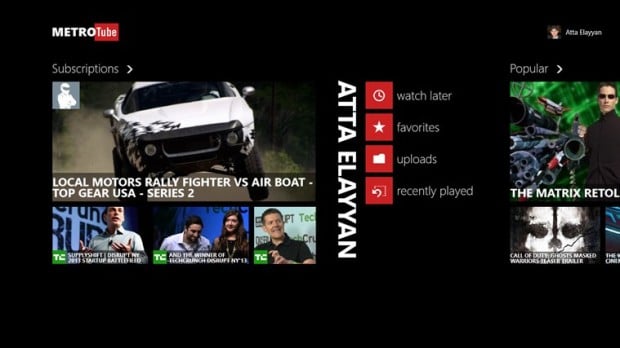 Google still hasn't embraced Microsoft's app stores. As such, there's no official YouTube app for Windows. Instead, there's MetroTube. Subscription syncing, a live tile, video sharing, commenting and Devices integration so that users can stream content directly to their Xbox One or Xbox 360 are all included in MetroTube. From time to time Google breaks it, but the app's developers always fix it within a few days.
[ Download MetroTube for Free From the Windows Store ]
Tweetium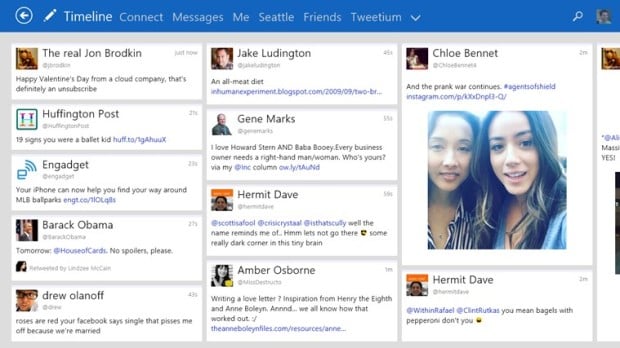 $2.99 is the only thing separating Windows users and a quality Twitter client. That's it. Tweetium for Windows isn't just an all-around better Twitter client than Twitter's own Windows 8 app, its development team also continuously hammers out new features with almost break-neck speed. Adding more accounts does require a Tweetium Pro subscription which costs $4.99 every six months, however it's definitely worth it.
[ Buy Tweeitum from the Windows Store for $2.99 ]
Have more apps that you think should be included in this list? Leave them in the comments and we'll include them for entry in our next edition. Almost all of these apps require Windows 8.1, the free update for devices running Windows 8. That update will need to be downloaded before these apps can be used on any Windows 8 PC.