$100 Off Coupon for Fujitsu U810 at Costco
Ok, Star Wars and Fujistu U810 UMPC fans, here's a deal for you. Costco.com is offering a $100 coupon for the Darth Vader (alas not the Stormtrooper) through December 10.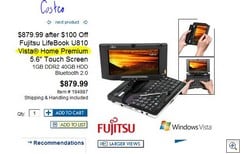 Make sure you check out Rob's recent reports and Hugo's InkShow reveiw of the U810.
Clip and link via Lora Heiny.

This article may contain affiliate links. Click here for more details.