$100 Tablet from Maylong Now at Walgreens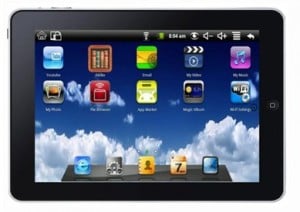 Well that didn't take long. But maybe it will be a short trip. I predicted awhile back that at some point in the great Tablet/Slate race we'd see these devices at places like Walgreens and CVS priced below $100. Guess what? According to the Boy Genius Report, Walgreens is going to be selling the Maylong M-150 Tablet for $99.99 like beginning now.
Before you get all excited and head to Walgreens to pick up a Tablet when you get your flu shot, keep in mind that to hit that price this 7 inch Tablet is running Android 1.6, which to my mind for Android Tablets would be like purchasing a new laptop with Windows 98 on it. The resolution is 800×400 on a resistive display, so don't expect all that touch screen fun that you might see on devices with capacitive screens.
But, then again you get what you pay for.

This article may contain affiliate links. Click here for more details.