11 Best Exercise Apps for the iPhone and iPad
We've gotten used to our iPhones becoming our sources of entertainment, news, books, and communications, but can they replace a personal trainer, too? With this list of the best exercise apps for the iPhone, the answer just might be yes.
If you decided that a healthier lifestyle was part of your 2016 New Year's Resolutions, you've probably looked at new exercise routines or gym contracts. What you might not have considered is that your iPhone can be a huge help in meeting your exercise goals, from apps that teach you proper form and how to exercise, to apps that include nutrition plans, fitness tracking, and even one-on-one personal trainers.
By far the biggest kind of exercise app you'll find in the App Store is the fitness tracker. In addition to apps from device manufacturers like Fitbit or Jawbone, there are a bunch of apps that use the hardware in the iPhone itself to track what you're doing. Some of these are step counters (if you need one, look no further than the iOS Health app, which comes with your device), and some are run trackers (we like RunKeeper), which use a combination of the motion chip and GPS inside your iPhone to keep track of your run times, distances, and paths. It's worth pointing out that you'll need an iPhone 5s or newer to use the step counting features of most apps, as they rely on the motion co-processor inside your iPhone.
This list is focused on the best exercise apps for the iPhone. That is, the best apps for getting you up and moving, and not just tracking what you're already doing. Some of these apps will help you start running, if it's something you're not used to doing, and some of them will help you replace your gym classes or personal trainer with something a bit more affordable – and much more portable!
In no particular order, then, here are the…
Best Exercise Apps for iOS
7 Minute Workout Challenge (iTunes)
Price: $2.99
App store rating: 4.5 stars
A lot of the apps on this list will focus around HIIT, or high-intensity interval training. That means that you'll go hard for a short period of time, take a brief rest, and go again, in intervals. It allows you to actually get in a worthwhile workout without taking much time, hence, in this case, the "7 minute" workout challenge. It might not sound like much, but you'll be sweating by the end, believe me.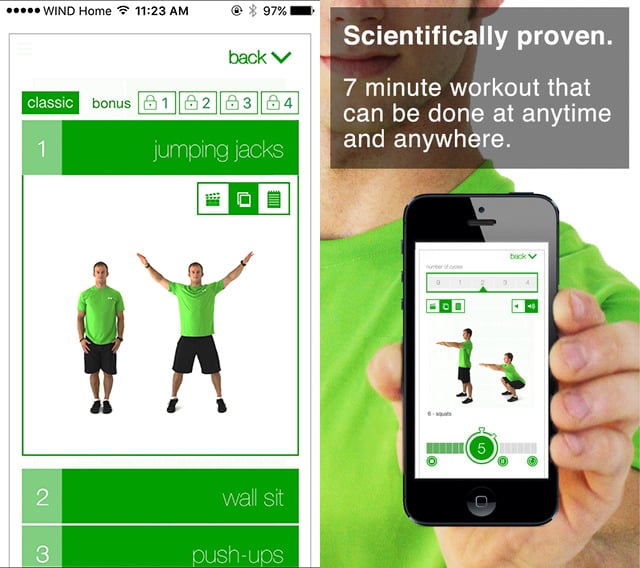 By default, this $3 app comes with 12 different sets of exercises, but you can, for a buck or two, buy up to four additional sets via in-app purchases. One really fun feature, however, is that the app will unlock the optional extra exercise packs if you meet certain criteria, like exercising for a couple of days, weeks, or months in a row.
You can also use the app on your Apple Watch; an iPad-oriented HD version costs just $3.
FitnessBuilder (iTunes)
Price: free
App store rating: 3.5 stars
FitnessBuilder is much more like the traditional gym workout than apps that leverage HIIT (it does feature circuit training, however). To get the most out of this app, you'll want to have access to a few tools, like dumbbells, barbells, bar, some steps, and the like. Even on the free plan, you still get access to 400 workouts setup into 16-week plans.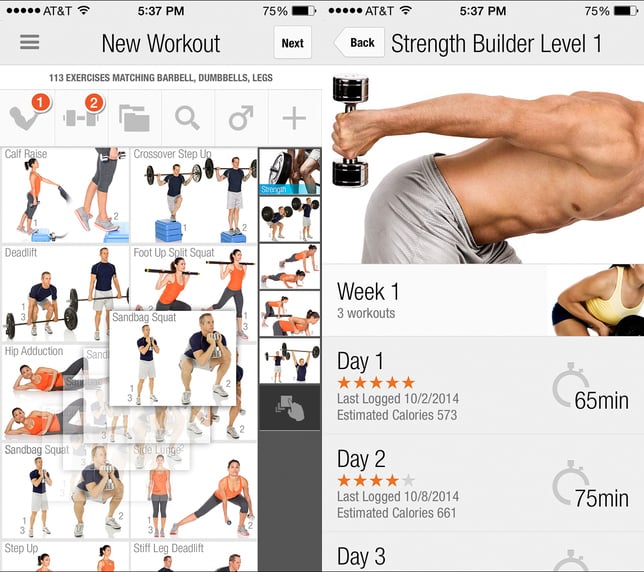 What really sets this app apart from the others are two features: one, this app works extremely well as part of a whole system. You can, with an upgrade to FitnessBuilder Plus ($7/month or $60/year), unlock up to 1000 workouts and their Builder tool, which lets you create fully custom exercise plans with associated pictures and videos. The Plus plan also lets you create workout PDFs and ask questions about specific exercises and workouts.
The second stand-out feature is targeted to fitness professionals. FitnessBuilder Pro ($40/month or $300/year) and FitnessBuilder PT ($50/month or $400/year) offers trainers and physical therapists, respectively, access to new tools to help train clients remotely and keep track of workouts, or in the case of PT, access to addition rehab-specific exercises. All told, it's a pretty slick system.
You can also use the app on your Apple Watch.
Zombies, Run! (iTunes)
Price: free
App store rating: 5 stars
Zombies, Run! is a clever augmented reality game for your iPhone that puts you in the shoes of a character stuck in a world where humanity is struggling against the outbreak of Zombies. If you're new to working out, the title might scare you a bit – running can be pretty daunting if you don't think you're up to it – but don't worry, you can walk and jog (or run on a treadmill!) and still take advantage of the fun adventures.

The app is free and comes with content, but eventually you'll want to upgrade to access additional adventures. You can buy content packs for between $2 and $18, but the easy way to go is to subscribe to the Pro membership, which is $3/month or $20/year (lucky legacy members score Pro access for just $8/year).
You can also use Zombies, Run! on your Apple Watch.
Full Fitness: Exercise Workout Trainer (iTunes)
Price: $2.99
App store rating: 4.5 stars
Full Fitness aims to live up to its name by packing in just about every feature found in other exercise apps. You get access to "hundreds" of individual exercises, 40 of which are designated as bodyweight only – that is, they don't require any equipment save for your own body. Every exercise comes with pictures and text instructions, while more complicated moves get their own video.

The app also supports calorie tracking, weight and BMI charts, and entering in custom exercises and routines. Logs of your workouts or personal information can be emailed to yourself or backed up online. Full Fitness is also one of the few apps that supports tracking multiple users, if you're using it on a shared device – and speaking of sharing, you can create your own workout, then upload and share it with other Full Fitness users.
Unlike some of the other apps, this one costs $3 and then you're done; there are no in-app purchases of any kind.
Fitocracy (iTunes)
Price: free
App store rating: 4.5 stars
Fitocracy is an app for an online community of both fitness enthusiasts and those looking to exercise more and get in shape. Its key distinction is the gamification of fitness and exercise. Gamification is the philosophy of taking a task and adding goals, objectives, levels – things you might find in a traditional video game – in order to make it more palatable and generally more engaging.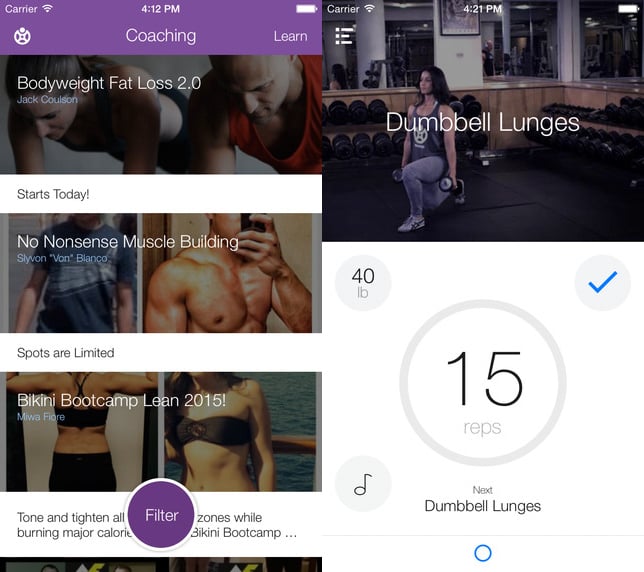 By default, you can access "workouts made by experts," or upload your own, and sort everything by your intended goal, by required equipment, or by targeted muscle group. Every time you work out, you get points, which will level up your character or earn you profile badges. One great feature is the ability to join teams with expert coaches – want to train for a 5K? There's a team for that.
Fitocracy is also a great app for cheering on friends and strangers; you can join a group or just generally follow other people's profiles to see their workouts or send a message for support. Joining the Fitocracy "Hero" program gives you a few extra features like private messages, weekly reports, saving unlimited routines (the default is 8), as well as challenging other users to fitness duels. Hero costs $5/month or $45/year.
The Walk (iTunes)
Price: $2.99
App store rating: 4 stars
The Walk is from the same people who bring you Zombies, Run!, and is designed to help get in your 10,000 steps a day. It was created in partnership with the UK (the country, not the university) Department of Health and NHS, which is the UK's health system. Unlike the zombie game, The Walk isn't designed to get you running, just to help motivate you on your daily walks.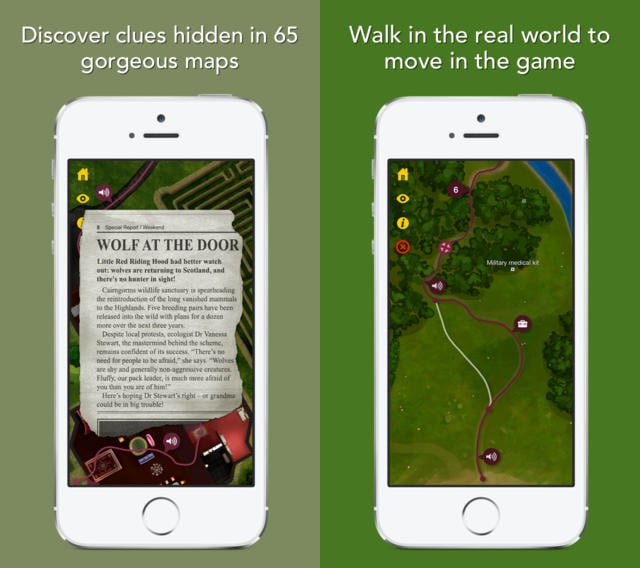 By going through the story, you'll eventually walk the length of the UK; the app comes with 65 episodes and 800 minutes of audio, which is enough to get you through "hundreds of miles." While the app is a cute way to get you walking, one potential downside is that the developers seem to have set it into maintenance mode, which means you get occasional bug fixes and no additional content – but that means you won't have to fork over any more cash, and $3 is cheap for what's included.
Touchfit: GSP • The Complete Home Fitness Solution (iTunes)
Price: $4.99
App store rating: 5 stars
Touchfit: GSP builds upon the presence of French-Canadian MMA champ Georges St-Pierre. The app combines gymnastics, bodyweight exercises, and no small amount of HIIT (a mainstay of most MMA training) in order to provide a full training program that gets some pretty rave reviews. Taking advantage of the app's library of 500 video exercises, Touchfit: GSP will generate workouts targeted for you, based on ability and previous routines.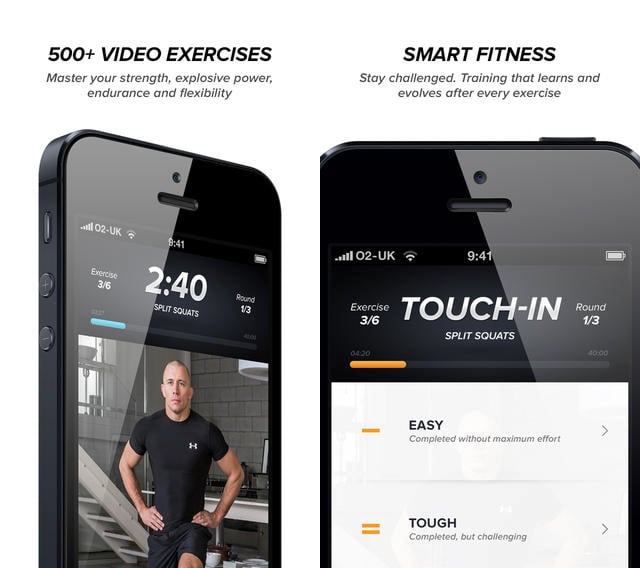 Most workouts use bodyweight, though you can incorporate various equipment into others. The app also includes videos from well-known nutritionist John Berardi. You can subscribe via in-app purchase to unlock additional features; prices start at $2/week and go up to $10/year.
C25K (iTunes)
Price: free
App store rating: 5 stars
If you've spent virtually any time researching home exercise programs on the internet, you're bound to have come across C25K, which stands for Couch to 5K. It's a program designed to get you from the couch (i.e., from a point of not running at all) to a level where you could go out and run a 5K in within a reasonable amount of time. The full program is designed to take 8 weeks, and works by getting you to run just a little bit more with each successive day.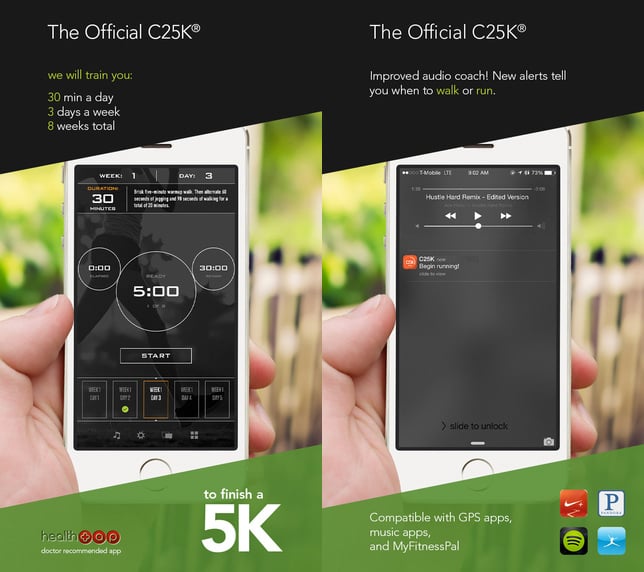 While you could look at the free C25K plans online and figure out the right routine (and use a stopwatch to figure out your intervals), the free app makes it super easy since it will give you audio cues on when to run and when to walk. The only in-app purchase is a one-time $2 buy to remove ads, so you don't need to worry about whether you're going to miss out on something if you don't spend a lot of money. If you graduate the C25K program, they've also got one that will take you from 5K to 10K for the same price (free / $2).
JEFIT Workout (iTunes)
Price: free
App store rating: 4.5 stars
While the rest of the apps on our list are designed to be used mostly at home or outdoors – some even aim to replace a gym membership – JEFIT is designed to supplement a gym membership, or at least be used with a seriously equipped home gym. Complete novices will likely find JEFIT somewhat intimidating, as the app really targets heavy lifting, but don't despair: a number of beginner general fitness workouts only require a few dumbbells to get through.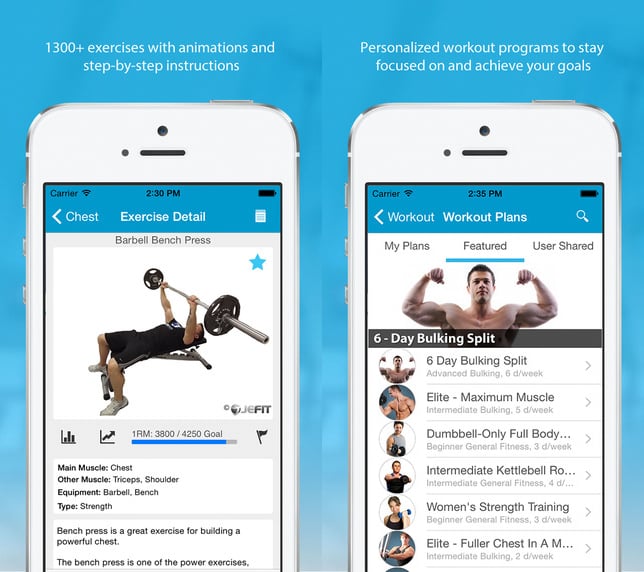 JEFIT will keep track of your daily strength workouts, with fields for weight and reps, and helps you keep your PRs (personal records) in mind. Over 1300 exercises are available, targeting barbells, dumbbells, kettlebells, cardio equipment, and strength machines, making it easy to keep track of how you're doing at the gym. You can share workouts on your social network of choice, and follow other friends who use the app. A one-time $5 payment increases the amount of tracking and customization, while the JEFIT Elite subscription ($5/month or $40/year) removes ads and adds enough charts to make any data junkie happy.
FitStar Personal Trainer (iTunes)
Price: free
App store rating: 4.5 stars
One great feature of FitStar is that it provides access to workouts on your iPhone, iPad, and Apple Watch, all from the same app, and like some of the others on our list, lets you AirPlay workouts to the Apple TV if you want to watch them on a bigger screen. The app is free to download and includes access to an introductory workout, as well as two non-HD workouts a week of between 10 and 20 minutes.

You'll really want to subscribe to the premium plan to get the most of this app, however, which runs you $8/month or $40/year. It includes access to a number of workout regimes, each targeted to meet a different goal (quick conditioning, lose weight, etc). The video trainer is fun and keeps you motivated, similar to an exercise video, while cheesy but fun synth music beats out over top. Unlike some of the other apps, FitStar integrates with a number of third-party apps and trainers, like FitBit, Jawbone, and MyFitnessPal.
Yoga Break (iTunes)
Price: $2.99
App store rating: 4 stars
Yoga Break is made by the same company as the 7 Minute Workout Challenge we mentioned up top, and offers many of the same sorts of features – there are no in-app purchases, for example; the app costs $3 and you get access to everything from the start. The app works well for both beginners and advanced yoga students, but beginners should pay close attention to the videos that illustrate each pose to ensure that stretches and poses are performed safely.

It might be obvious by the name, but Yoga Break is designed to fit yoga into a busy schedule, giving you short, 3 to 15 minute sessions (there are 14 in total) that can be performed at home, or in a park or office, perfect for a quick session during your lunch break. Different ambient backgrounds can be combined with each session to help clear your mind; the app also includes Airplay for seeing the poses on an Apple TV, and support for the iPad is included with the app's purchase.
Have you used any of the apps to get in shape? Do you have a favorite one that we didn't include in our list? Let us know in the comments below.