11 Essential Apps in the Windows Store
Windows 8.1, the free update for users running Windows 8, is now in the Windows Store. With the update, users can customize their Start Screen's background, resize Live Tiles and share settings between different machines that also use their Microsoft Account.
Windows 8.1 also includes a number of design changes for users who like to use applications from the Windows Store. With that in mind, here are the 11 essential applications for Windows 8 and Windows 8.1 users to download on their new laptop, desktop or tablet.
Once installed, these applications will travel with the user's Microsoft Account and sync on each PC that account is used on.
Facebook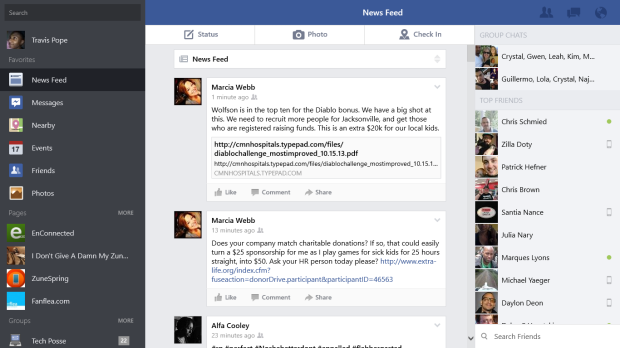 Windows 8 users are no longer forced to go to the web browser to send messages to friends on Facebook. Microsoft formally announced a native version of the application with the launch of Windows 8.1. This app includes support for notifications and Live Tiles. Even if you have a desktop and normally use a web browser it's still well worth the free download. [Download Facebook free from the Windows Store].
ESPN
For sports fans, there's nothing like being plugged into an instant stream of football, basketball and soccer news. Luckily for Windows users, ESPN for Windows fits that criteria. Users can also check out recent highlights and clips from the networks commentators. [Download ESPN free from the Windows Store].
Netflix
Any platform worth the price tag of its hardware has to have a fully featured Netflix application. Windows 8 does and Netflix for Windows includes support for multitasking, a Live Tiles and search integration. [Download Netflix free from the Windows Store].
Photoshop Express
While the Photos application for Windows 8.1 includes a few light photo editing tools, it's no replacement for the free Adobe Photoshop Express app that users can download from the Windows Store. Users can crop, adjust, and upload photos to Adobe's Revel service to the iPhone or other Windows devices. They can also purchase different filter packs and introduce a little style to their photos too. [Download Photoshop Express for free from the Windows Store].
Twitter
Just like Facebook, a native Twitter application is essential for any platform. Twitter for Windows isn't the most robust application, but it performs well and includes multiple account support and notifications. [Download Twitter for free from the Windows Store].
Hulu Plus
For users with a Hulu Plus subscription Hulu Plus for Windows is a must download. Users can watch all the television shows, movies and clips that they'd expect. There's also support for app multitasking and a live tile that showcases new episodes available on the service. [Download Hulu Plus free from the Windows Store].
TuneIn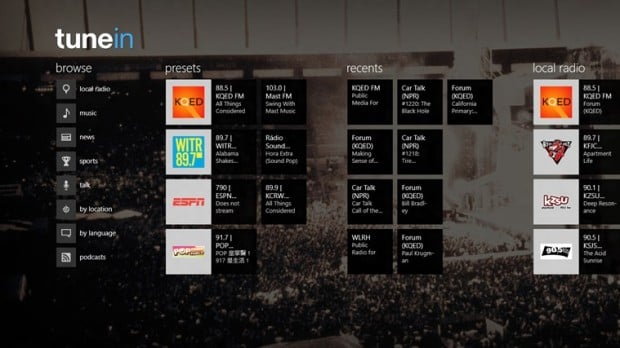 TuneIn delivers the same radio and podcasting support that it does on other devices. However, there is one additional perk: no in-application advertisements like TuneIn apps on other platforms. [Download TuneIn LIVE free from the Windows Store].
CodeWriter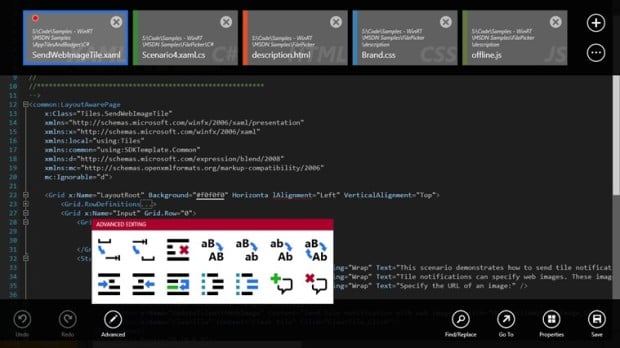 Everyone doesn't create applications or write code, however those who do need a tool that can reliably get the job done. CodeWriter is the best Windows Store text or code writing app there is on the platform right now. In addition to including markup highlighting and support for just about every code type. [Download CodeWriter free from the Windows Store].
Weave
There are a lot of news readers available in the Windows Store, but none of them are the complete package. Some have a ton of features but offer interfaces that are almost unusable. Others are just too slow. Weave has the best design of any news reader on Windows. While it doesn't support integration with services like Feedly, it does have its own syncing service built-in and allows users to browse articles in portrait and landscape modes. [Download Weave free from the Windows Store].
Asphalt 7: Heat
At $1.99 it's the only application in this list that actually costs users something however, Asphalt 7 is actually good enough to justify the two bucks users have to spend to get their hands on it. In addition to offering Xbox LIVE achievements, it also lets users plug-in a wired Xbox 360 controller and play it almost anywhere. [Download Asphalt 7: Heat for $1.99 from the Windows Store].
Metrogram Live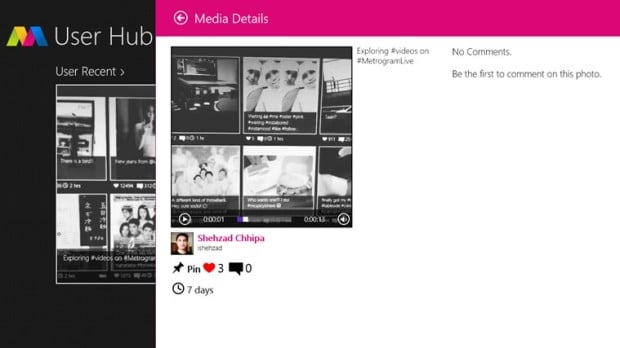 One of the biggest drawbacks of depending on Windows Store applications now is that, there are plenty of official applications missing from the service and the third party apps that are there are missing key features. Unfortunately, the platform's best Instagram client, Metrogram LIVE, can't upload photos to the service. However it can do everything else, like allow users to heart photos, comment on other's photos and pin specific photos to their Start Screen. [Download Metrogram LIVE free from the Windows Store].
Of course these applications are only the starting point. As Microsoft works to attract developers and more Windows PCs are sold, the Windows Store will continue to pick up useful apps. Users should check back often for Windows Store alternatives to their favorite desktop applications.

This article may contain affiliate links. Click here for more details.