11 Productivity & Entertainment Tips & Tricks for Windows 8
For one reason or another today people are having the hardest time imaginable wrapping their heads around Windows 8, Microsoft's last operating system.
For sure, part of the disconnect between the operating system and users today is large of a revamp it Windows 8 really is. The initial version that launched in 2012 made tons of changes to the way users do everyday tasks. Microsoft completely junked the Start Menu that'd dominated Windows for years, opting to create a full screen experience with its own set of apps and its own way of doing things.
That new element, called the Start Screen, might have made Windows 8 more touch friendly, but Microsoft paid a high price. Users are still indifferent to Windows 8 desktops, laptops and portables. Many don't know about the awesome benefits that come with having a device that runs Windows 8.
Regardless of whether you have a laptop, desktop or 2-in-1 running Windows 8, these tips will help you appreciate your Windows 8 machine for what it is: a forward thinking device with the latest versions of Windows.
Don't like the Start Screen? Hide It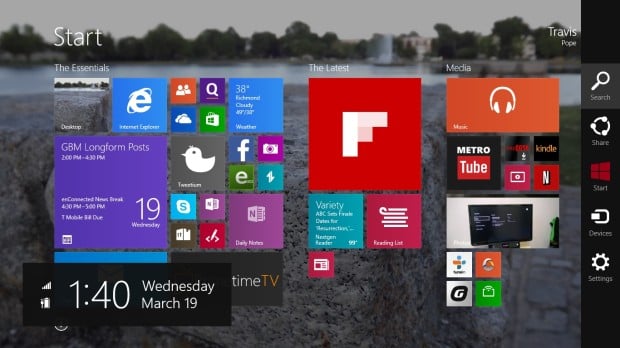 When Microsoft first debuted Windows 8, desktop and laptop users nearly started an armed rebellion. To their credit, Microsoft paid attention and after the Windows 8.1 update users can have their device load the Desktop by default and turn off the Charms Bars and multitasking screens from the Start Menu. Users can unlock that by right-clicking on the Desktop's Taskbar and clicking Properties.
Read: Turn Off the Start Screen and Get the Start Menu Back in Windows 8
To be clear, these elements are still there, but they're hidden. Users will still need to dive into the Start Screen to open their desktop apps.
Pin Your Apps to the Taskbar to Avoid the Start Screen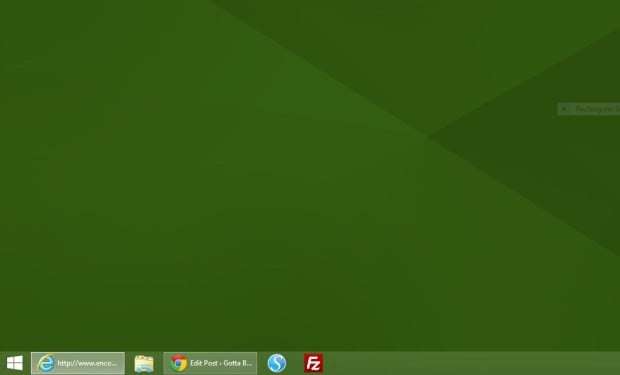 Another useful trick for avoiding the Start Screen and its apps is to go into the Start Screen and pin your favorite Desktop apps directly to the Desktop Bar. Again, this doesn't get rid of the Start Screen completely, it just lets you avoid it.
Take a Selfie With the Built-In Camera App
Web cameras aren't necessarily new to Windows. They've been around for ages. That being said, more and more Windows 8 tablets and convertibles are including rear and front-facing cameras. Stop pulling out your smartphone and just use Windows to take your next selfie. There's a Camera app in the list of installed apps on every Windows device, meaning users no longer have to install those terrible software packages most of the time.
Go to the Start Screen to access the Camera app.
Edit Your Photos Without Extra Software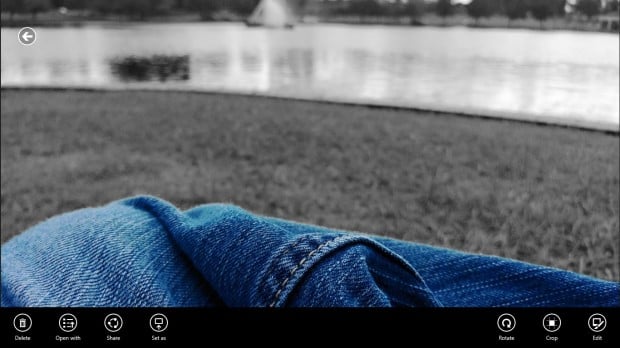 Windows 8 includes a ton of useful pre-installed apps that allow users to do things without purchasing extra software like photo-editing software. Go to the Start Screen and open the Photos app. There you can quickly cut photos down to size and adjust for things like red-eyes and brightness.
Free Cloud Back Up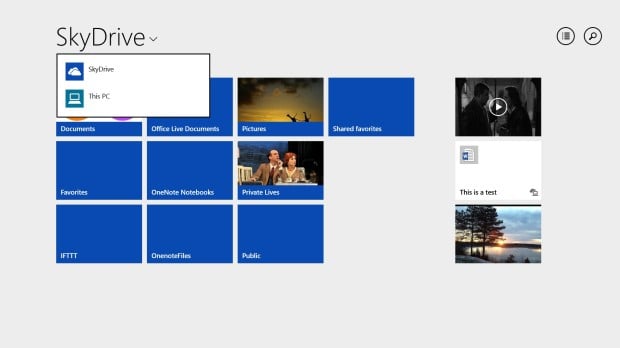 Have too many photos or videos of your friends and family stored on your Windows 8 device? Worried about losing your digital valuables? Placing things in the OneDrive folder in Windows 8 automatically uploads them directly to Microsoft's servers for safe keeping.  Every OneDrive user gets 15GB of space absolutely free with the option to add more when they need it.
Search The Web Without a Web Browser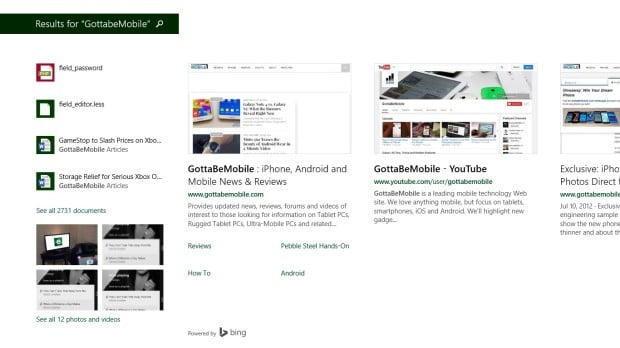 Microsoft's Bing search engine isn't stuck in the web browser anymore. With Windows 8, searching the internet or your computer for files is just as simple as pressing the Search button in the Charms Bar. Microsoft calls this Bing Smart Search.
Swipe from the right of your screen and tap on the Search icon if you have a Windows 8 tablet or convertible that has touch. Place your cursor in the top right corner of your screen and click on the Search icon if you have a device with just a mouse and keyboard.
Refresh Windows Without Backing Up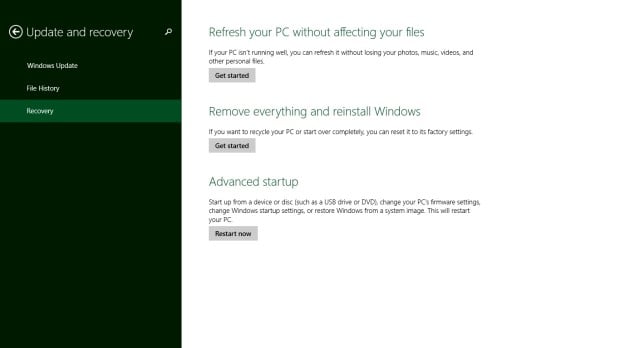 Microsoft lets Windows 8 users reinstall their Windows 8 operating system without having to actually back up any of their files. The company calls this a Refresh.
Refresh is accessible from the Settings app under Update and Recovery. Just be careful to tap or click on Refresh not Reset.
Connect to a Wireless Display
Many Windows 8 tablets and 2-in-1s don't come with a way for users to plug them into their television set. That's ok, because Microsoft also offers multiple ways to output content to televisions and other displays.
The first way the company does this is with what's called Play To. Open a file in Xbox Music or Video and then tap or click on the Devices Charm inside the Charms Bar that floats out from the right side of your screen. Windows will search your wireless network for compatible devices to output that content to. Today, Microsoft's Xbox One and Xbox 360 allow users to connect using Play To.
The second way to output video is called without cables is Wireless Display. Netgear's Push2TV can be plugged into a television set and paired with Windows 8 devices. This gives users a giant second screen to use.
Play Games with a Real Controller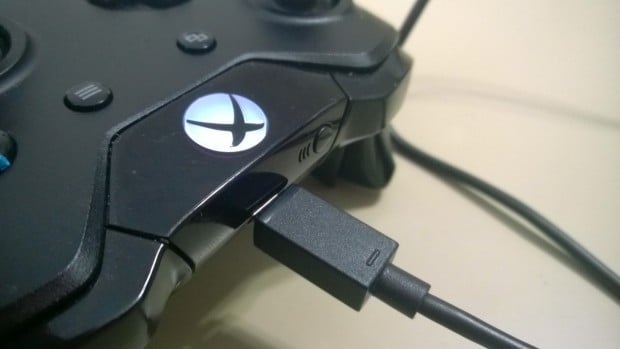 Microsoft's Windows Store has filled in nicely with Xbox Live enabled games that allow both tablet and traditional PC users to get their gaming fix quickly. All Xbox Live on Windows games allow users to earn achievements. Many games, like Halo: Spartan Assault, also include support for the Xbox One controller.
Look for the Xbox Live icon on game's Live Tile to figure out if it has achievements. Most games will outright tell you if they have Xbox controller support.
Stream Music for Free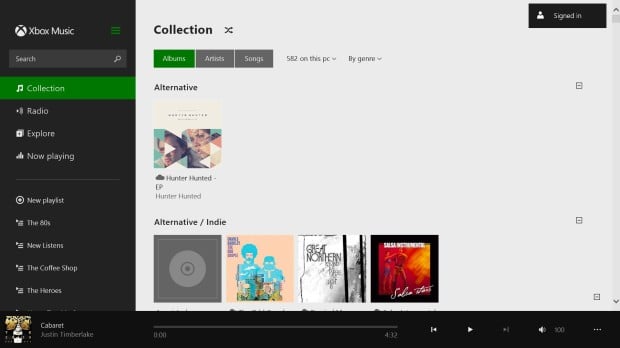 Windows 8 tries to make listening to music easier. The built-in Music app is powered by Microsoft's Xbox Music service, and includes access to ad-supported free music streaming for all users.
Sync Your Essentials Automatically
Most people think Windows 8 was only created so that Microsoft could have some sort of tablet experience to offer users. While it's true that Windows 8 heavily focuses on bringing Windows to devices with touch screens, Microsoft also focused on making life easy for all Windows 8 users.
Today, almost every website has its own password and user name. That can get confusing and frustrating. Services like LastPass can help, but they're third party utilities, add-ons that need to be installed before users can get into their accounts. In Windows 8 Microsoft added a password manager. When users type in their passwords in Internet Explorer the operating system saves them for use later. Instead of keeping the passwords on one device, they're synced to all devices that are using that same Microsoft Account. Recently, Microsoft updated its Windows Phone 8.1 operating system so that users can sync their passwords to those devices too.
Windows 8 doesn't just sync passwords, documents and photos. Any Wi-Fi passwords that are needed are synced between multiple devices without the user having to do a thing but log-in to their Microsoft Account. Contacts and Calendar appointments are also added to the Calendar and People apps in Windows 8, ensuring that users have all the up-to-date information they need.
By default, all of this is turned on once you've logged in with a Microsoft Account and verified that you want your personal information syncing to that device.
Of course, using these features won't automatically, solve every problem you have with Windows 8. That being said, they should make life easier and appreciate the operating system for more than just it's new interface.

This article may contain affiliate links. Click here for more details.