The 12 Apps of Christmas for Your iPhone or iPad
Forget the twelve days of Christmas. For those who don't want a partridge in a pear tree, or some strange Lords leaping all over the place mentioned in the traditional holiday song, we recommend these 12 Apps of Christmas for the iPad and/or iPhone. The list includes something for almost everyone with games, books and time-saving apps. There are plenty of entertainment and photo options included as well.
Most of these work on both the iPhone and iPad, but where the app only works with one or the other we will let users know.
Read on and Happy Downloading!
A Charlie Brown Christmas
Interactive digital story book version of the favorite holiday special – $3.99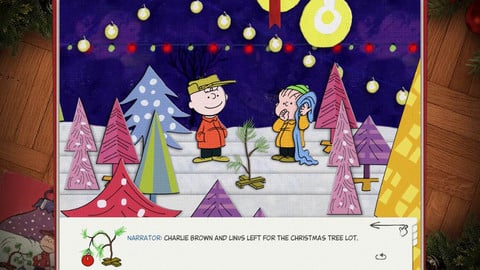 For those of us who loved the TV special and watch it each year, get the digital storybook version. It gives kids and kids at heart the chance to relive and enjoy the wonderful Charlie Brown Christmas Special in an interactive digital book.
A Christmas Carol
The interactive digital version of the Charles Dickens holiday classic – $1.99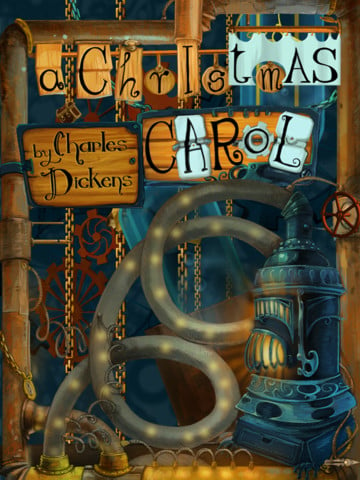 LIke the Charlie Brown app above, this one gives users an enjoyable interactive multimedia rich app that shares Dickens' story. Our own Warner Crocker reviewed it and like it too.
Slice
Track shipments of gifts with this helpful shipping tracker – Free
Slice will track shipments and buying on a user's iPhone. Add an email account and it finds all those online notices for purchases and keeps the receipt. The social feature lets a group of friends or family members follow a package's shipment. It works on iPad in 2x mode.
Food with Friends
A social networking cooking app – Free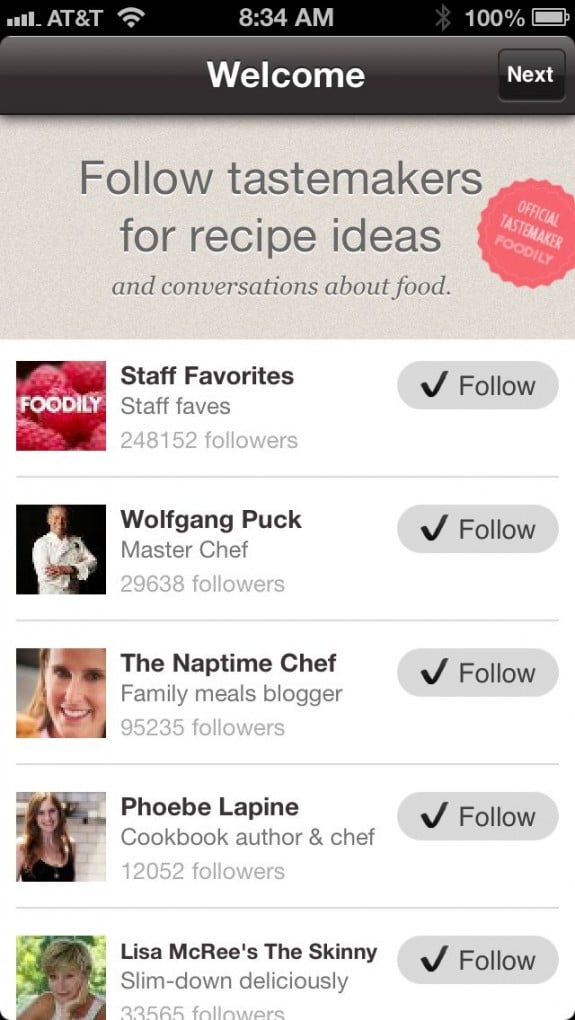 Food with Friends from Foodily help users share ideas for holiday meals and treats with friends and what the app calls "taste makers" from all over. These "taste makers" include some of the great chefs. Connect with Facebook to find and share ideas with friends. Be sure to read the app description for how to connect to Facebook since there's a bug in the way Facebook authenticates some apps. It's fixed in iOS 6.1, but the iOS update won't show up for a while for non-beta testers. It's worth the hassle. We just wish they offered an iPad native version.
Postagram
Turns Instagram photos into traditional paper postcards – Free
Take all those great Instagram pictures and make them useful as a Christmas post card. It also works with an iPhone's Camera Roll shots. Great for those who hate to send cards but still want to do so. Each card costs a little to send but they're cheaper than making your own photo post cards, and certainly easier than addressing them and getting stamps for them. Users can install on iPad and use in 2x mode.
Christmas Cam
A camera skinning app that adds holiday items to photos and posts them online – Free with $1.99 in-app purchase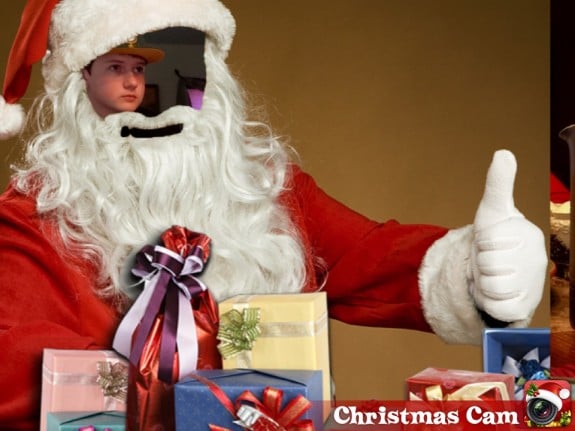 Christmas Cam will overlay some holiday imagery onto photos. The user will want to take a new photo with their iPhone (no ipad version), spacing the shot for the chosen overlay instead of forcing a Camera Roll shot to work like the above shows. It saves the new picture to the Camera Roll and offers to post it online or email it. Combine this with Postagram (above) and the user has a wonderful holiday postcard maker.
WinterSpark – The Universal HD Fireplace and Yule Log
Turn the iPad or iPhone into a Yule log and with ambient Christmas music – $.99
For those who don't own a fireplace, mirror the iPad to an Apple TV and enjoy the soothing fire crackles and optionally some beautiful festive piano music from pianist David Hahn.
Ski Safari
A fun fast-paced addictive game with a new holiday theme – $.99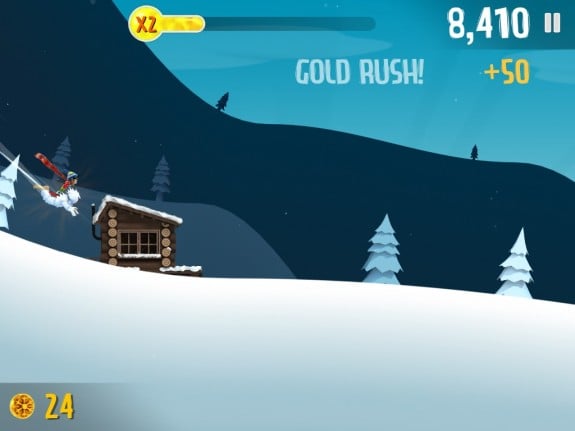 Ski Safari is a vertical jump game that gets a new update with each holiday. Kids and casual gaming adults will enjoy this one on either iPhone or iPad. An avalanche wakes our little character from a slumber and he must ski down the mountain to safety while avoiding obstacles and collecting coins. It's loads of fun and now has a new Christmas themed interface.
Spotify
Play almost any Christmas Song ever recorded with this streaming music subscription app – Free with $9.99 monthly subscription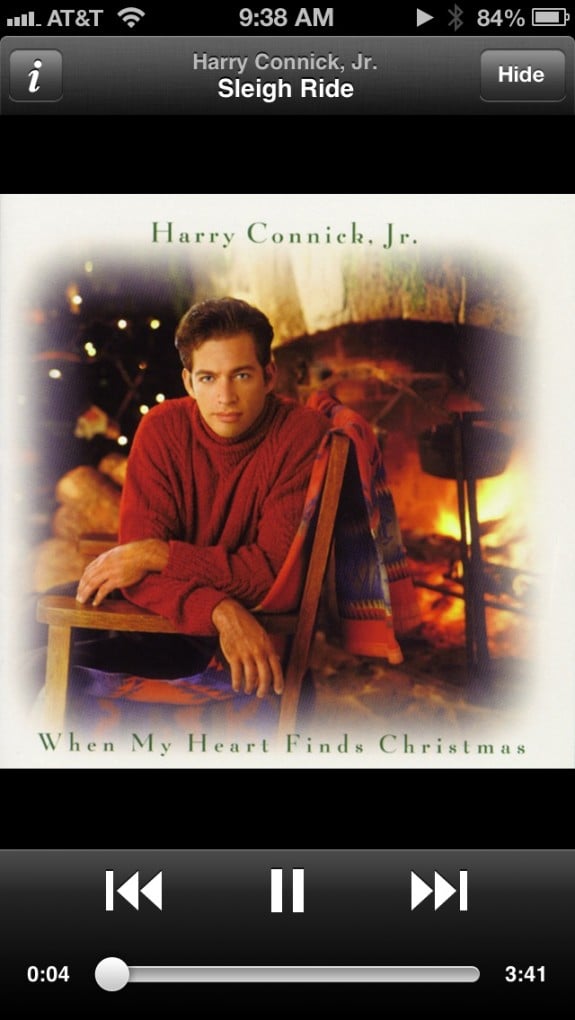 Spotify lets subscribers listen to almost any recent song the person can think of, a great service for the holidays. Who wants to buy a Christmas album that will only get playtime for a month? For less than most people pay for one CD, get a subscription and play favorite Christmas songs over an iPhone or iPad to an AirPlay enabled device.
Amazon Instant Video
Enjoy a growing library of free videos available to those with a Prime membership – Free
Everyone thinks about Netflix for video viewing on iPad. We're finding that Amazon Instant Video that Amazon Prime members ($79 annually) can use for free includes a growing selection of quality movies and TV shows. For the holidays find some great Christmas movies and watch the annual Christmas episodes of favorite TV shows. Users can also buy movies and TV shows. The app doesn't work with AirPlay, so stick with Netflix on the Apple TV if that's a deal-breaker. But users will find Amazon Instant Video on Roku and the new Vizio Co-Star Google TV, making it a great option with some versatility. This app works on iPad and iPhone.
Hotels.com
Make reservations on iPhone or iPad for less and get a free night after ten – Free

For holiday travelers finding a good price on a hotel makes the stay more enjoyable with extra cash for fun and gifts. Hotels.com helps users find deals on hotel rooms going unused. They offer last-minute specials and helpful user ratings. Sign up for their rewards service and get a free night after staying ten nights. We find that this often saves us $10-$20 per night.
Gifts HD 2
Track a holiday gift list with this popular iPhone and iPad app – Free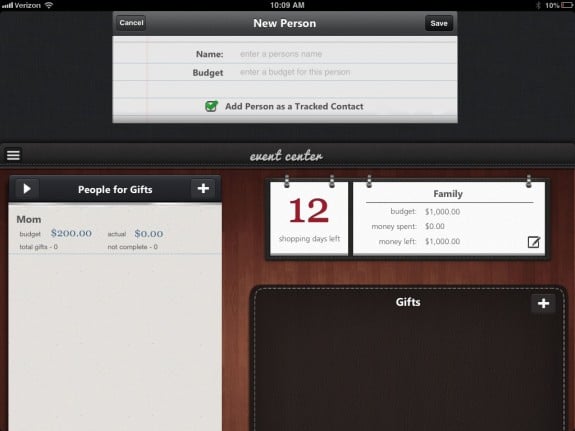 Gifts HD 2 does a great job of tracking gift giving lists. First, create an event like "Family Christmas" and then add people to the list. It helps by tracking a budget for the event and the person, and suggests gifts. This app can keep users on budget and keep them organized, saving money and time.

As an Amazon Associate I earn from qualifying purchases.