Your iPhone Won't Run out of Power with These 12 Awesome Gadgets
While on the go, one thing can take down even the most experienced iPhone 5 or iPhone 5s users, a drained battery. We looked around for some great tools to charge your iPhone. We've got devices that will keep users going with some extra juice or an easy method of recharging even when it's not convenient.
We found 12 great tools to charge your iPhone 5 or iPhone 5s while on the go or away from an outlet. Many of these will work an iPad, older iPhones and even Android devices. The list includes high-capacity batteries, battery cases, Qi-enabled wireless charging tools and a backpack with a battery and connections for multiple devices.
Nomad iPhone Charge Key and Charge Card – $25 each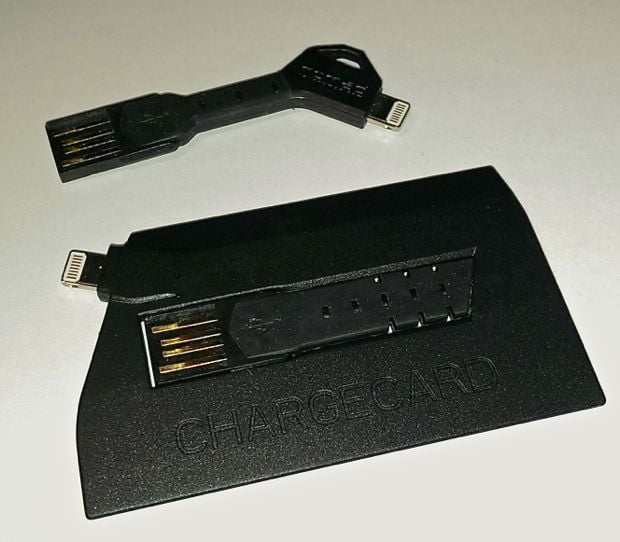 The Nomad Charge Key ($25) for iPhone 5 and iPhone 5s puts a Lightning charging cable on a key ring. The loop connects to the key chain or ring and is ready when the owner needs to charge or sync their iPhone via a Lightning connector (which includes the iPhone 5s, iPhone 5, iPad mini or last two generations of iPad).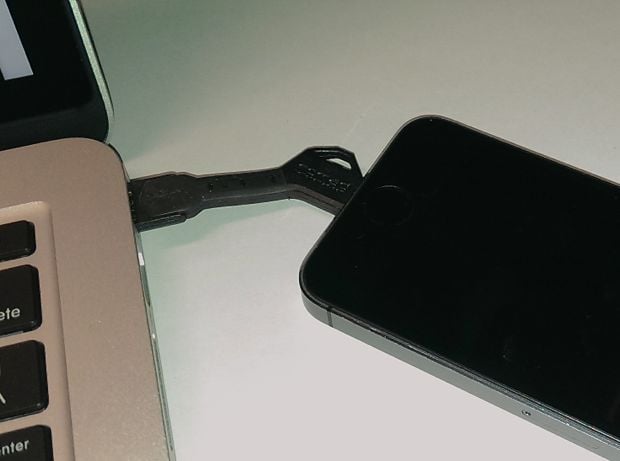 The Charge Card ($25) includes a Lightning connector but fits in a wallet. The Charge Card measures about the size of two credit cards stacked.

Nomad also makes versions of each charger with micro-USB connectors (also $25) instead of Lightning.
NewTrent PowerPak+ (N135T) 13500 mAh Dual USB Battery – $59.95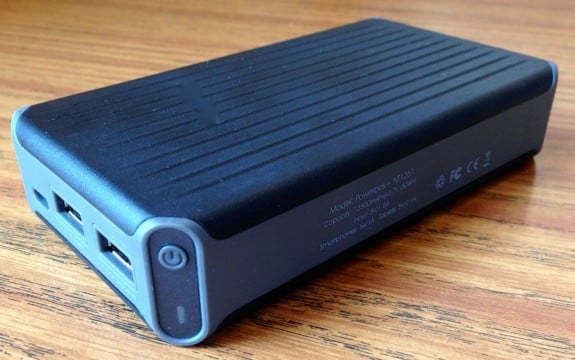 The NewTrent PowerPak+ offers users 13,500 mAh of power to charge up two tablets, two iPhones and other mobile USB-powered gadgets. We recommended it when we reviewed it last year and still think it's the best simple mobile battery backup/charging solution thanks to the huge battery capacity and price.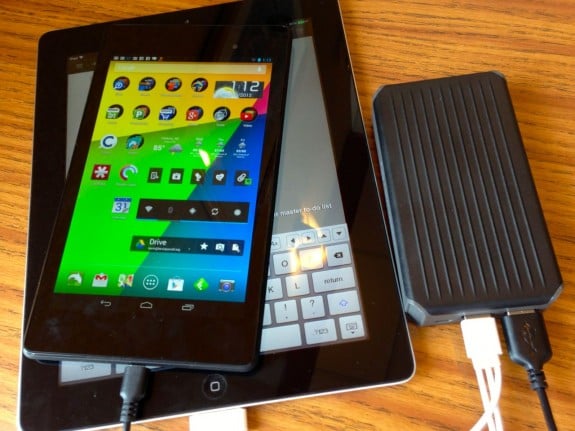 We like that a user can connect an iPad and a smaller tablet at the same time, or an iPad and iPhone at the same time, and it will charge both of them without a problem.
RavPower Qi-Enabled Wireless Charger Charging Pad – $35.99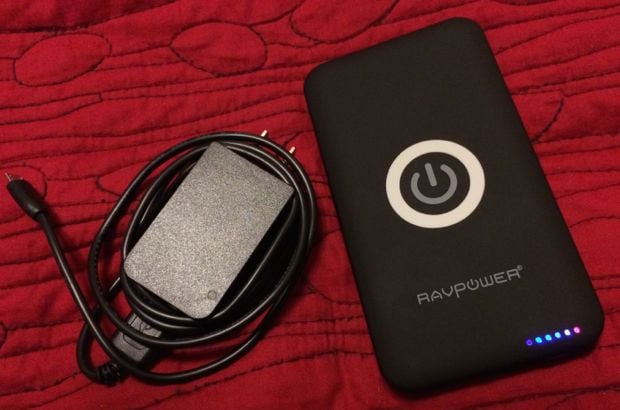 Qi chargers can top off a device's battery without plugging it in. We love the concept of wireless chargers, and the RavPower Qi-Enabled Wireless Charging Pad makes it truly affordable at only $35.99.
Lay the charging pad down and put the Qi-enabled device on the circle on top that looks like a big computer power button. The device begins to charge and when it's got a full battery the charging pad switches to idle mode to keep from over charging. A USB port makes it useful for charging devices without Qi wireless charging.
iQi Mobile Receiver for iPhone – $35
The iPhone 5 or 5s won't work out of the box with the pad, but iPhone owners can get something like the IQI Mobile Receiver for the iPhone 5 or iPhone 5s. It connects to the iPhone's lightning connector and folds back over the back of the iPhone. Put a simple snap on case on the iPhone to hold the IQI Mobile Receiver in place. Lay it on the RavPower Qi-Enabled Wireless Charger Charging Pad and it will charge the phone. The IQI costs $35 from fonesalesman.com or Amazon. See the video below for how it works.
PowerBot PB1140-i5 Qi Enabled Standard Wireless Charging Receiver Case for iPhone – $12.99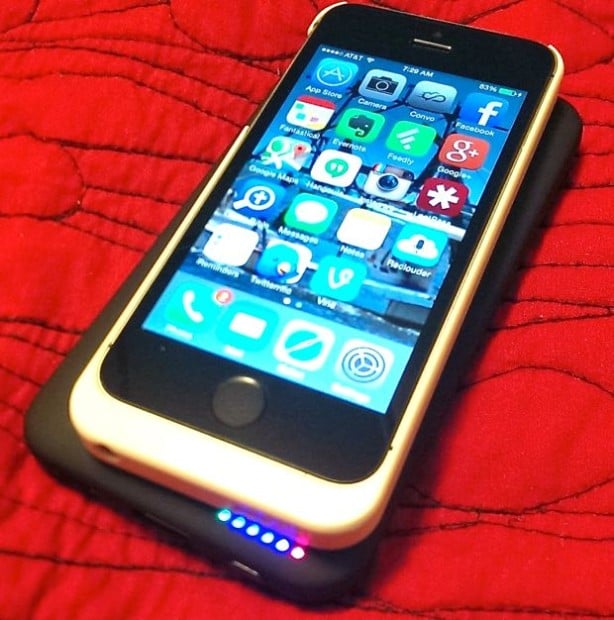 For those wanting a Qi-powered case instead of something like the iQi above, check out the PowerBot PB1150-i5 Qi Enabled Standard Wireless Charging case for iPhone 5 and 5s. It works with the above RavPower Qi Charging Pad and only costs $13 at Amazon. It fits over the phone and connects to the Lightning connector. Rest it on the RavPower pad and it charges nicely. Alternatively, charge the phone with a micro-USB cable via the port on the bottom edge.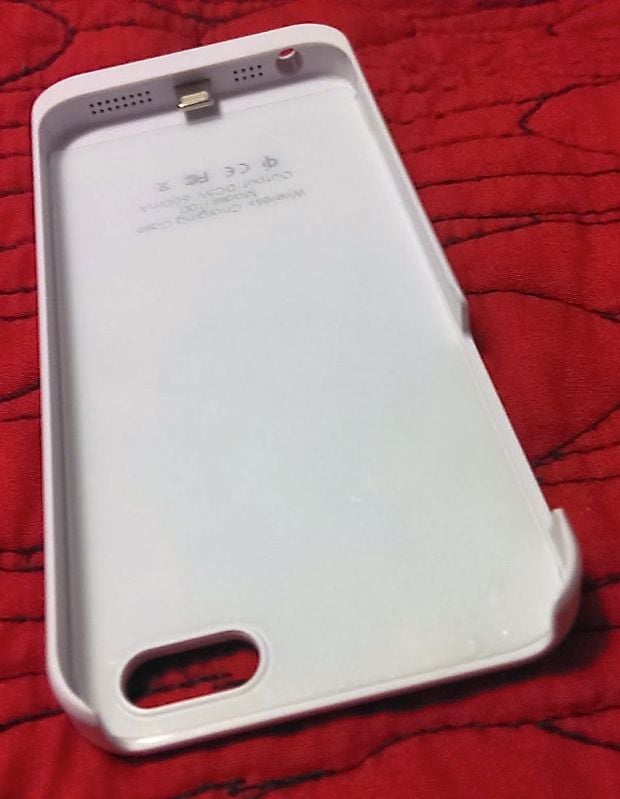 RavPower Luster Series 6000 mAh External Battery + Flashlight or 3000 Lipstick sized Battery – $29.99 & $19.99
We love this little battery plus flashlight from RavPower. The RavPower Luster Series 6000 mAh External Battery also packs an LED flashlight making it a two-in-one solution. It will charge an iPhone or other USB-powered device and it helps the user find their gadgets in the dark.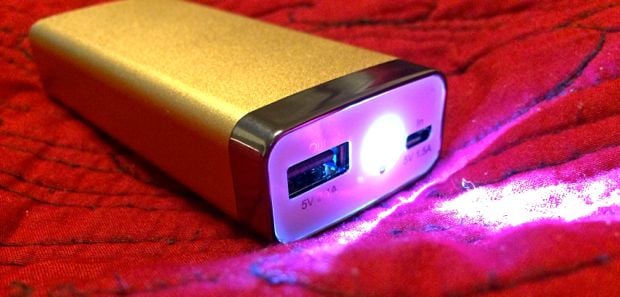 It's small enough to fit in a pocket without weighing down the person carrying it. The battery comes in four colors for only $30. We like the gold one we tested, which matches the gold iPhone. The port pumps out 5 volts of 2.1A power capable of charging any tablet or smartphone out there.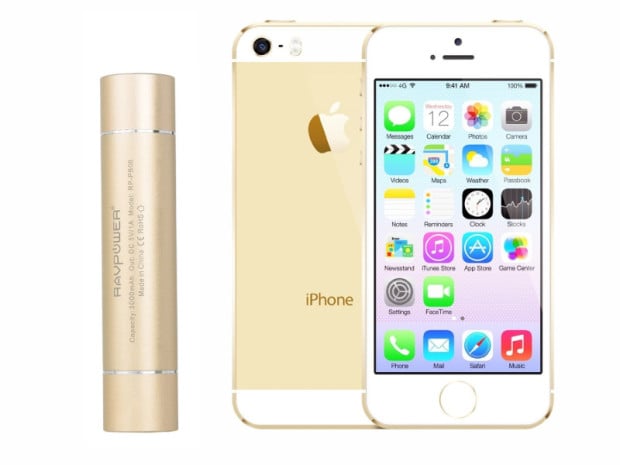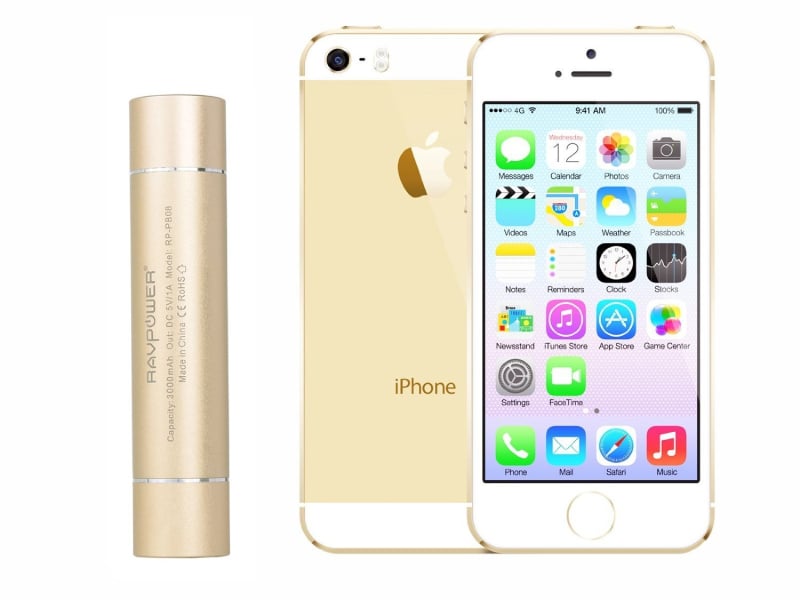 The company makes a smaller capacity battery like it with only 3000mAh enough for one charge of an iPhone. It costs just $20 and comes in five colors. It's about the size of a large lipstick or chapstick tube.
TYLT ENERGI 5K+ Battery Pack – $89.99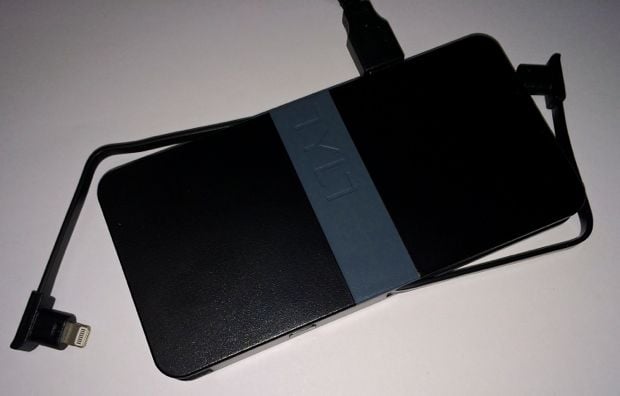 External battery packs can give users an extra charge or more for their mobile gadgets. The TYLT ENERGI 5K+ Battery Pack works with the iPhone 5, 5s, iPad mini or iPad Air or iPad 4. It also charges other devices that use a micro-USB cable. The 5200mAh battery will charge an iPhone twice or a table like the iPad mini or iPad Air once.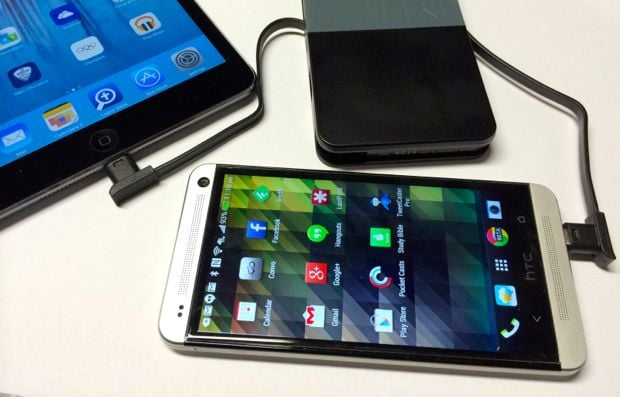 Use the pack to power multiple devices on the road like a power hub. Plug it into a USB to AC adapter or a computer USB port.
The pack comes in black with blue, gray or red accents.
TYLT ENERGI Sliding Power Case – $99.99
The TYLT ENERGI Sliding Power Case competes with the likes of the Mophie JuicePack line of iPhone cases. All of these add an extended battery backup for long days or trips when a user might find themselves away from an outlet for extended times.
The TYLT ENERGI Sliding Power Case sets itself apart by including a small snap on case for normal day-to-day use. The case and phone slides into the battery sled for extra power on those long days when a user knows they'll plow through the phone's energy before they can get back to an outlet to recharge.
It's easy to work with. Snap the case on and then slide it in when needed. Charge the case with the included micro-USB cable.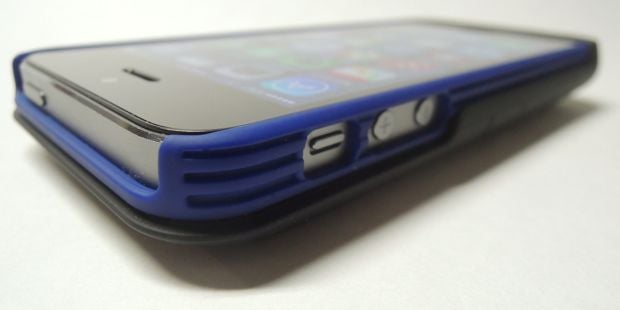 The case comes with two snap-on cases, one blue and one black. Other color combos are available. The case charges the iPhone while in the case. Unfortunately, the case requires a 3.5mm stereo jack extender since a regular cable may not fit into the opening made for the iPhone stereo jack.
TYLT ENERGI BackPack – $199.99
The TLLT ENERGI BackPack helps iPhone users keep their phone and other gear powered for a long time thanks to a huge 10,400mAh battery. In addition it will power many other gadgets because it comes with 5 external ports and 2 on the inside. Charge a phone 4 times or a tablet once with the rechargeable Lithium Ion battery built into the pack.
Phone charging cables connect to the battery pack inside the backpack and the user routes them through the loops to connections accessible on the outside of the pack or inside pockets.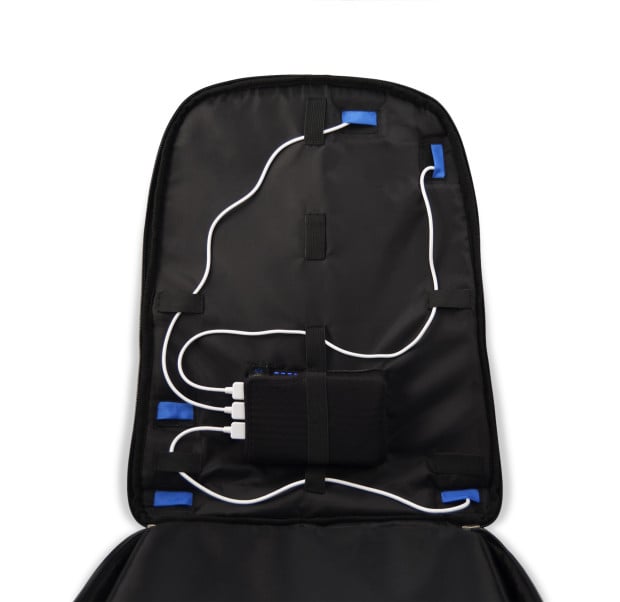 The TYLT ENERGI BackPack will hold a laptop and accessories as well as a tablet, smartphone and a lot of other items.
Satechi F1 Smart Monitor Stand – $34.99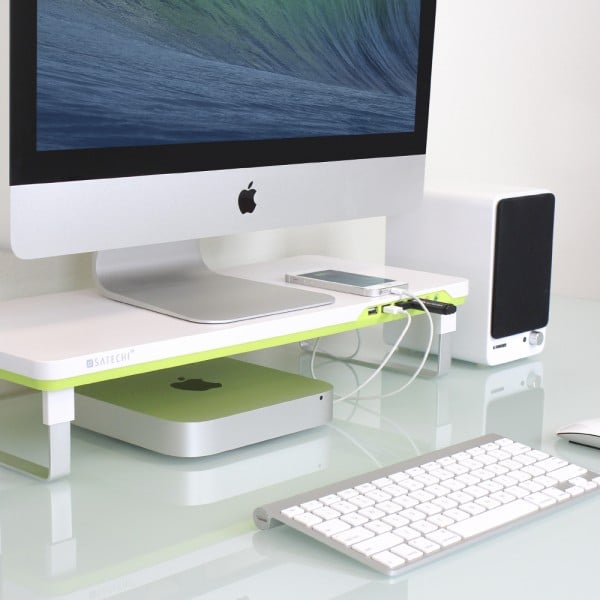 Plenty of people charge their iPhone at their desk with a computer. At GottaBeMobile, we prefer using our laptop as our desktop and the Satechi F1 Smart Monitor Stand helps users do this without buying an expensive docking system. The stand only costs $35 and lets us plug in an iPhone charging/syncing cable among other USB accessories like a backup hard drive or an external DVD or Blu-ray player.
The stand comes with 4 USB 2.o ports and a set of stereo and mic jacks.