15 Free iPad Apps Every User Should Have
If you just got your very first iPad and need some great free apps to get started with, here are 15 of them that every iPad user should have to begin with.
One thing that you should do right away when getting a new iPad is to look for awesome and useful apps to download, that way you can start taking advantage of your new tablet right away.
The iTunes App Store has thousands of free apps to choose from, so it goes without saying that it can be a bit difficult to find the few useful apps and get past the clutter of tons of crappy apps. However, we've come up with a list filled with free iPad apps that we think most users will want to download and install on their tablets.
Many of the these apps may seem like no-brainers, as they could be incredibly popular, but we also included a few apps that you might not have heard about before.
So without further ado, here are 15 free iPad apps that you should install on your Apple slate right now.
Podcasts
If you ever find yourself bored of the radio during your commutes to and from work each day, perhaps listening to podcasts is something you should take advantage of.
There are thousands of podcasts to choose from, including educational selections from NPR and TED Talks, as well as entertaining podcast shows. Usually, some of your favorite websites will have their own audio podcast, so it's a great way to keep up with your favorite websites during your commutes.
Apple's own Podcasts app is a decent option on iOS, and the iPad app has a great two-pane interface to navigate around. Plus, it comes with iCloud syncing capabilities to keep your podcasts synced up between Apple devices, including your iPhone, iPod Touch, or Mac.
However, if you have a couple of dollars to spare, Downcast is one of the best podcast apps in the iTunes App Store.
Dropbox
Every user should have some way of accessing the important files they need from any device at any time. This is where a cloud storage service comes in handy.
One of the best and most popular options is Dropbox, which gives you a folder on your computer to put files in, and then they get automatically synced to your other devices that have Dropbox installed.
It's definitely one of the easiest ways to sync files across devices, as well as transfer files from one computer to another if you don't have a USB flash drive around.
Evernote
Taking notes on the iPad is one of the most popular things to do on the larger slate. The default Notes app in iOS is fine for simple note-taking, but if you want anything more feature-packed, you'll have to look elsewhere.
This is where Evernote comes in. It's one of the most feature-filled note-taking apps on the market, allowing users to create different notebooks and even sync notes across platforms.
Of course, Evernote has heavy competition from the likes of Simplenote and other note-taking apps in the iTunes App Store, but Evernote is one of the most popular options.
Facebook
There are over one billion Facebook users in the world, and chances are you're one of them. You can easily access Facebook on your iPad through the web interface using Safari, but the official app is a much better option.
If you live on Facebook, the Facebook app is something that you should probably download and install right away, as it will allow you to do all the things that you can do on your computer, but just on your iPad this time.
Furthermore, you should also check out Facebook Messenger for iPad, which gives you a really nice user interface and makes it a lot easier to chat with friends over Facebook.
Feedly
It's nice to have a selection of news and interesting articles on hand to read on your iPad whenever you have some downtime, and Feedly is one of the best aggregators out there. It's not necessarily a news source itself, but merely just an app that combines a bunch of different websites together (of your choosing) and lets you browse all of the articles in one interface.
Flipboard is another option that we really like, and it comes with a user interface that's more geared towards those who like a magazine-style interface that's image heavy and looks good.
Free Games
Technically this one isn't a single app, but we decided to include it because we all need some time unwind and there's nothing like playing a free iPad game to take your mind of any stress.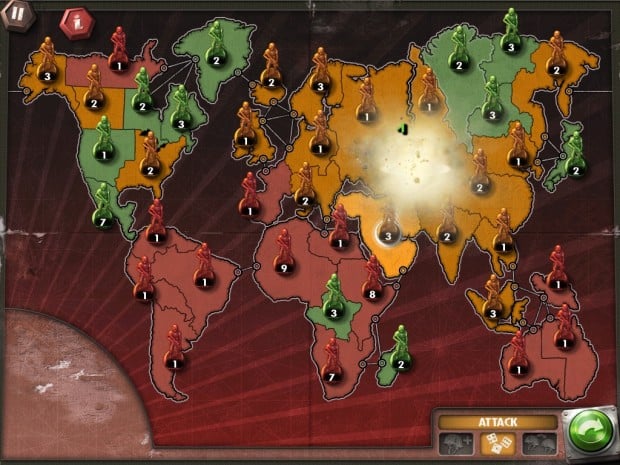 The top 10 list of the most-popular games on iPad is constantly changing, so you can easily find new and interesting games that might tickle your fancy.
Google Maps
Apple Maps is great and all, but Google Maps is simply fleshed out more. Apple Maps is young and will keep growing until it eventually becomes just as good as Google Maps, but until then, we'd recommend using Google Maps for now.
Of course, you'll lose integration with other iOS apps and services, like Siri, but you'll get way more features, like public transit directions and a lot more map information.
Google Search
One of the best features of Android is Google Now, which automatically gives you the information you need throughout your day. You can get the same features with the Google Search app on your iPad.
Of course, you can also easily conduct Google searches on the app as well, so if Google Now isn't quite your thing, the app still makes for a pretty sweet search tool.
IMDb
How many times have you been watching a move or TV show and you either want to learn more about it or you just can't place the name of that actor or actress? This is where IMDb comes into good use.
The app has a ton of information on pretty much every TV show or movie you can think of, and it's almost like a Wikipedia for movies, right on your iPad.
Kindle
The iPad is a great reading device, thanks to its large screen and the Retina display, which makes text show up crisp and sharp. To take advantage of that, Kindle is one of the best reading apps around.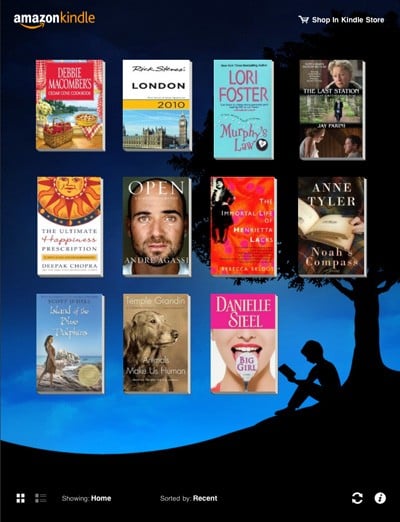 Amazon may be a retail powerhouse, but its speciality is in books, and its Kindle app is great for reading ebooks while on the go. The app is easy to use and it comes with a handful of nifty features that any reader buff will take advantage of, including syncing ebooks across devices and saving your bookmark so that you don't lose your place when you come back to it later.
Netflix
Movies and TV shows help us rewind at the end of a long day, but if you can't get near a computer, you can actually get Netflix right on your iPad.
A Netflix subscription is only $8 per month (although that price has gone up slightly for new members), and with that you can enjoy a plethora of TV shows and movies on demand.
You can also try out Amazon Instant Video (which requires a $99/year Prime membership) or Hulu Plus, which gives you the latest episodes of TV shows the day after they air for the same price as Netflix.
Spotify
Everyone listens to music to some capacity, and while you most likely have a library of music on your computer that you sync to your iPad, many prefer just to stream it. This is where Spotify comes in handy.
Spotify allows you to create playlists of songs and stream them to your iPad whenever you want to listen to music. You can also save playlists for offline mode so that you don't use up data while you're on the road.
You can also try Rdio if Spotify isn't your cup of tea, or give Pandora a run if you prefer internet radio.
Word, Excel & PowerPoint
Writing up documents, creating spreadsheets, and making slideshows complete the trifecta of tasks that most businessmen and women need to accomplish. Luckily, Microsoft made its way to iPad recently with Word, Excel and PowerPoint apps.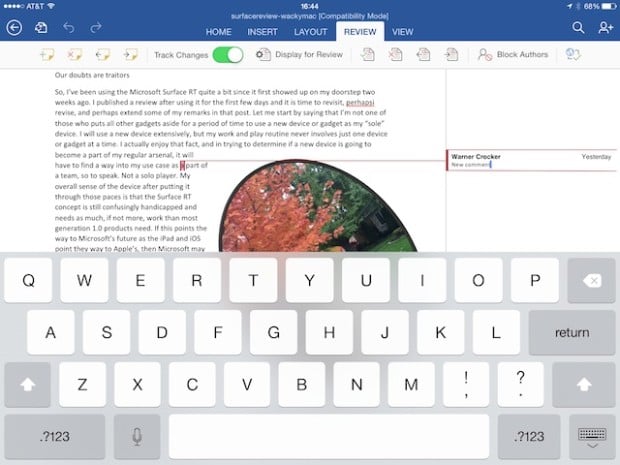 The apps have most of the features that you've come to love on the desktop versions, and all three are full of features that many other office suites on the iPad don't have.
Aside from a couple of big omissions from the apps (printing being a big one), there's no doubt that Word, Excel and PowerPoint are must haves for business folks who have an iPad, especially if their job requires that they use Microsoft's Office.
Yahoo Weather
The weather is one thing that every single one of us frequently checks, because it can simply affect how our day might turn out. One of the best free weather apps we've used is Yahoo Weather.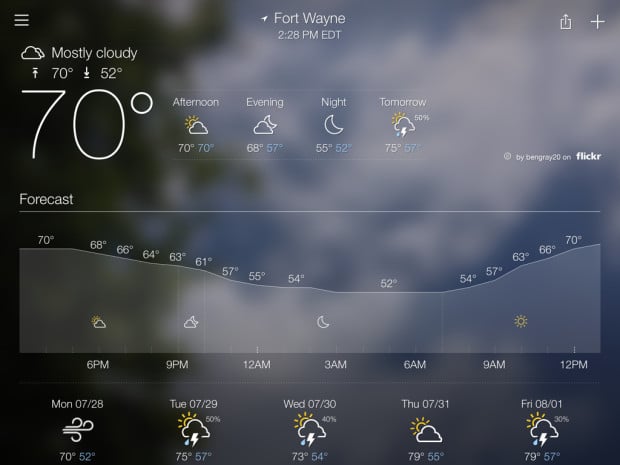 Yahoo Weather is a simple app, but it's great for those who just want the essential details. It's also one of the best-looking weather apps we've used.
For a more detailed weather forecast, we also recommend AccuWeather, Weather Underground, and The Weather Channel; all three apps come with a lot more information for those weather buffs out there.
YouTube
Sometimes you just need to kick back and enjoy a few laughs. YouTube is great for just that.
The YouTube app for iPad allows you to browse and view YouTube videos with ease. You can manage playlists and even play videos while you continue to browse for new ones to watch.
The video selection alone is fantastic. You can watch all the cat videos you want, listen to and watch music videos, and even learn a thing or two from TED Talks or how-to videos if you're in an educational mood.

As an Amazon Associate I earn from qualifying purchases.