15 Free iPhone Apps Every User Should Have
When you get an iPhone for the first time, one of the things that you probably do right away (after setting it up and such) is look for useful apps to download and install.
The iTunes App Store has thousands upon thousands of free apps to choose from, and it can be a little difficult to sift through the clutter and find those useful apps.
However, we're here to help and we've filled this list with free iPhone apps that we think every user (or most users, at least) will want to download and install on their iPhones.
Many of the these apps might seem like no-brainers, especially if you're a die-hard user of said apps, but we also included a few selections that you may not have heard of, but they're still apps that we'd recommend every iPhone user download right now.
Without further adieu, here are 15 free iPhone apps that you should install right this second.
Facebook
There are over one billion Facebook users in the world, and chances are you're one of them. You can easily access Facebook on your iPhone through the web interface using Safari, but the official app is a much better option.
If you live on Facebook, the Facebook app is something that you should probably download and install right away, as it will allow you to all the things that you can do on your computer, but just on your iPhone this time.
Furthermore, you should also check out Facebook Messenger, which gives you a really nice user interface and makes it a lot easier to chat with friends over Facebook.
Feedly
It's nice to have a selection of news and interesting articles on hand to read on your iPhone whenever you have some downtime, and Feedly is one of the best aggregators out there. It's not necessarily a news source itself, but merely just an app that combines a bunch of different website together (of your choosing) and lets you browse all of the articles in one interface.
Flipboard is another option that we really like, and it comes with a user interface that's more geared towards those who like a magazine-style interface that's image heavy and looks good.
Google Search
One of the best features of Android is Google Now, which automatically gives you the information you need throughout your day. You can get the same features with the Google Search app on your iPhone.
Of course, you can also easily conduct Google searches on the app as well, so if Google Now isn't quite your thing, the app still makes for a pretty sweet search tool.
Google Maps
Apple Maps is great and all, but Google Maps is simply fleshed out more. Apple Maps is young and will keep growing until it eventually becomes just as good as Google Maps, but until then, we'd recommend using Google Maps.
Of course, you'll lose integration with other iOS apps and services, like Siri, but you'll get way more features, like public transit directions and a lot more map information.
Breeze
It's important for everyone to get up and exercise for at least a little bit every day. Of course, it's hard to find a good motivator, but Breeze is a new app that makes it enjoyable to get up and stay active.
Breeze is an app from the makers of RunKeeper and it essentially counts your steps as well as providing you with goals and motivation to meet those goals.
Other similar options that are just as great include Moves (which was recently acquired by Facebook) and Pedometer++, which is a simple and minimalistic step counter.
IMDb
How many times have you been watching a move or TV show and you either want to learn more about it or you just can't place the name of that actor or actress? This is where IMDb comes into good use.
The app has a ton of information on pretty much every TV show or movie you can think of, and it's almost like a Wikipedia for movies, right on your iPhone.
Flixster
Need to know when a specific movie is showing at your local theater? Want to read reviews on a new movie that came out before you go see? There's an app for that, and it's called Flixster. It allows you to view show times for movies at local movie theaters and even lets you look over reviews so you know whether or not to go see it in the first place.
A good alternative is Fandango, which does many of the same things that Flixster does, and you can also buy movie tickets right from the Fandango app and many movie theater use Fandango anyway as their main online ticket sales platform.
Credit Karma
There are a lot of apps that help you with your credit card debt and give you goals to pay it down as quickly and efficiently as possible (which we'll get to soon), but Credit Karma is a little different.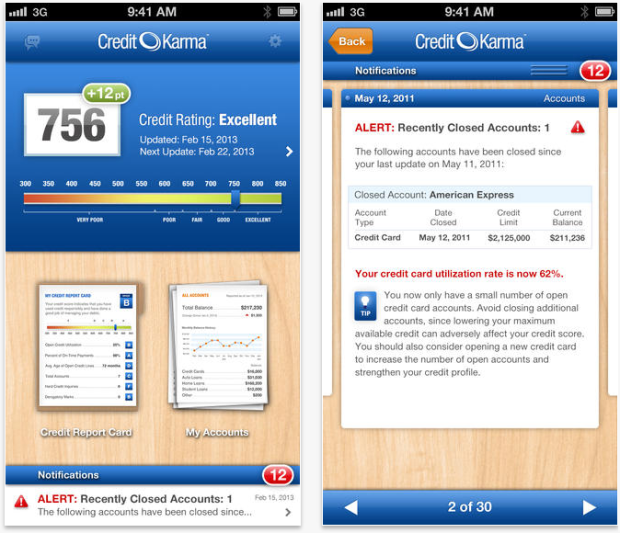 Credit Karma essentially evaluates your current credit score and gives you a report card, grading you on various aspects of your credit score, like credit utilization, payment history, derogatory marks, etc. This allows you to make some changes to some of these categories and hopefully boost your credit score.
Mint
Having a budget is one of the most important things you can have when managing your finances, and one of the most useful iPhone apps that we've used when managing our own finances is Mint.
You can all of your bank accounts to mint and the app will watch each every transaction and even automatically categorize them for you so that you can see where you're spending the most money and hopefully cut back if you're looking to save money.
If it's credit card debt that you're trying to get rid of, take a look at ReadyForZero. It's a free iPhone app that gathers all of your credit card accounts and sets realistic goals for paying them off.
Spotify
Everyone listens to music to some capacity, and while you most likely have a library of music on your computer that you sync to your iPhone, many prefer just to stream it. This is where Spotify comes in handy.
Spotify allows you to create playlists of songs and stream them to your iPhone whenever you want to listen to music. You can also save playlists for offline mode so that you don't use up data while you're on the road.
You can also try Rdio if Spotify isn't your cup of tea, or give Pandora a run if you prefer internet radio.
Netflix
Movies and TV shows help us rewind at the end of a long day, but if you can't get near a computer, you can actually get Netflix right on your iPhone.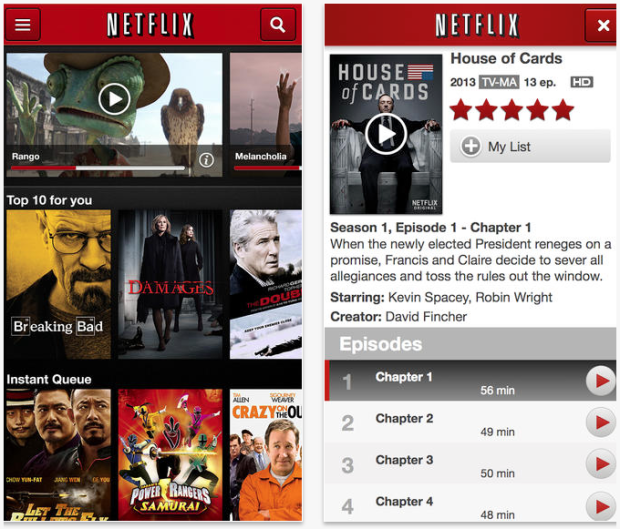 A Netflix subscription is only $8 per month (although that price will go up slightly in the near future), and with that you can enjoy a plethora of TV shows and movies on demand.
You can also try out Amazon Instant Video (which requires a $99/year Prime membership) or Hulu Plus, which gives you the latest episodes of TV shows the day after they air for the same price as Netflix.
SoundHound
Don't you hate in when you're in a bar or listening to the radio in your car and you can't put your finger on the name of the song or the artist that's singing it? It's a really annoying feeling, but SoundHound is one of our favorite apps that listens to the background music and can name the song and the artist for you.
It's almost like black magic, but it works surprisingly well. Shazam is also a good alternative if you don't like SoundHound's user interface.
Yahoo Weather
The weather is one thing that every single one of us frequently checks, because it can simply affect how our day might turn out. One of the best free weather apps we've used is Yahoo Weather.
Yahoo Weather is a simple app, but it's great for those who just want the essential details. It's also one of the best-looking weather apps we've used.
For a more detailed weather forecast, we also recommend AccuWeather and The Weather Channel; both apps come with a lot more information for those weather buffs out there.
Free Games
Technically this one isn't a single app, but we decided to include it because we all need some time unwind and there's nothing like playing a free iPhone game to take your mind of any stress.
The top 10 free games list in the App Store is constantly changing, so you can easily find new and interesting games that might tickle your fancy.

As an Amazon Associate I earn from qualifying purchases.