15 Apps Already Announced for the Samsung Galaxy Gear
The Samsung Galaxy Gear smartwatch was revealed yesterday during the company's press conference at IFA 2013, and while initial reactions are quite mixed, the apps that are coming to the Gear seem quite interesting.
Apps will range from fitness apps like RunKeeper and MyFitnessPal, to reading apps like Pocket, to location-based services like Glympse. Samsung says that they're working on a Galaxy Gear app store as we speak, and 70 apps will be available when the smartwatch initially launches, but 12 out of those 70 apps have been announced, and here they are.
eBay
Auction junkies will now be able to receive notifications and take action right on their Galaxy Gear. The eBay app will allow users to complete transactions and receive notifications that will let them know if they've won an item (or were outbid), and statuses on a pending item or item that's being sold. Furthermore, users will be able to seamlessly beam the info to their phone if they want to take a closer look at auction details.
Evernote
While Evernote mostly focuses on its seamless integration with the Galaxy Note 3, the company vaguely highlights support for the Galaxy Gear, but doesn't mention exact features that the smartwatch app will have. The Evernote Galaxy Note 3 integration will include instant note synchronization and an increased monthly storage capacity. However, we'll most likely see Evernote support for voice memos and photo capturing in the app.
Glympse
The real-time location tracking service Glympse has announced support for the Galaxy Gear. Glympse users will be able to quickly share their location with friends right from the smartwatch. Galaxy Gear owners will also be able to receive Glympse notifications of a friend's location and view it on a real-time map right on the smartwatch's display.
Banjo
Banjo is an app that organizes social media posts by location, that way you can see what's happening in your area in real-time in order to stay up to date on local events, and the service announced that the app is coming to the Galaxy Gear.
The app will let you view streaming photos from music events, sporting events, and breaking news in real-time, and you'll also be notified when friends are near, allowing you to easily meet up with one another. Plus, you'll be able to take photos and share them, right from the smartwatch, and vice versa.
Life360
Samsung highlighted Life360 as another location service to bring their app to the Galaxy Gear during their press conference, although neither company has provided specifics just yet. However, we're guessing the app will act in the same way as Glympse and Banjo, where users will be able to quickly share their location with other users right from their smartwatch, and vice versa.
Highlight
The last of the location-based apps to get Galaxy Gear support so far is Highlight. The app's homepage will give you a quick, bird's-eye view of the people around you laid out on a map, and you can swipe through profiles one at a time to view them. Highlight also boasts that a neat feature on the Galaxy Gear is the ability to just simply look down at your smartwatch if you ever forget the person's name when you're talking to them — a great, albeit sneaky way to remember someone's name.
RunKeeper
The Galaxy Gear will cater to numerous fitness and health junkies, and RunKeeper is one such app that be making its way to the smartwatch. It will provide numerous stats and real-time information on the Galaxy Gear, including the ability to track time, pace, and distance while running, walking, cycling, etc., and RunKeeper will even be able to provide audio cues during your workout to make sure you're keeping up the pace that you want.
MyFitnessPal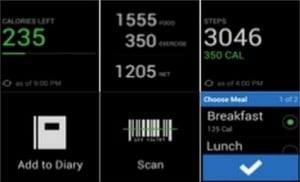 Just like with RunKeeper, MyFitnessPal will offer a lot of the same features. MyFitnessPal users will be able to check up on their goal progress, scan and log calories using the Gear's camera to take pictures of food barcodes, and track distance and time using the built-in pedometer. RunKeeper and MyFitnessPal are big competitors, but MyFitnessPal's in-depth service of calorie tracking is one of the best on the health app market right now.
Runtastic
Rounding out the first group of fitness apps to come to the Galaxy Gear, Runtastic will be releasing an app for the smartwatch. Users can use the app to track distance, speed, elevation, heart rate, pace and calories burned, and they can then view that data on the Galaxy Gear. The watch app can also provide workout reminders, as well as the ability to start, stop, and pause activities quickly and easily.
Vivino
The Vivino Wine Scanner app will be the "first wine app" to be available on the Galaxy Gear. The app will let you take a photo of a wine bottle's label right from your wrist and read about the wine right on the watch's screen. The app will also allow users to look at ratings of different wines and see what other Vivino users are drinking.
Path
Popular social networking app Path has announced support for the Galaxy Gear, being one of the first social media services to do so, as Facebook and Twitter have yet to reveal such apps yet. Path says its app will let users share photos, give feedback to contacts, and post their location in a matter of seconds, thanks to quick access to the watch without having to fish out your phone.
Zite
Galaxy Gear users will be able to scan their top 10 personalized news headlines using the Zite app on the watch. It may sound pretty simple and basic, but the company says that more is to come for Galaxy Gear and Zite users, as they're planning to add smart alerts and notifications to Galaxy Gear in the coming months, as well as support for Google Glass.

Pocket
Popular read-it-later app Pocket is coming to the Galaxy Gear, and it will be able to read aloud articles to you while you keep yourself occupied with other tasks. The Galaxy Gear has a built-in speaker that's loud enough to act as a speakerphone during calls, so it should be loud enough that you'll be able to hear articles being read out loud while you're driving or doing chores.
TripIt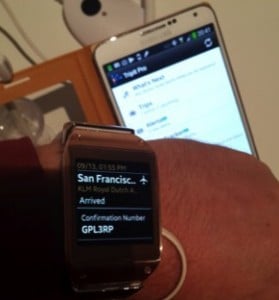 TripIt is one of the most popular traveling apps on the market right now, and it'll be one of the first to support the Galaxy Gear. The watch app will provide many of the same features as the smartphone app, but you just won't have to whip out your phone to see what time your plane leaves or what gate you need to go to; you'll be able to view your itinerary right on the smartwatch.
Atooma
Atooma is an automation app that will enable the Galaxy Gear to follow through on certain if-then orders, similar to what IFTTT does. Users can use the app to trigger an action at a specific time of day or location. It's certainly not as well known as IFTTT, but it'll be the first automation app of its kind to hit the Galaxy Gear, and we can't wait to see what kind of recipes it cooks up.

As an Amazon Associate I earn from qualifying purchases.